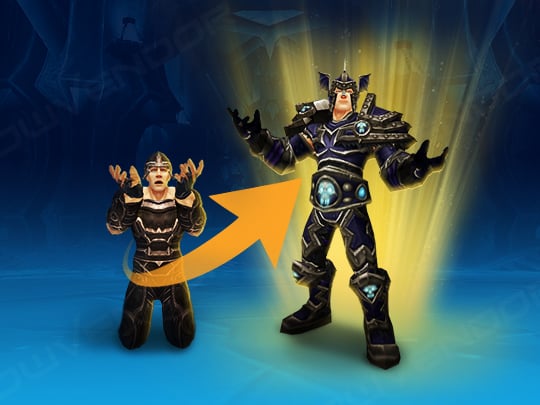 WotLK Level 80 Powerleveling boost
Rated 4.9 of 5 (20,634)
See reviews
By buying this service you will get your character's level increased to 80. In order to do this we will complete quests and dungeons throughout Northrend.
Options:
• 68-80: 6/8/11 days deadline per character
• 70-80: 5/7/10 days deadline per character
Rewards:
• Level 80 on your character of choice
• All the loot, reputation, gold and currencies received during the boost are yours to keep
Requirements:
• Account-sharing
• Level 68 / 70 character
Click this link if you are looking for a custom powerleveling service, that you can fine-tune.
HOW DOES IT WORK?
1

CONFIGURE SERVICE

Select preferred options and place an order. Don't hesitate to chat with our sales & service agents to discuss your order details beforehand. You can also ask for a custom order tailored to your personal needs.

2

CONFIRM DETAILS

Join our discord server or choose any other convenient messenger to confirm your order details and preferences. Then we can assign the best booster to fit your schedule, goals, and any other requirements.

3

ORDER PROCESSING

Your carry will be started at the appointed time. For the selfplayed boosts, it's up to you to take part in the activity or to stay AFK and chill. For the piloted boosts, you can always ask for a stream to keep an eye on the process.

4

ORDER COMPLETION

You will get a notification after your order is finished. Now you may check your order and confirm that the service is fully completed. If anything goes sideways, our service team will help you at any step of the process, 24/7.

5

ENJOY THE RESULT

This is the best part — you can finally enjoy your brand new rewards, top rating or shiny loot! And don't forget to rate us on TrustPilot so we can further improve our services.
A few years ago Arthas first landed on the snowy shores of Northrend. Now the heroes of Azeroth must fight back against the Scourge and the Lich King. But before proceeding to the final battle, you must go through all locations of the northern continent. The best way to get ready for battle with Scourge is to buy Wrath of the Lich King level boost. This unique service is also called WotLK Power Leveling to 80.
WotLK Character Level boost details: just choose the option — 68-80 or 70-80 and service deadline. This also determines the cost. Then you need to discuss everything with a customer support agent to make sure you will have the most pleasant experience. You can discuss all the details and adjust the process itself, depending on the your wishes. Then you have to confirm everything and do account-sharing — a prerequisite, without which it is impossible to perform the service. After a few days you get the maximum level character, with all received items, gold and reputation.
WotLK Leveling Boost — Best Start
Leveling in Lich King is a long process and not as interesting as it may seem at first glance. It takes a lot of time, effort and requires an understanding of your class or zones in which you have to complete quests. In addition, developers significantly redesigned the LFG system and now it is more similar to what players were familiar with in TBC Classic. Previously you could quickly find a good group and go through several dungeons to gain experience and necessary items, but now it takes x3 more time and effort. WotLK Leveling boost is the best solution if you are looking for the fastest way to level in Wrath of the Lich King Classic and a great choice for all beginners or casual players who aren't ready to devote that much time to WoW. 
Questing in Northrend is interesting, but quickly becomes boring. This is a long process, which should be taken seriously, because the right choice of location and factions to do quests for depends on reputation that is needed in future. No one wants to waste their time at level 80 and go back to low-level quests when the main focus is on completing dungeons or raids. Level 80 boost will save time, give a lot of resources and initial reputation with Northrend factions.
Lich King Classic level boost depends on service deadline. Faster the leveling — higher the cost. Another factor is initial character level. Service cost from 68 will be higher than for level 70 characters.
5 Reasons to Buy WotLK Powerleveling Boost
It doesn't matter if you're a newbie or a casual player, if you've known WoW for a long time or just starting your journey in Azeroth, everyone has difficulties. Someone copes with them on their own, giving WoW their free time and all energy, and someone is ready to choose an easier and more convenient way and buy Cheap WotLK Powerleveling. There are at least 5 reasons for this:
Convenient and affordable

— prices are maximally matched to the needs of players and their capabilities, and the interface of the site allows you to buy a service in a few clicks;

Quality

— more than 500 professionals are working at Wowvendor, and the service has proved to be very reliable and trustworthy for years — more than 20 000+ positive reviews;

Security

— Wowvendor support is working 24/7 and is always there to help you in case of need and to handle any situation asap;

Speed

— boosters have been doing their job for a long time and know exactly how to achieve desired results faster than others. If your goal is to outrun your friends, and become the best in your guild or on the server, Wowvendor will give you the opportunity;

Time-saving

— not for nothing is WoW called the best time killer. The Lich King expansion is really ready to absorb any player if they want to achieve heights, but not everyone has the ability to spend several hours a day there. The help comes from professionals at Wowvendor, who are ready to take care of any activity for you.
Safety, speed, quality, convenience and affordability can all be found on Wowvendor. WotLK power leveling cheapest and suitable for players, and options are maximum flexible and customizable specifically for your preferences.
If you want to know more about WotLK classic leveling 1-80, we advise you to pay attention to the article titled Fastest Leveling in Wrath of the Lich King. There you will find a lot of useful tips about leveling in Northrend, the best classes for powerleveling and all the process in detail.
To buy WotLK classic powerlevel you only need to follow 4 easy steps:
Choose the options you need and place order;

Confirm the order and adjust preferences, tell customer support about your wishes;

Wait until the end of the process. You can do your business or watch livestream, if such function is provided;

Enjoy the character of the maximum level, passed dungeons or received rewards.
If at any stage you have questions or problems, do not be afraid to contact support, which works 24/7. See you in the icy lands of Northrend, travelers!
WotLK Rent a Pro — Your Personal Professional 
Imagine that it is enough to press one button and watch a stream of your character leveling, farming or gearing up? With WotLK Rent a Pro service everything is possible — you just need to choose the number of hours, server, and activity to perform. Then everything is negotiated with your personal professional player, discussing conditions and other points. If you wish, you can ask to turn on a Livestream and watch the process live. 
Pro knows all about Lich King leveling routes, remember by heart all dungeons and tactics on bosses, happy to push reputation with right faction or farm resources, you just need to ask.
There are only two requirements — account-sharing and access to desired activities. You can choose any goal, whether it's questing, resources or dungeons farming — there are no restrictions.
WotLK Classic Daily Quests Boost
Daily Quests is an activity that can be performed every day to gain reputation with Northrend factions. Each faction offers a certain number of daily quests per day, which can change the time it takes to complete the service. How to buy WotLK Daily Quests boost?
Choose the number of quests you need to complete. Minimum 5, maximum 100. On average, there are about 25 quests available for completion per day;

Before you buy, you can choose factions of your preference;

All questions and additional points are discussed with professionals before the purchase.
Daily quests boost main requirements are account-sharing, level 80 character and unlocked quests with chosen faction. Depending on the number of quests chosen, after a few days you will receive loot, reputation, gold and resources that were earned during the boosting.