Shadowlands Mage-Bound Spelltome mount boost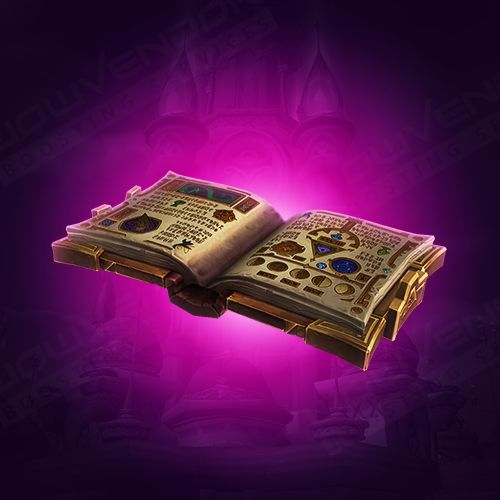 By buying this service you will get Mage-Bound Spelltome epic flying mount to your collection. This mount is account-wide, so all of your characters will be able to use it. In order to get this mount you have to complete all seven challenges in the returning Mage Tower. Mage Tower was always infamous for its difficulty and you might use some help from a pro player.
ETA: 1-5 days (during Legion timewalking event). ETA might slightly vary depending on your characters class and gear.
Rewards:
• Mage-Bound Spelltome flying mount and A Tour of Towers achievement.
• Recolor of mythic Tier 20 armor set for your character's class.
Requirements:
• Account-sharing.
• x3-7 level 60 characters with specs covering all 7 challenges.
Challenges and respective specs list:
Closing the Eye – Frost Death Knight, Havoc Demon Hunter, Survival Hunter, Subtlety Rogue and Arms Warrior.
An Impossible Foe – Unholy Death Knight, Feral Druid, Fire Mage, Outlaw Rogue, Elemental Shaman and Fury Warrior.
The God-Queen's Fury – Arcane Mage, Retribution Paladin, Assassination Rogue, Enhancement Shaman and Demonology Warlock.
Feltotem's Fall – Beast Mastery Hunter, Windwalker Monk, Discipline Priest and Destruction Warlock.
The Highlord's Return – Blood Death Knight, Vengeance Demon Hunter, Guardian Druid, Brewmaster Monk, Protection Paladin and Protection Warrior.
End of the Risen Threat – Restoration Druid, Mistweaver Monk, Holy Paladin, Holy Priest and Restoration Shaman.
Thwarting the Twins – Balance Druid, Marksmanship Hunter, Frost Mage Shadow Priest and Affliction Warlock.
Click this link if you are looking for a specific challenge completion.