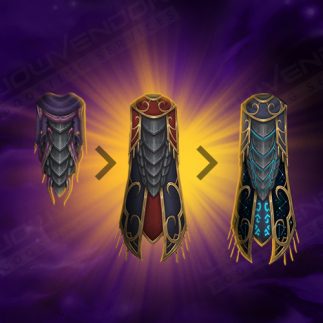 EU Legendary cloak R15 upgrade carry
Buying this service you will get Ashjra'kamas, Shroud of Resolve boosted to R15.
This boost is configurable: pick your current rank to get a discount.
We will also farm the necessary amount of Vessel of Horrific Visions .
Cloak Rank 15 Rewards:
1) cloak's stats will increase and item level will grow to 500 ilvl;
2) you will unlock a useful proc, getting you 3,386 to your main stat for 15 sec;
3) corruption resistance will grow to 50 (allowing you to wear more corrupted gear);
4) sanity loss within the visions of Nzoth will be reduced by 80%, allowing you to run visions much easier.
Options and ETA's:
| | |
| --- | --- |
| Current Cloak Rank: | ETA to R15: |
| Rank 1->15 | 3-4 weeks |
| Rank 2->15 | 3-4 weeks |
| Rank 3->15 | 3-4 weeks |
| Rank 4->15 | 3-4 weeks |
| Rank 5->15 | 3-4 weeks |
| Rank 6->15 | 3 weeks |
| Rank 7->15 | 3 weeks |
| Rank 8->15 | 3 weeks |
| Rank 9->15 | 2 weeks |
| Rank 10->15 | 2 weeks |
| Rank 11->15 | 2 weeks |
| Rank 12->15 | 1 week |
| Rank 13->15 | 1-5 days |
| Rank 14->15 | 1-3 days |
Requirements:
– Account sharing (We shall play your account);