Shadowlands Keystone Hero achievement boost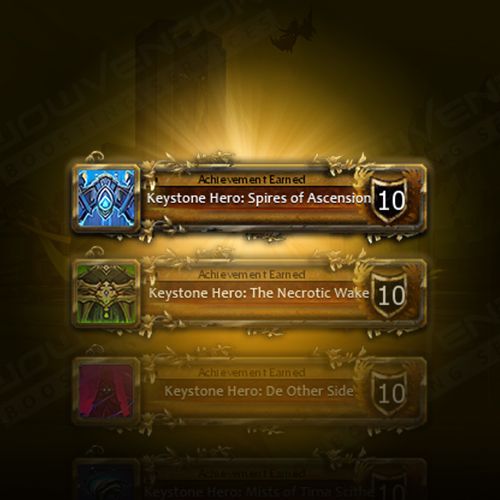 By buying this service you will get any Keystone Hero achievement you need completed. Keystone Hero achievement are considered incredibly prestigious, even among hardcore PvE players. In order to get a Keystone Hero achievement you will complete a mythic +20 dungeon while beating the timer. Keystone Hero achievement are not account-wide – so make sure to complete them on your main / desired character. As a result for completing a single Keystone Hero – your character will learn a spell that allows you to teleport to the dungeon you have the achievement in.
ETA: 1-2 weeks.
Options:
• Specific dungeons or full 8-dungeons run.
Rewards for single dungeon:
• Keystone Hero achievement, specific to selected dungeon.
• Teleport spell for your character.
• Chance to get 0-2+ ilvl 236 pieces of gear from the dungeon.
• A piece of ilvl 252+ gear guaranteed in the Great Vault Weekly chest.
• Up to 215 Mythic+ Rating per dungeon.
Rewards for all 8 dungeons run:
• 8 Keystone Hero achievements.
• Teleport spells to all original Shadowlands dungeons.
• Very high chances of completing Shadowlands Keystone Master: Season Two FoS achievement in the process.
Click this link if you need Keystone Master achievement to get the Soultwisted Deathwalker mount.