Best Void Hunter Build in Season of the Wish
It's time to break into Destiny 2 with the best Void Hunter Build in Season of the Wish!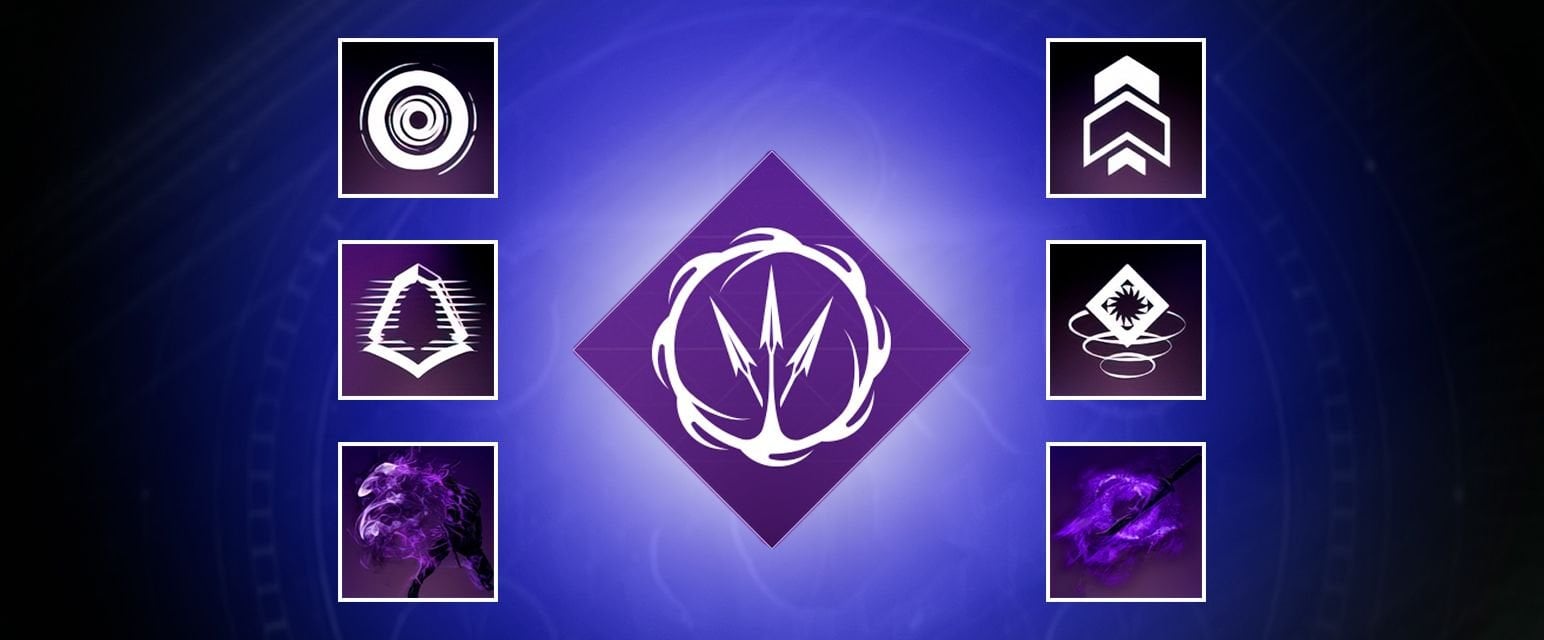 Key Takeaways:
The first build in the article will allow you to have fun in PvE.
The second build is effective in Endgame activities, and therefore may even be useful to you in the Warlords Ruin Dungeon.
The third build will make you a real monster in Crucible!
Do you love playing Hunter? Especially the Void subclass? Then, you definitely need an ultimate build to take your gameplay to another level. With the arrival of Lightfall, you could make several sets of weapons and easily switch between them with a single click. We have assembled every best Destiny 2 Void Hunter build you can use in PvP and PvE. We'll teach you how to get improved class ability regeneration, return melee ability right away, and void buffs applied to your teammates. Take a seat because we're flying out to smash the combatants in our system!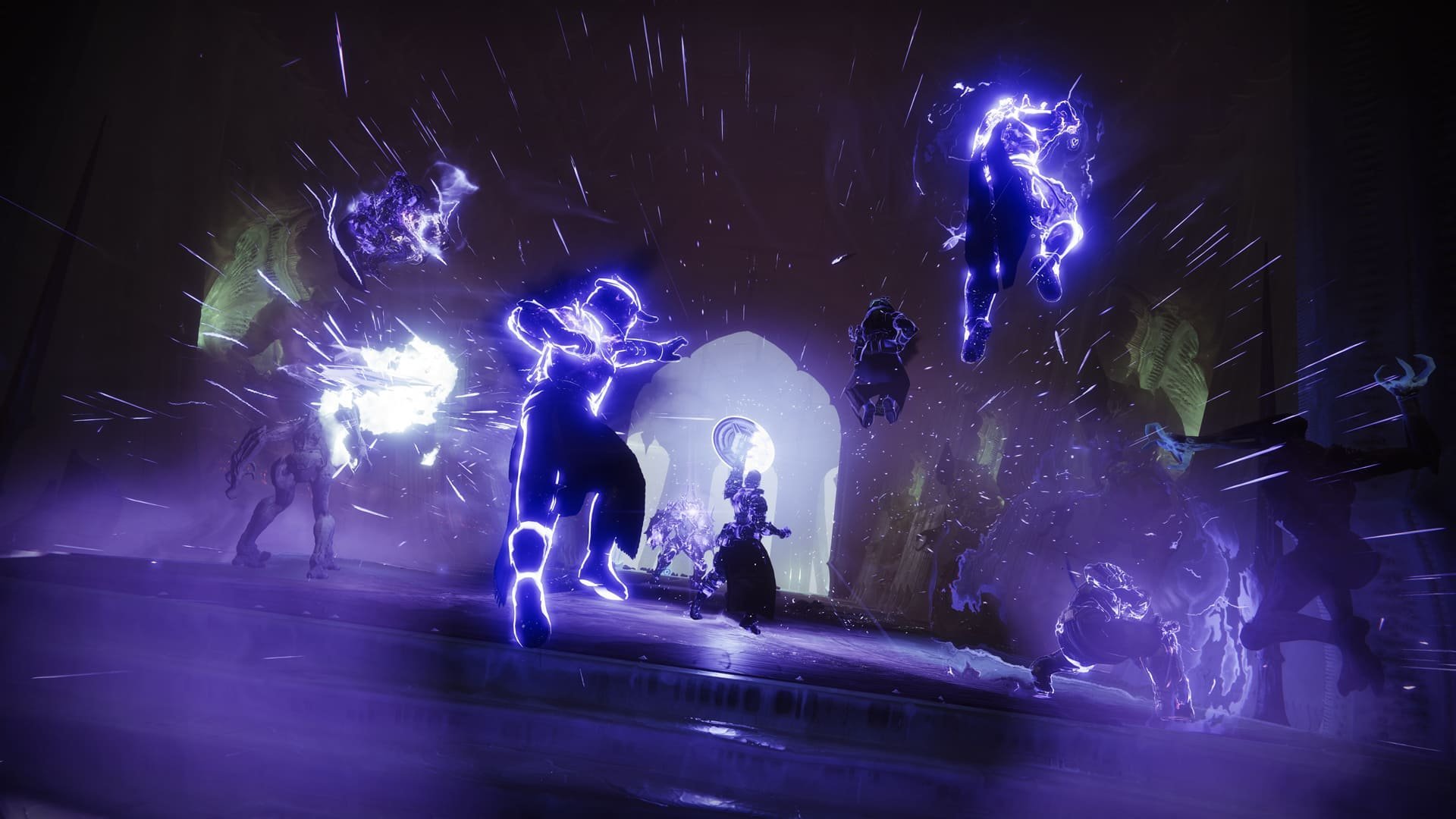 The Fun Gyrfalcon Build
Exotic Armor: Gyrfalcon's Hauberk
Aspects: Vanishing Step and Stylish Executioner
Fragments: Echo of Starvation, Cessation, Persistence, Obscurity
Class Ability: Gambler's Dodge
Grenade: Vortex Grenade
Must-Have Mods: Void Siphon, Bolstering Detonation, Charged Up, Stacks on Stacks, Void Weapon Surge, Time Dilation, Bomber.
Recommended Stats: 100 Resilience and Discipline, and Max Mobility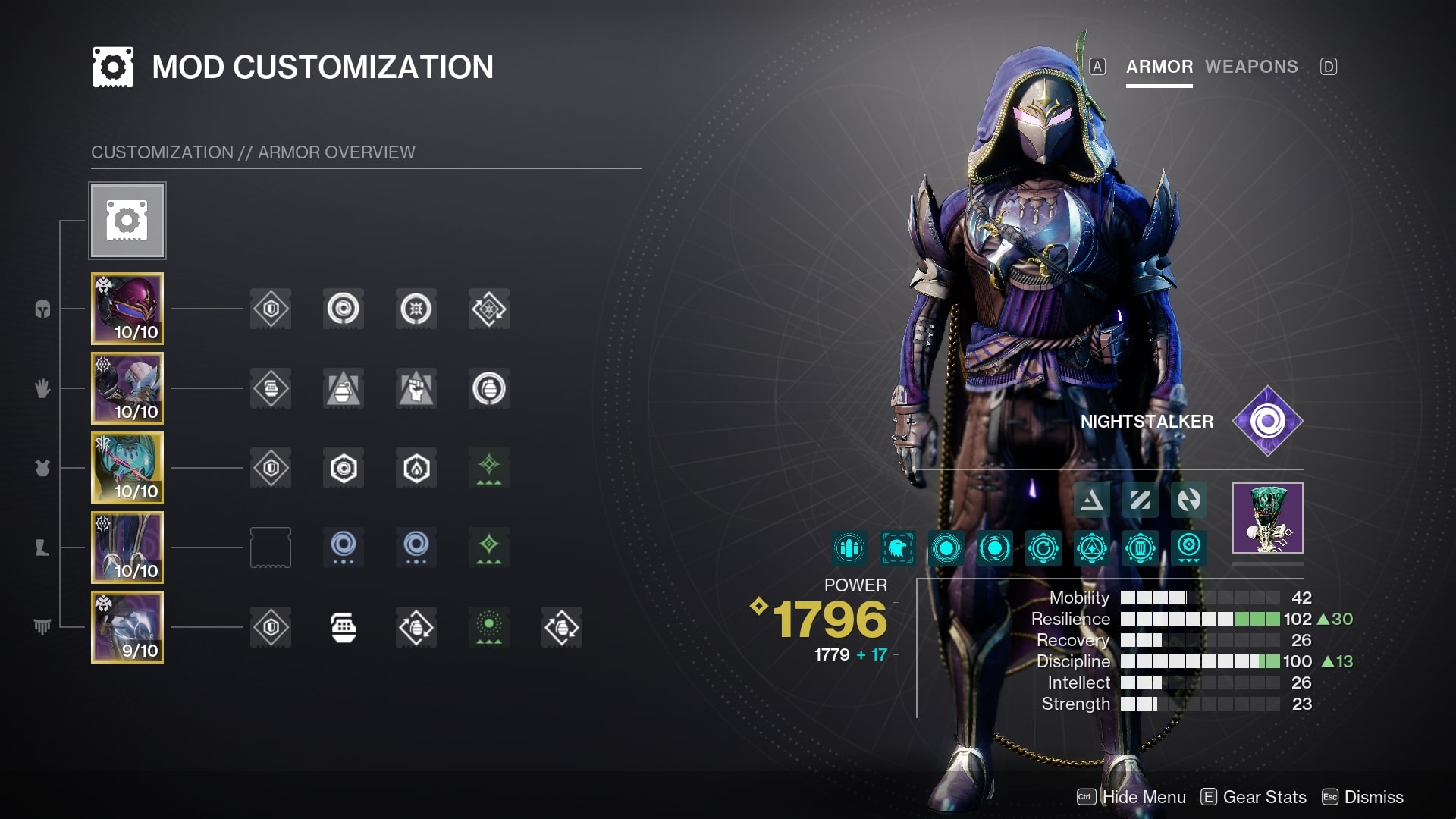 The first build can safely be considered the most exciting Void Hunter build Destiny 2, although not very effective in Endgame. Just remember to get the required stats above because sometimes people choose useless for this loadout strength stat.
All of its strength lies in the combination of Gyrfalcon's Hauberk and Stylish Executioner Aspect. The Exotic's key mechanic is simple: you get Volatile Rounds for 10 seconds after emerging from being invisible. It also synergizes nicely with the Stylish Executioner, which, after eliminating a volatile target, grants Invisibility and Truesight.
Since this build does not need Grenade and Melee, you can use armor mods to increase the damage of Void Weapons, as well as improve your stats. Try Void Siphon to generate Orbs of Power, as the whole build revolves around them. You must receive Armor Charge for Void Weapon Surge and Font mods (of your choice).
This build's gameplay consists of an eternal cycle of switching between being invisible or having access to infinite Volatile Rounds. The best weapons are Void SMGs (Funnelweb or Unforgiven) or Void Trace Rifles (Hollow Denial or Wavesplitter) due to their high rate of fire. So, if you're looking for a perfect Void Hunter build Lightfall, give Gyrfalcon a try. However, for Endgame activities, check out the ones below.
Destiny 2 Void Hunter Build PvE
Exotic Armor: Omnioculus
Aspects: Vanishing Step and Trapper's Ambush
Fragments: Echo of Provision, Persistence, Starvation and Remnants
Class Ability: Gambler's Dodge
Grenade: Vortex Grenade
Must-Have Mods: Siphon Mods, Heavy Ammo Finder, Bolstering Detonation, Momentum Transfer, Firepower, Charged Up, Stacks on Stacks, Bomber, Utility Kickstart
Recommended Stats: 100 Resilience and Discipline, and Max Mobility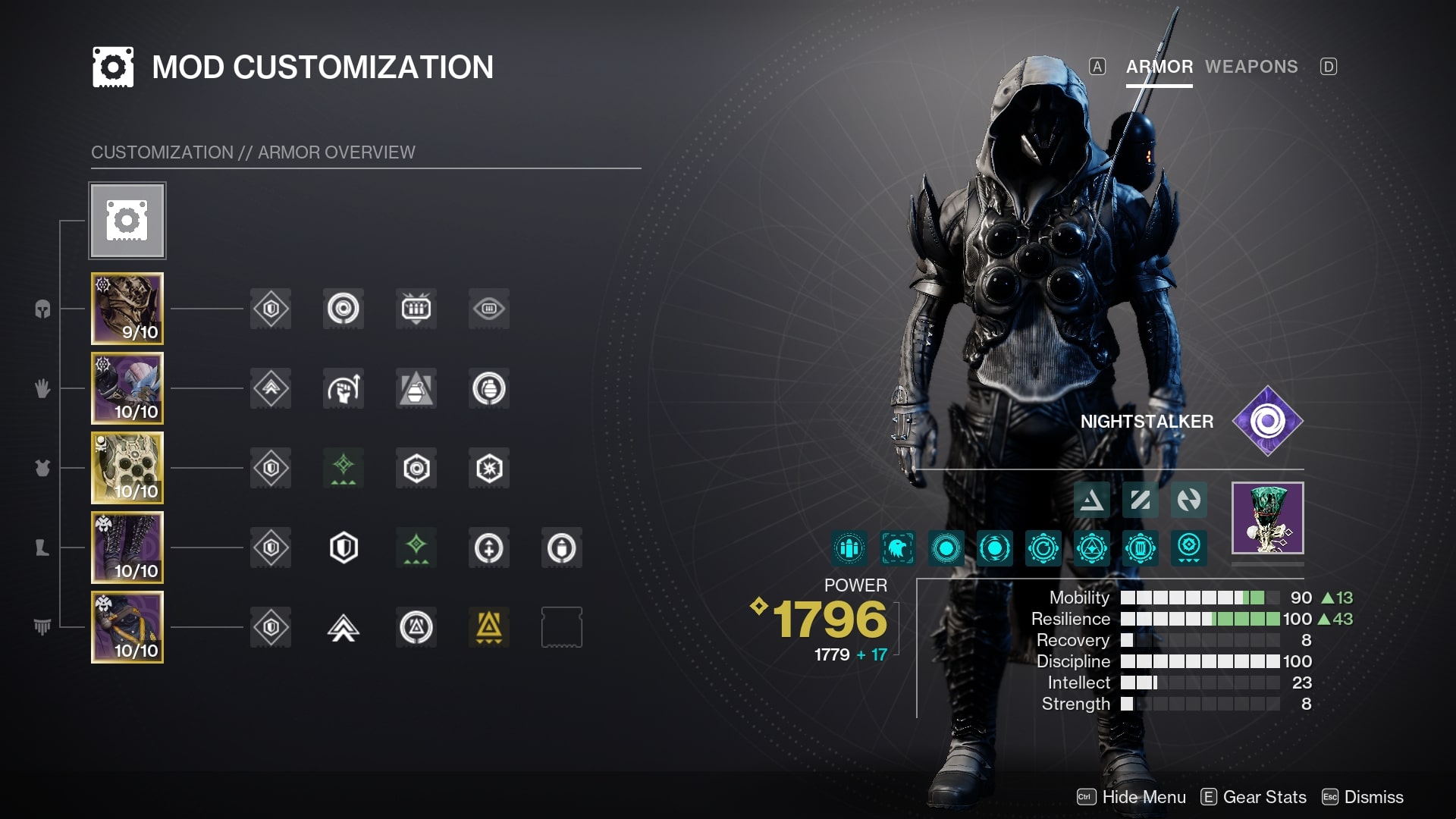 Although the next best hunter void build may seem boring, it can benefit you in Grandmasters or Master Raids. We are talking about Omnioculus, with the help of which your entire Fireteam can have infinite invisibility. This Exotic grants an extra Smoke Bomb, and you get 50% Melee Energy back for each ally you make invisible. To fulfill this condition, you will need Trapper's Ambush. The aspect's essence is that your Smoke Bombs make nearby allies invisible.
Many may wonder why we recommend you to have 100 Discipline, as this Void Hunter PvE build is entirely dependent on Melee's Ability. It's all about Dodge and Fragment that will replenish Smoke Bomb energy. Echo of Provision will give you Melee energy for damaging your Grenade, and Gambler's Dodge will fully restore it when dodging near enemies.
Now let's talk about other Fragments and Mods which play a significant role in this loadout. First and foremost, pay attention to Echo of Starvation, as its power grants devour buff (fully restores HP and gives Grenade Energy upon any Final Blow) after picking up Orbs of Power. Since you'll frequently be using your Class Ability, we recommend equipping Mods for its regeneration. Bolstering Detonation and Utility Kickstart handles this task the best.
The gameplay here is pretty simple: make yourself and your Fireteam invisible when necessary, like resurrecting someone or picking up ammo. Feel free to use Smoke Bomb again. You will get it back for two invisible allies.
Destiny 2 Void Hunter PvP Build
Exotic Armor: Knucklehead Radar
Aspects: Vanishing Step and Stylish Executioner
Fragments: Echo of Starvation, Persistence, Undermining and Leeching
Class Ability: Gambler's Dodge
Must-Have Mods: Targeting, Loader, Dexterity, Holster and Unflinching Aim mods (which gun you prefer), Grenade Kickstart, Reaper, Bomber
Recommended Stats: 100 Mobility and Recovery, Max Discipline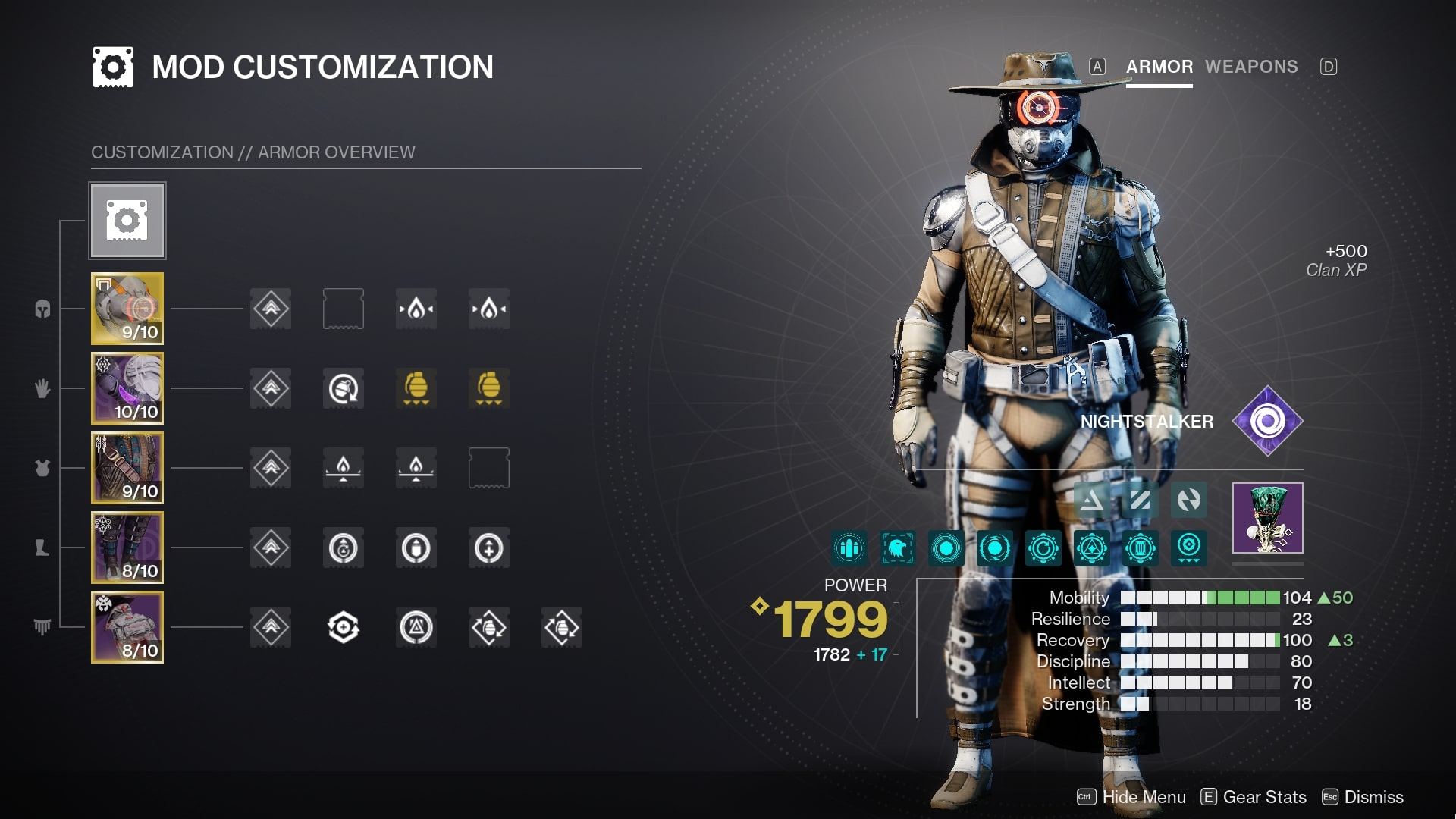 Do you want to become a true hunter who discreetly eliminates their targets? Then Void Hunter PvP Build is a must-use. Thanks to Vanishing Step and Stylish Executioner, you'll be able to stay out of the enemies' line of sight constantly. The former will give you Invisibility after Dodge Activation, while the latter provides two Void buffs like Invisibility and Truesight (the ability to see enemies through walls) after finishing an enemy with a Void debuff. You can also equip triple jump or strafe jump because these are the perfect jump abilities for a PvP Hunter.
Due to the small number of good Destiny 2 Hunter Void build Exotics for PvP, the best choice here is Knucklehead Radar. It maintains the Radar while aiming and also you gain enhanced radar resolution if crouched. But the advantages of the Exotic do not end there. If you hold an enemy in your sights for one second, you can see them through walls for some time. With such a Loadout, you'll easily outplay your opponents, not giving them a chance to win. Don't forget to equip Fragments, particularly Echo of Leeching. Because of it, your next melee attack starts health regeneration if you perform a Final Blow with it.
Void Hunter Artifact Recommendation
Regarding Artifact perks in Season 23, there is a big problem for Void subclasses. This season's emphasis is on Solar, Strand, and Stasis. There are no specific Void buffs, so choose what you think might be useful for your Void Hunter builds in Destiny 2.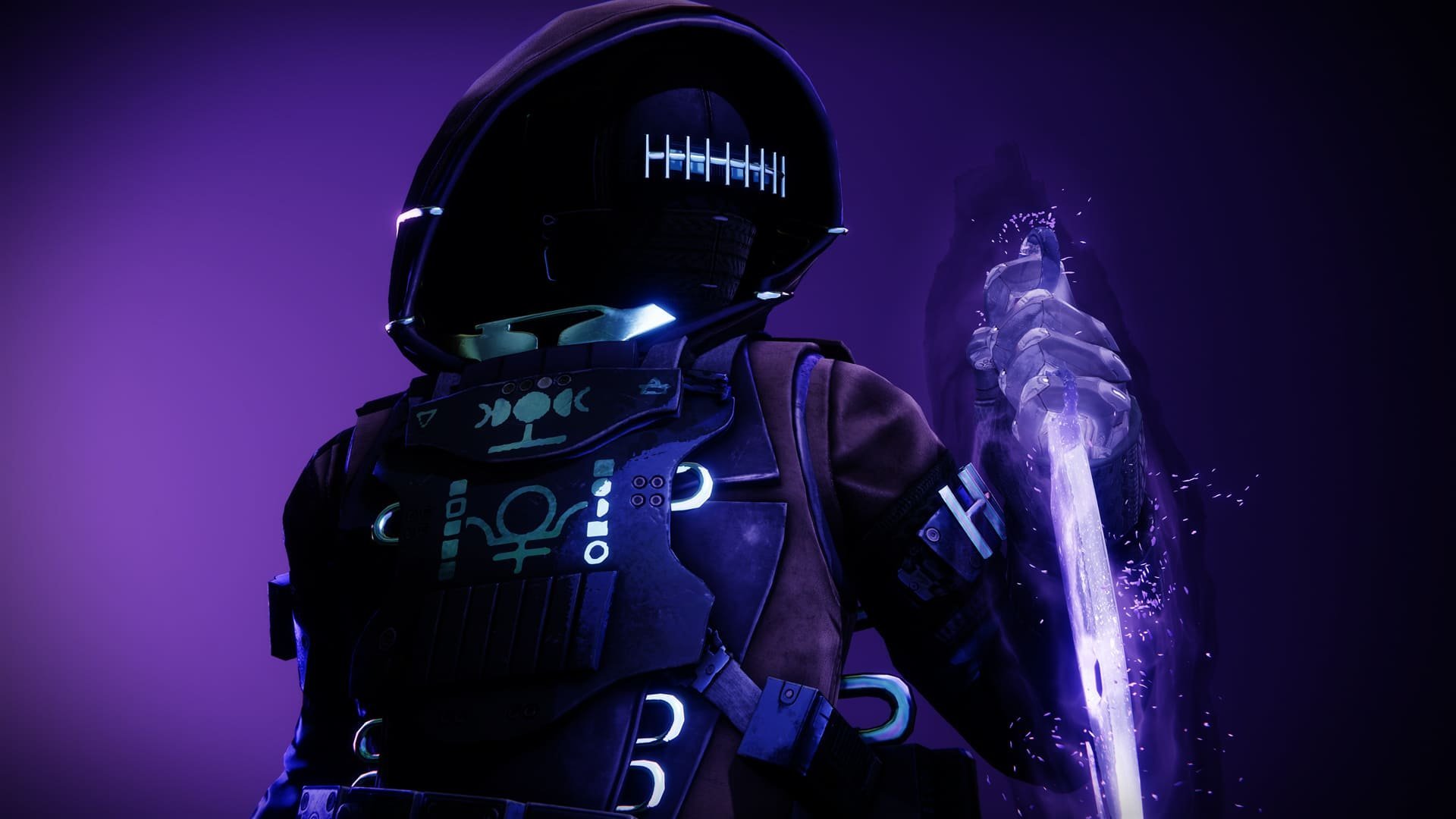 Thus, you have reached the end of our D2 Void Hunter Build guide. Now, you are completely ready to conquer any content on your Hunter. Void is ideal for this class, and your survivability will be great with these loadouts. Do you want to know what best Hunter build you can create for every content right now? Then you are in luck because we have also covered these questions!
Be sure to check out Destiny 2 Services from our professionals. With their help, you can knock out any Exotic gun or complete any activity in a matter of hours, as well as quickly upgrade your Guardian to a new level.
Thanks for reading. Owl is flying away!