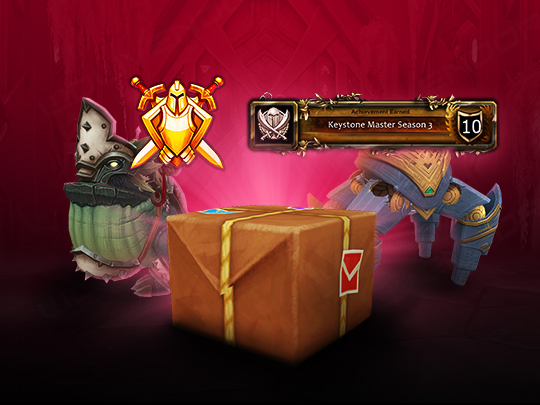 Season 3 Last Chance Package (EU Servers)
Rated 4.9 of 5 (20,717)
See reviews
This service is WowVendor's Ultimate offer for everyone who wants their season activities completed.
All of the seasonal rewards will be forever unobtainable in Season 4 and onwards. Right now are the final moments when you can still get the prestigious achievements, mounts and more.
Get to defeat the Jailer, complete all mythic+ dungeons on a high difficulty, achieve title of Rival in pvp all with a 15% discount!
ETA: 2 weeks
Important Rewards:
• Shadowlands Keystone Master: Season Three Feat of Strength achievement with Wastewarped Deathwalker mount as a reward
• Ahead of the Curve: The Jailer Feat of Strength achievement and the Fractal Cypher of the Carcinized Zerethsteed mount (only the Jailer fight is included)
• Vicious War Croaker seasonal PvP mount or a Vicious Saddle if you already have the Croaker
• 1800 3×3 arena rating, and the Rival I: Shadowlands Season 3 achievement
Additional Rewards:
• Multiple mythic+ dungeons completed rewarding with a chance at looting ilvl 262-278+
• Chance at getting ilvl 272 loot from the heroic Jailer at the Sepulcher of the First Ones
• Significant amount of PvP currencies
• "the Cryptic" prestigious title
• Valorous Artifact weapon tint (Legion) unlocked
• Other valuable resources received during the process are yours to keep
How to get the Carcinized Zerethsteed:
• After defeating the Jailer in heroic mode you will loot a quest item: Almanac's Echo
• Using it will start a simple turn-in quest
• You can turn in the quest to Firim immediately
• You will get the Fractal Cypher of the Carcinized Zerethsteed as a quest reward
• Both quest and mount will be available until the end of Shadowlands
Requirements:
• Playing on EU Servers
• All of the activities completed in Selfplayed mode, where you play on your account
HOW DOES IT WORK?
1

CONFIGURE SERVICE

Select preferred options and place an order. Don't hesitate to chat with our sales & service agents to discuss your order details beforehand. You can also ask for a custom order tailored to your personal needs.

2

CONFIRM DETAILS

Join our discord server or choose any other convenient messenger to confirm your order details and preferences. Then we can assign the best booster to fit your schedule, goals, and any other requirements.

3

ORDER PROCESSING

Your carry will be started at the appointed time. For the selfplayed boosts, it's up to you to take part in the activity or to stay AFK and chill. For the piloted boosts, you can always ask for a stream to keep an eye on the process.

4

ORDER COMPLETION

You will get a notification after your order is finished. Now you may check your order and confirm that the service is fully completed. If anything goes sideways, our service team will help you at any step of the process, 24/7.

5

ENJOY THE RESULT

This is the best part — you can finally enjoy your brand new rewards, top rating or shiny loot! And don't forget to rate us on TrustPilot so we can further improve our services.