Discover the Best Stasis Titan Builds in Destiny 2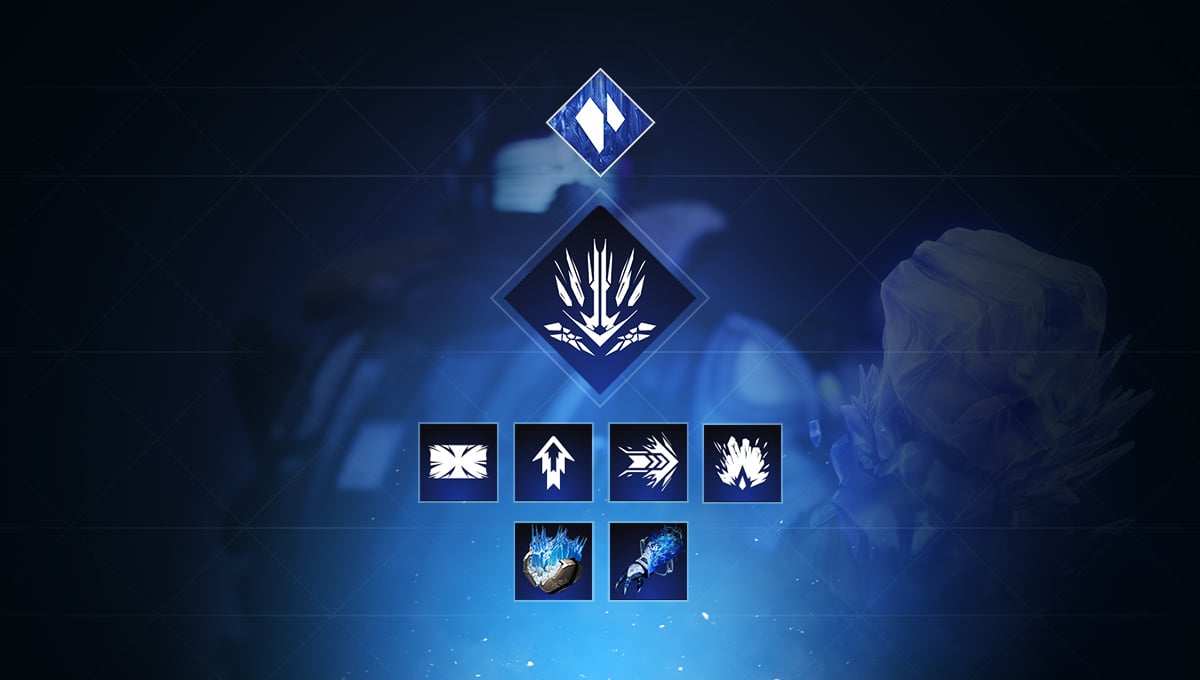 Here we are; the best Stasis Titan builds in Destiny 2 are finally here. In this series of articles about Stasis subclasses, we will discuss every single one of them, including Titan's Behemoth, which is astonishing with its strength and effectiveness in various types of content. We've already told you about what Titans can do in Arc, Solar, Strand, and Void builds. Now it's time to discover what Titan can do with the ice abilities. Brace yourself; we are beginning to explore all the features of Behemoth.
Stasis Titan Weapons For Builds
Before we fully explore the Titan Stasis Build guide, it's important to note that they function differently from other subclasses. Unlike loadouts that rely on mods such as Firepower and Heavy Handed to generate Orbs of Power for Grenade and Melee Final Blows, Stasis relies on its abilities as tools rather than weapons for taking down enemies. As a result, implementing the aforementioned mods may not be feasible with this Subclass.
As the Armor Charge system is currently the main focus on Buildcrafting, you have to find a way to obtain these charges. The Siphon and Elemental Charge mods will assist you with this. Since the whole Subclass is built around freezing and creating Crystals, you must use these features as often as possible. That's why Stasis Weapons will come in handy, helping you activate Aspects, Fragments, and Mods.
We will recommend a couple of guns for various purposes, which will help make these Top Stasis Titan builds in Destiny 2 even better.
For optimal production of Stasis Crystals, it is recommended to use:
Verglas Curve (Exotic Bow)
Eyasluna with Headstone (Legendary Hand Cannon)
Syncopation-53 with Headstone (Legendary Pulse Rifle)
Rapacious Appetite or Prolonged Engagement with Headstone (Legendaries Submachine Guns)
If you want to slow down your enemies, the best approach is to use:
Conditional Finality (Exotic Shotgun)
Wicked Implement (Exotic Scout Rifle)
Riptide or Deliverance with Chill Clip (Legendaries Fusion Rifles)
Lingering Dread with Chill Clip (Legendary Grenade Launcher)
Cadmus Ridge Lancecap Build
Exotic Armor: Cadmus Ridge Lancecap
Aspects: Diamond Lance and Tectonic Harvest
Fragments: Whisper of Rime, Shards, Chains, Rending and Fissures
Class Ability: Rally Barricade
Grenade: Glacier Grenade
Must-Have Mods: Harmonic Siphon, Font of Wisdom, Impact Induction, Focusing Strike, Font of Vigor, Charged Up, Stasis Weapon Surge x2, Elemental Charge, Time Dilation, Reaper, Bomber
Recommended Stats: 100 Resilience and Discipline, max Recovery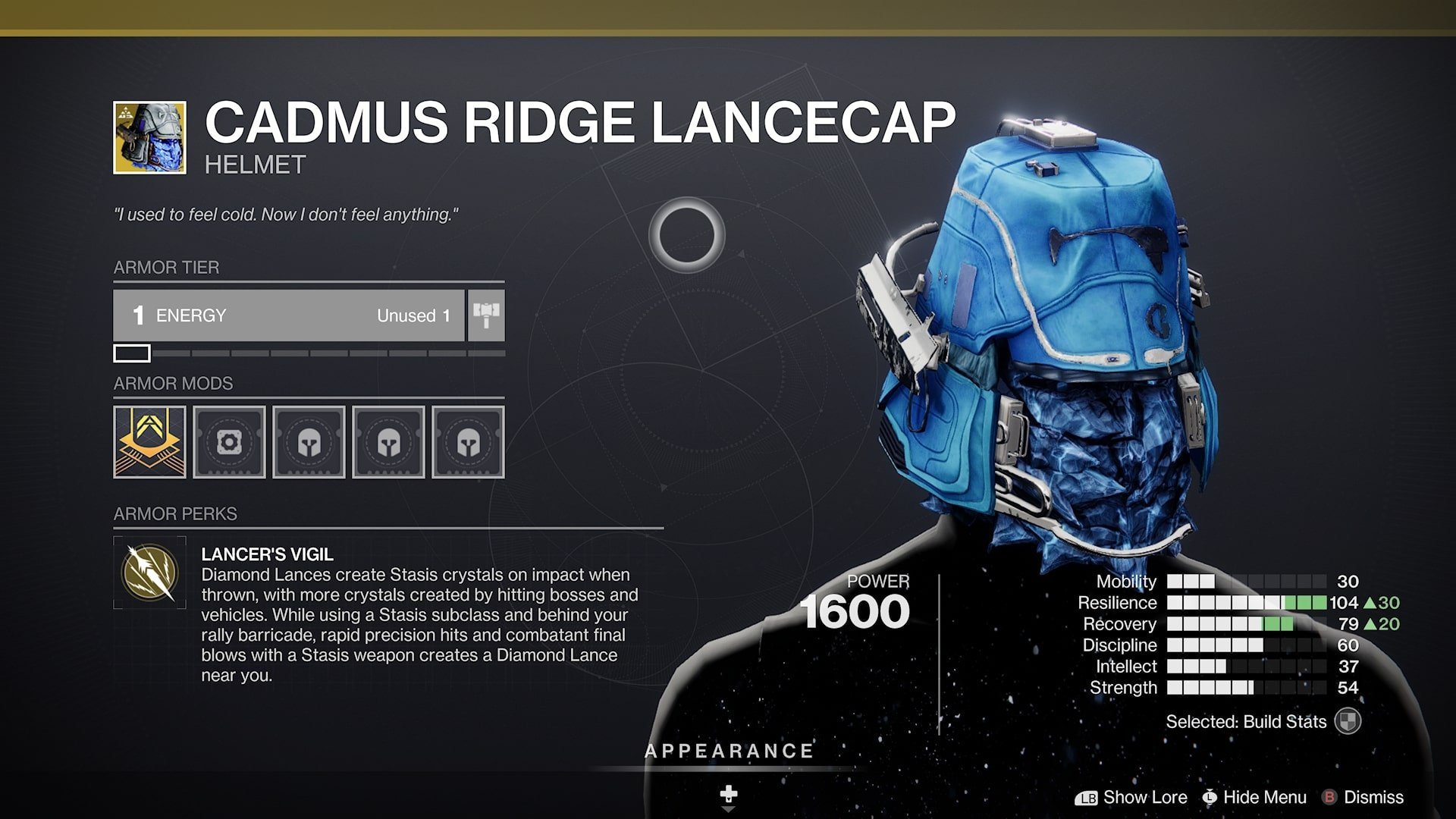 The first Destiny 2 Stasis Titan Build will be entirely centered around Diamond Lance, which you can generate using the corresponding Aspect or the Exotic called Cadmus Ridge Lancecap. This helmet possesses two unique features:
Your Diamond Lance creates Stasis crystals on impact when thrown. The number of crystals depends on the enemy type.
If you stand behind a Rally Barricade, a Diamond Lance will appear near you upon achieving final blows or landing 3 precision hits.
There is one catch, though. This Exotic armor for Stasis Titan has a 7-second cooldown, which makes the second feature less useful. However, the creation of Stasis Crystals is already a significant buff, especially for the Behemoth subclass, which relies heavily on them.
Now let's delve deeper into the Aspects and Fragments. Diamond Lance creates a Stasis Lance by defeating a combatant with any Stasis damage. It has two types of attacks: Throw and Slam. When you Throw the Lance, it freezes enemies in a small radius. On the other hand, when you Slam the Lance into the ground, it freezes enemies in a larger radius. The second Aspect, Tectonic Harvest, generates Stasis Shards that grant 10% Melee Energy whenever you shatter Stasis crystals. These shards are generated quite frequently and will prove helpful in the future.
Due to the choice of these Aspects, you have a total of 5 Fragments slots that will help you enhance this build. Whisper of Rime provides survivability, as your Stasis Shards will heal 12 HP and grant an overshield if you have maximum health. Since you will often break Crystals created by Lances and Glacier Grenades, why not reap the benefits? So, to fully understand why this Stasis Titan subclass meta in Destiny 2:
Shards boost Grenade Regeneration Rate by a whopping 500%
Fissures improve the radius and damage of the shattering effect
Chains provide 40% damage resistance when near Crystals
Rending increases damage to Frozen Enemies and Crystals from Primary Weapons
Lastly, let's touch upon Mods. You'll obtain Armor Charges in two ways:
Harmonic Siphon creates an Orb of Power for Rapid Stasis weapon Final Blows
Elemental Charge gives Armor Charge by picking up 4 Stasis Shards
As for spending Armor Charges, you'll enhance the damage of Stasis Weapons with Stasis Weapon Surges and improve Intellect and Strength with Font of Wisdom and Vigor. Since these Mods consume Armor Charges over time, it's highly recommended to use Time Dilation, which extends the timer by 5 seconds.
Hoarfrost-Z Build
Exotic Armor: Hoarfrost-Z
Aspects: Diamond Lance and Tectonic Harvest
Fragments: Whisper of Rime, Shards, Chains, Rending and Fissures
Class Ability: Rally Barricade
Grenade: Glacier Grenade
Must-Have Mods: Harmonic Siphon, Impact Induction, Focusing Strike, Bolstering Detonation, Charged Up, Stacks on Stacks, Elemental Charge x2, Utility Kickstart, Reaper
Recommended Stats: 100 Resilience and Discipline, max Recovery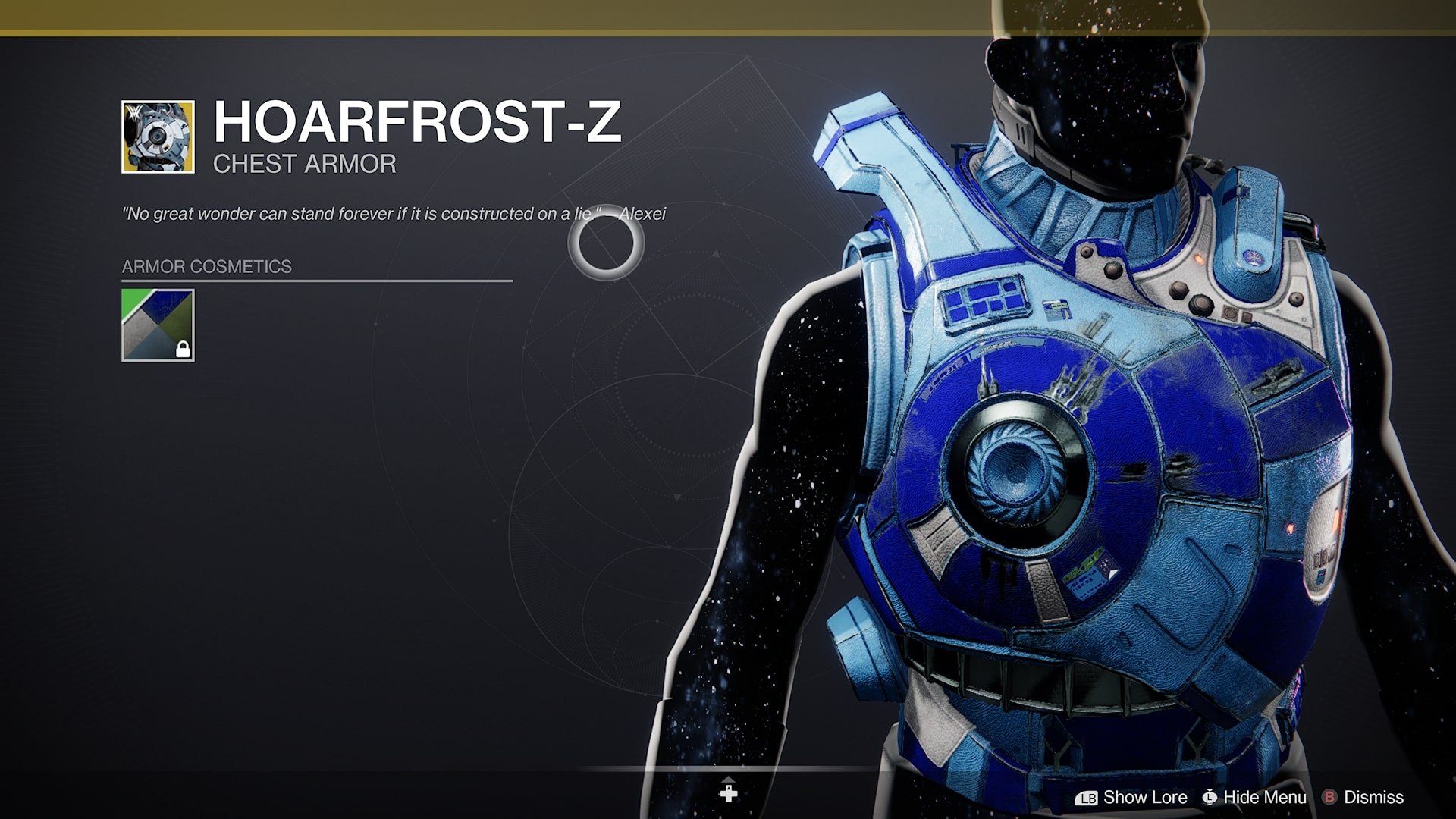 Now, let's move on to the second Stasis Titan PvE Build, which concentrates solely on Stasis Crystals. In order to create them much more often, you'll require Hoarfrost-Z. It substitutes your regular Barricade with a Stasis Crystal Wall. Although it may seem average, this approach performs extremely well in-game situations, enabling you to cover the whole arena with your Crystals.
The Aspects and Fragments used are the same as you may have seen in the previous build, but the situation is more interesting with the mods. In the last build, we used best Mods for Stasis Titan builds that gradually consumed your Armor Charges. This time, Utility Kickstart will consume them, which provides Class Ability Energy after its use. However, since you'll be creating Stasis Crystals even more frequently, it's best to use 2 copies of Elemental Charge along with Stacks on Stacks, allowing you to obtain х2 Armor Charges for just 3 Stasis Shards.
Stasis Titan PvP Build
Exotic Armor: Antaeus Wards
Aspects: Cryoclasm and Howl of the Storm
Fragments: Whisper of Shards, Chains and Rending
Grenade: Glacier Grenade
Must-Have mods: Targeting, Dexterity, Loader and Unflinching Aim mods (which gun you prefer), Melee Kickstart, Absolution, Better Already, Reaper, Bomber, Outreach
Recommended stats: 100 Resilience and Strength, max Recovery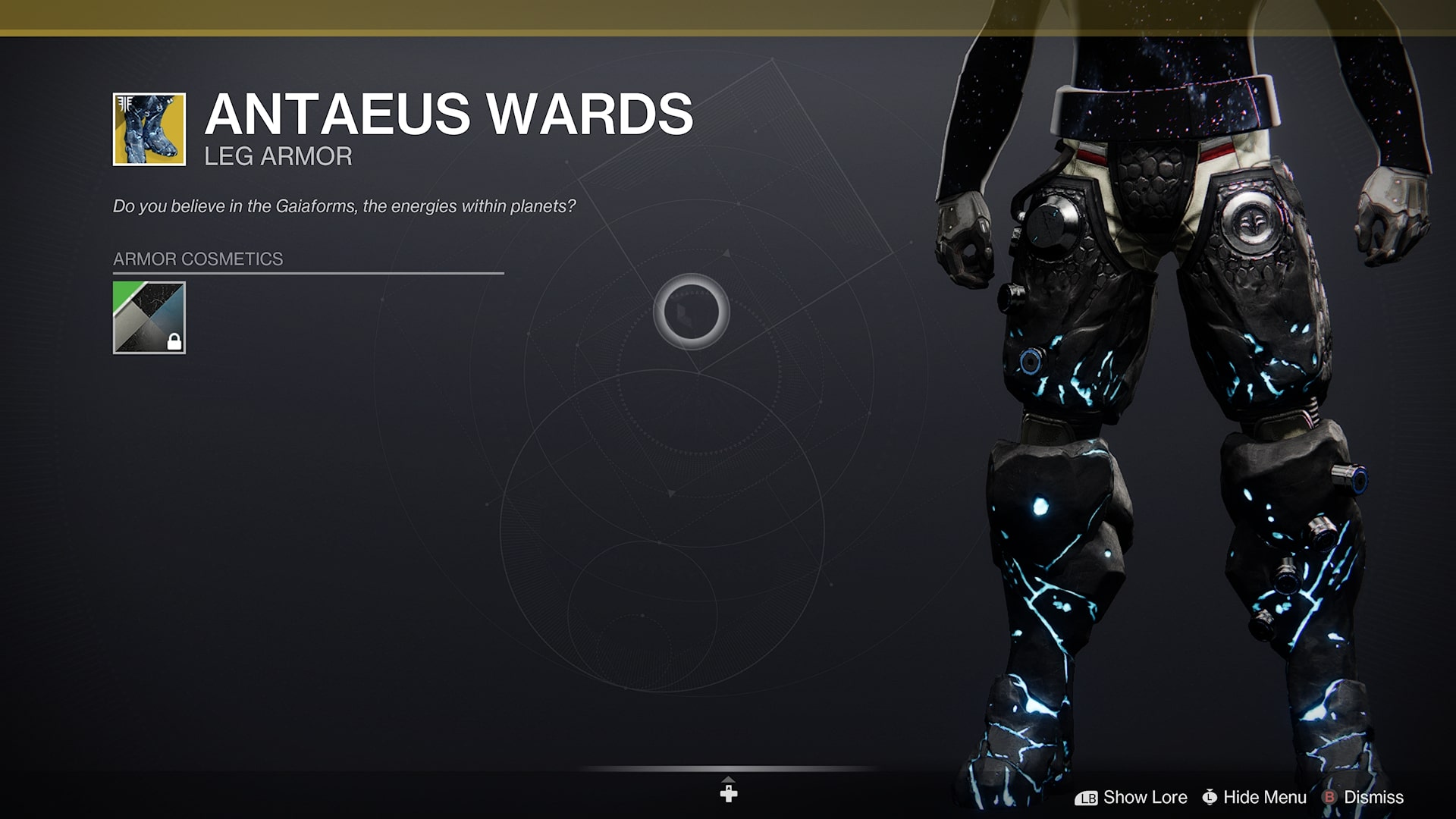 As usual, our final build will be a Crucible one, and it is perfect for those who enjoy sliding. Antaeus Wards create a frontal shield during a slide, which reflects anything, but you need to run for at least 1.5 seconds to activate it. Combined with this Exotic, the Cryoclasm Aspect works perfectly, increasing Slide Distance by 50% and causing Slides to shatter Crystals and Frozen Enemies.
The second Aspect is also related to sliding, but this time, it will enhance your Powered Melee Ability. Howl of the Storm replaces your Melee with an Uppercut while sliding, freezing enemies, and creating 4 Stasis Crystals. Although you'll have 4 Fragment Slots with these Aspects, only three are significant. Whisper of Shards boosts grenade regeneration by 150% when you shatter a Crystal, Chains provide 15% damage resistance near Crystals, and Rending improves damage to Frozen Enemies and Crystals from Primary Weapons.
Mods don't play a crucial role here, but the best build loadouts for Stasis Titan can make the gameplay more enjoyable. In particular, we recommend giving an Exotic like Cryosthesia 77K a chance. After a Final Blow from this weapon, you can switch its firing mode to a unique shot that instantly freezes the target. We recommend checking out a separate article on the best weapons in PvP for additional recommendations.
Final Words
Our team hopes those Best Titan builds for Stasis subclass will help you in Endgame content and battles against other Guardians. If you liked this article, you can check out our other guides, like the guide on the best armor for Titans or the best weapons to use in Raids.
Finally, we want to recommend the best way to save your time and forget about the grind with Destiny 2 Services. Professional players can farm all Adept guns from Trials of Osiris for you or help you complete any possible Endgame content. That is the perfect way to level up your character for the above builds.
Thanks for Reading! Owl is Flying Away.