Destiny 2 Season 23: Crucible Changes and Sparrow PvP Mode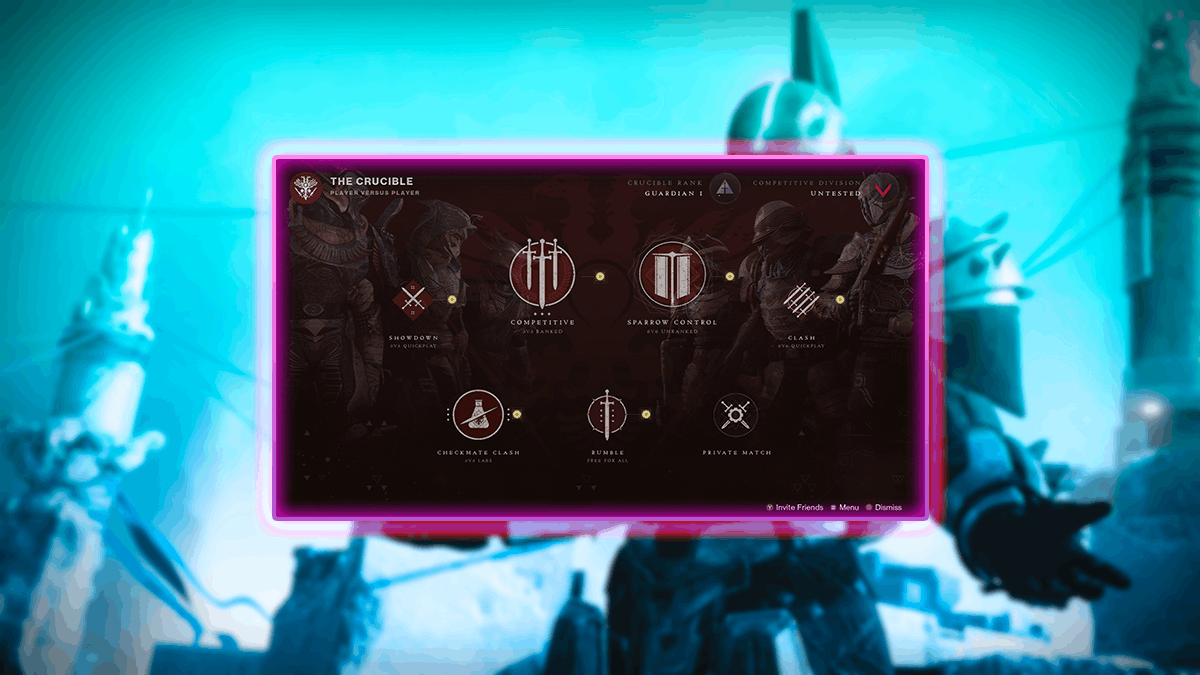 Today, Bungie decided to delight fans of Destiny 2 PvP by introducing a bunch of details about the upcoming changes in Season of the Wish. The development team notes that this is far from everything that will appear in the forthcoming season, so it's recommended to keep that in mind. Moreover, there are so many details that you could even drown in this heap of text. That's why we've compiled all the essential information into points for a more accessible overview:
The new PvP Mode — Sparrow Control, is the most unexpected and interesting surprise! As you've guessed, it's the beloved Control mode, where large map s prevail so you can ride on Sparrows. The developers promise some kind of medal to those participating in Sparrow Control in the next season.
The Crucible playlist will once again feature 3v3 Quickplay with Elimination and Showdown. The 6v6 mode will be divided not into three but into two playlists: Control and Quickplay Playlist. In the first one, you'll find a collection of modes based on Control, while in the second, you'll see modes from Party and Relentless rotators. The first couple of weeks in the Control Playlist will feature Checkmate Control, where the emphasis is on your weapons.
Checkmate will also receive many variations, such as Checkmate 3v3 Clash, Checkmate 3v3 Countdown Rush, and Checkmate Dominion. Moreover, the developers promise to lower the ability cooldown penalty to 30%.
The developers hinted that the reduction of cooldowns in Checkmate was based on other changes in the following season. Because of this, players should expect cooldown growth for all abilities, which will likely affect PvE as well.
The developers are working on improving player spawns on maps. They'll tell us exactly how features will contribute to this in the future. For now, the developers will make some spawn modifications for the following maps: Midtown, Meltdown, and Endless Vale.
In Competitive, the focus will now be on your wins and losses, not your performance.
Competitive Ranks are going to eliminate inflation protection, so you don't lose points you've earned if your rank is above your skill level.
Promotion and Relegation series requirements for all divisions except Adept and Ascendant are being removed.
In Trials of Osiris, they will add more rewards for Flawless Wins. For example, three wins on your flawed card guarantee you an armor from this activity, four wins — five enhancement cores, five wins — a random trials weapon, six wins — three enhancement prisms. Now it won't be so sad to lose!
The drop rate of adepts after 7-win cards after Flawless has been returned to the level when the Flawless pool still existed.
A new system, Competitive Focusing, will be implemented in Season of the Wish. All old Competitive rewards, like the Rose Hand Cannon, are going to become available again. To earn them, you'll need to raise your rank in the Competitive mode, and starting from the Copper rank, you'll have access to only one focus per week. The higher the rank, the more focusing will become available (up to seven per week). And the price is not so high: 3 Crucible engrams and 25,000 Glimmer.
In the future, Bungie promises more Glimmer and Enhancement Cores for completing ritual activities.
The Citadel, a Dreaming City PvP Map, is returning in Season 23.
Season 23 Ritual Weapon is Chivalric Fire, the first Void Caster Sword. It comes with a new perk that generates Orbs of Power when dealing sustained damage.The sword itself has the following perks: Repulsor Brace and Relentless Strikes in the third column, and Attrition Orbs with Destabilizing Round in the fourth column.
The following weapons are going to appear in the playlists next season: Incisor Trace Rifle and Eye of Sol Sniper Rifle in Trials, Lethal Abundance Auto Rifle and Riiswalker Shotgun in Banner, Undercurrent Special Waveframe GL and Uzume RR4 Sniper Rifle in Nightfall.
That concludes this significant TWID, and to be honest — there's quite a lot of content. If you are a fan of PvP in Destiny 2, be sure to share your impressions in the comments. We are personally intrigued by Comp Weapon Focus, as we'll finally be able to earn God Roll on old guns!
Thanks for Reading! Owl is Flying Away.