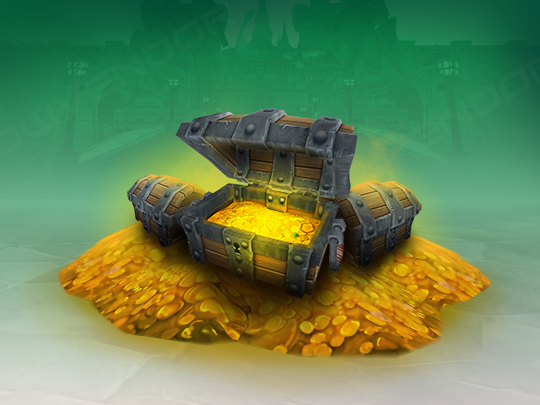 WoW Burning Crusade Classic Gold
Rated 4.9 of 5 (20,714)
See reviews
By buying one of the packs in this service you will get the desired amount of WoW gold on your TBC Classic server. The gold will be sent to you via in-game mail.

1000 GOLD
+100 FREE
3000 GOLD

+250 FREE
5000 GOLD

+700 FREE
10000 GOLD
Gold farming is a tedious process by itself, yet the lack of variety of methods in Сlassic-TBC-WotLK era WoW makes it even more unappealing. A fully leveled profession could help you sustain yourself but won't make your gameplay truly comfortable. Furthermore, a mob-grind is not something that every class can successfully perform.
However, with a solid bag of gold, you can get your flasks and food for your raid runs, get raid BoEs from the AH, reserve a sought-after item in a GDKP run, brute force your way through a profession, and finally get that 280% speed mount.
WowVendor offers a unique gold-buying experience, where it doesn't matter what server or faction you play. The currency is sent to you via in-game mail, so you don't have to pick a time to trade face-to-face. All packs contain hand-farmed gold from a team of PRO players, making the purchase 100% safe.
HOW DOES IT WORK?
1

CONFIGURE THE SERVICE

Select preferred amount of gold and place an order.

2

CONFIRM DETAILS

Join our discord server or choose any other convenient messenger to confirm your order details, including character's name and server, and any additional preferences.

3

ORDER PROCESSING

Your gold will be sent to you via in-game mail. It may take up to 24 hours, but usually it goes through much faster

4

ORDER COMPLETION

You will get a notification after your order is finished. Now you may check your order and confirm that the service is fully completed. If anything goes sideways, our service team will help you at any step of the process, 24/7.

5

ENJOY THE RESULT

This is the best part — you can finally enjoy your gold! Spend it or save it, it's all up to you! And don't forget to rate us on TrustPilot so we can further improve our services.
Earning Gold in World of Warcraft TBC Classic
Launched in June 2021, the Burning Crusade Classic is a rebooted and slightly reimagined version of Vanilla WoW's first expansion. Recreating the original game in all its glory, TBC Classic sends old-school players off to take a trip down memory lane, while at the same time offering all newcomers a great chance to dive into the legacy content for the first time.
Whether you're a veteran, wiping away a nostalgic tear, or a beginner, just settling into the world of Azeroth, you get to experience all of the original's gameplay and mechanics: new races, hardcore raids, dungeons, fierce PvP battles, and, of course, the delights of leveling and WoW Classic TBC gold farm.
Resources and currency have always played a crucial part in Warcraft, and gold is by far one of the most vital of them all. It's your must-have currency to upgrade weapons, buy materials and consumables, and even get hold of exclusive mounts and armor pieces. Back in the days, gold was basically all around you, but now it's a lot harder to come by, which makes it even more valuable. Of course, you can constantly check the market hoping to find some cheap WoW TBC Classic gold, spend long hours farming activities, and pick up a gathering profession to sell stuff when you level up. Those are the most well-known ways to get gold in-game, but all of them are either extremely time-consuming or plainly unfavorable. However, there's one more path for you to take. Instead of grinding dungeons non-stop and paying a fortune for overpriced gold at the market, you can simply take a shortcut and turn to WowVendor – the best place to buy WoW TBC gold.
How to Buy WoW TBC Gold at WowVendor?
Here at WowVendor, we have the cheapest WoW TBC gold deals on the market. With prices starting at just $13, we offer the highest quality of service and the fastest delivery, abiding by all online security standards.
How to buy WoW Classic gold on our website?
First off, you need to choose the server you play on (US or EU) and the amount of currency you want to get (from 1,000 to 10,000). Then, you add the service to your cart and proceed to checkout, where you provide your contact and account details and pay for the order. When it comes to paying for the purchased WoW TBC gold, Visa/Mastercard is the most popular option, but you're also free to opt for Paypal or Google Pay if that's more convenient for you.
Once your order is successfully placed and the payment gets through, our manager will contact you to confirm the details and then assign a pro player to your order. The purchased gold can be delivered to your account via:
in-game mail
in-game auction house
trading
As of now, we work only with mailbox delivery. It's one of the most secure ways to send currency and items, and you don't even need to be online to receive the goods. Everything you need to know about the gold delivery service is described in detail in the 'How Does It Work?' section above, but if there still are any questions left, don't be shy to reach out to our Support Team.
Still not sure that WowVendor is the best place to buy WoW Classic gold? Read on for more insights on how we work and what kind of service we provide.
Why buy WoW TBC Classic gold from us?
Providing boosting services since 2014, we've earned a solid reputation among gamers all over the world, and a 4.9-star rating with thousands of excellent Trustpilot reviews is the best proof of that. Online 24/7, our Customer Service team is ready to answer all your questions, help you choose just the right boost, and solve any issue that might occur along the way. We offer only reliable and safe boosting: be it an MMORPG WoW Classic gold trade or a full-blown raid boost, the service will be performed to the highest standards and won't do any harm to your account or personal data.
Our boosters are the most skilled WoW players in all realms with years of relevant experience and tons of gaming achievements behind their belt – just the people you need to solve that currency problem of yours. Don't wanna spend time on farming and grinding, but still aim at gaining tons of gold to fulfill your in-game needs? Discover WowVendor TBC gold offers and get unimaginably rich to make your WoW dreams come true!