Three Must-Have Weapons in Season 22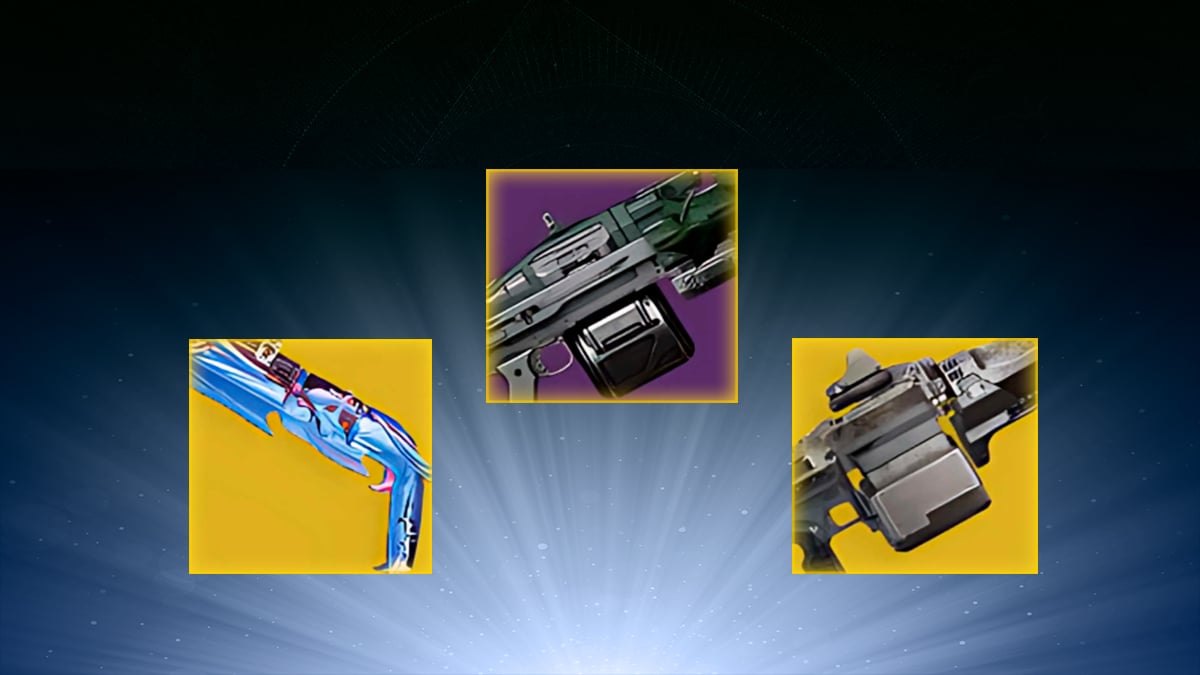 In Destiny 2, many different weapons are helpful in various situations. However, there are three specific weapons that we would like to discuss today. Each of them is useful in a particular game mode, and many of you want to see what these beauties are capable of. That's why we have prepared a video that perfectly shows the functionality and qualities of featured guns:
So, you may have questions about how they work after the video. For this occasion, we have prepared for each gun an overview!
Conditional Finality, Exotic Special Shotgun
First slot, Stasis/Solar energy, Great for all Activities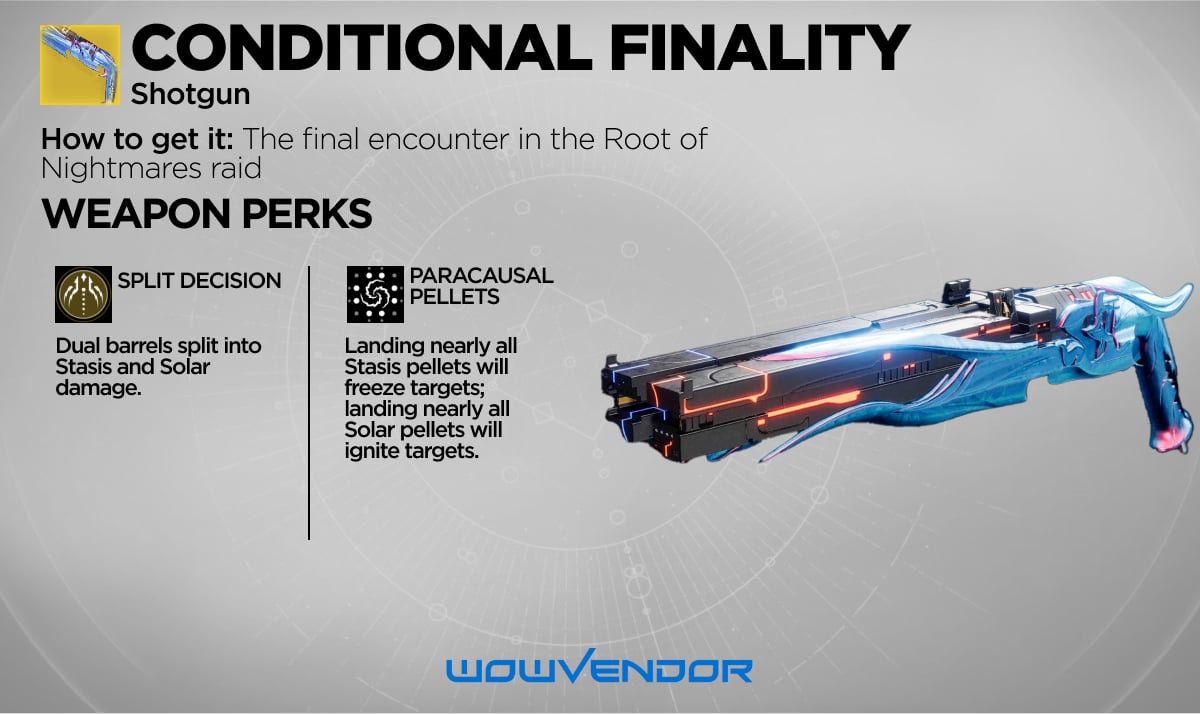 Are you looking for an effective tool against Champions? Need an excellent weapon for PvP? Or do you just want to inflict massive damage on Mini Bosses and Bosses? There's one weapon called Conditional Finality, which is currently considered the best Special Weapon in the game.
The first thing that stands out is that Conditional Finality is the first Dual Barrel Shotgun in Destiny, which will be a massive plus for Doom fans. But that's not the only unique feature of this Exotic. As mentioned earlier, it has two different energies. When you have two rounds in the magazine, your next shot will have Stasis energy, which may freeze the target by scoring a hit with ten out of twelve pellets. However, if you have one round in the magazine, the shot will be Solar, and it ignites under the same condition.
How can Conditional Finality be applied in in-game scenarios? Because both freeze and ignition stop Unstoppable Champions, this Exotic is an excellent weapon against this type of enemy. Moreover, if you get used to this Shotgun, even Barrier Champs won't be a problem for you. Furthermore, Conditional Finality is always in the top ten most used weapons for PvP! It's not just about the Exotic Perks, but also the Stats and unique Pattern Spreads that make it easy to hit the opponent.
However, you'll have to farm Nezarec for a long time to get this shotgun because it drops randomly and the chance of getting it is low. Thankfully, we have a solution:
Xenophage, Exotic Heavy Machine Gun
Solar Energy, Great for PvE and Gambit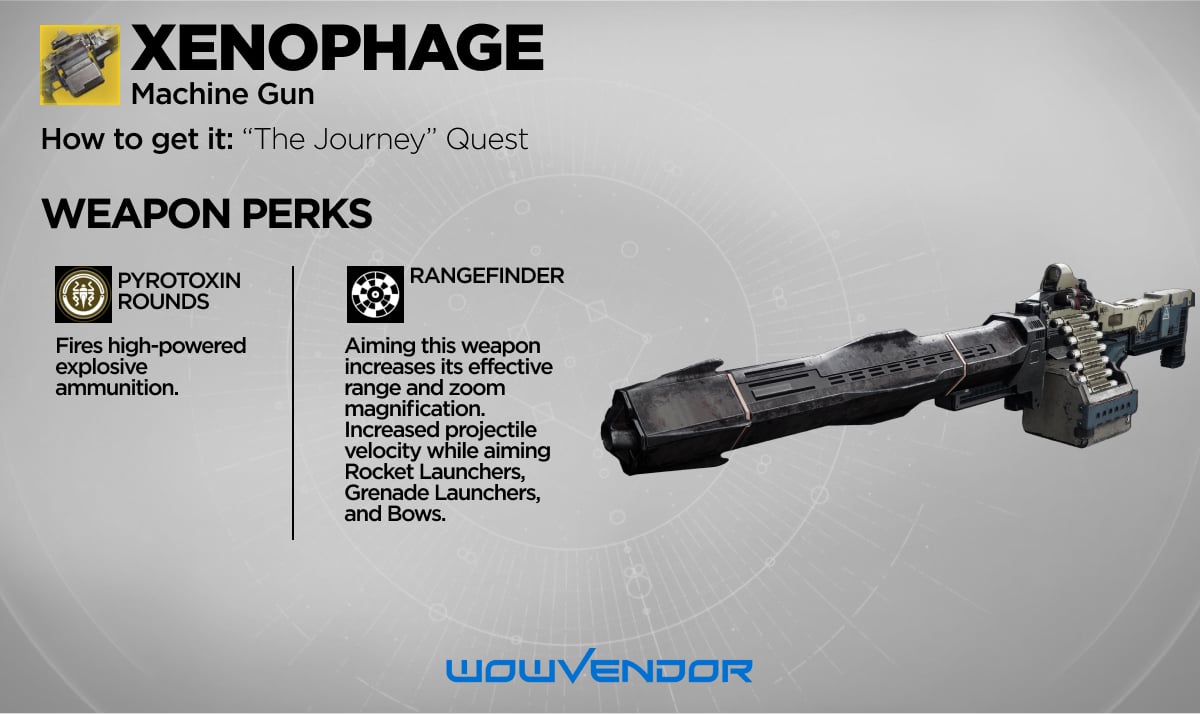 Xenophage is considered the most stable and reliable weapon in the whole game. It may not have the most pleasing DPS, but in return, you get the ability to quickly and effectively destroy nearly any enemy type.
Despite its uniqueness, Xenophage has only one Exotic Perk called Pyrotoxin Rounds. As a result, all of your shots become high-powered explosive ammunition that causes significant damage. Additionally, Xenophage has a couple of hidden features that you probably didn't know about. Since most damage is done with Explosive Damage, you can forget about Damage Falloff and dealing Precision Damage.
In theory, it's great, but where can Xenophage be effectively used? The most obvious answer is Gambit! If you need a useful weapon against Blockers and Primeval or want to extinguish enemy Guardians quickly, then this Exotic Heavy Machine Gun will meet all your needs. It is not noticed in PvE as often, but with it, you may easily One-Phase Nezarec or inflict significant damage to the boss from Ghosts of the Deep.
The only problem with this weapon is that you have to do a boring quest in the worst Destiny 2 Dungeon. You can try your luck and complete it or save your time with a Proffesional Team of Guardians:
Song of Ir Yut, Legendary Heavy Machine Gun
Arc Energy, Great for PvE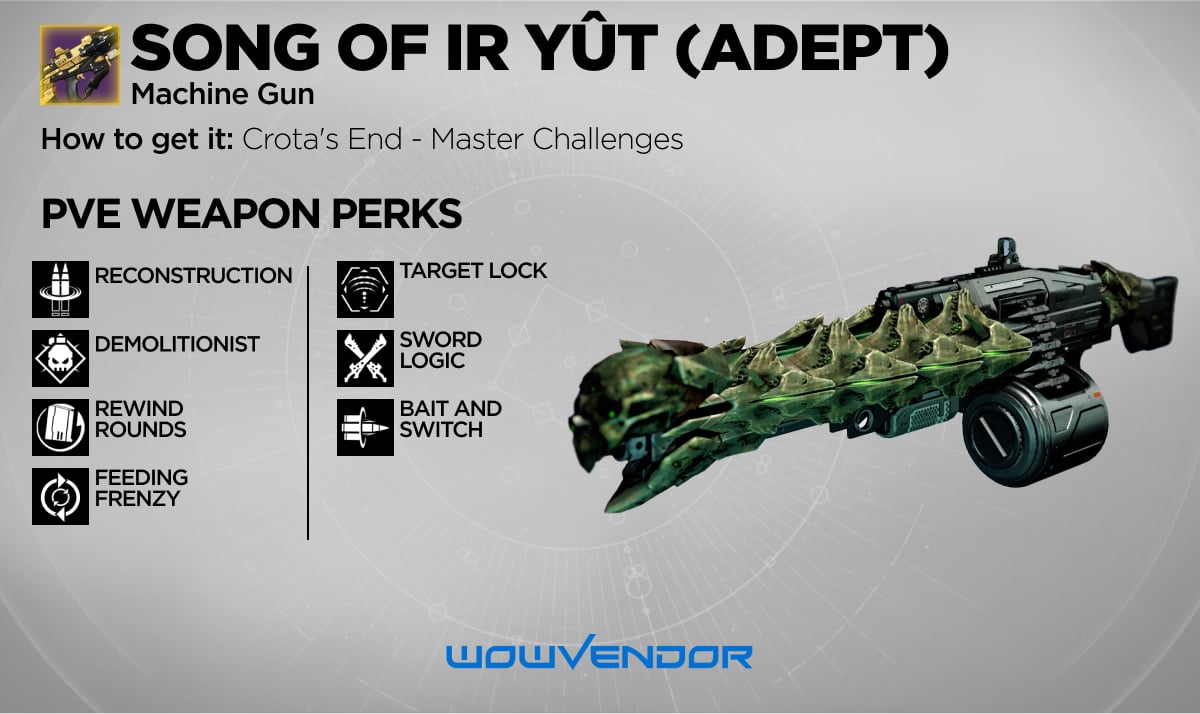 Lastly, let's discuss the re-emerging Song of Ir Yut, which appeared in Destiny 2 with the return of Crota's End. If you've ever dreamt of the perfect Machine Gun, your dream has finally come true.
What sets the Song of Ir Yut apart from other weapons of this type? Of course, the excellent perks that are suitable for any PvE Content. The best perks in the third column here are:
Reconstruction refills your magazine from reserves by 10% every 4 seconds (3.5 with enhanced Perk) after not shooting. It can overflow the magazine up to 100% Increased Magazine Capacity
When depleting the magazine, Rewind Rounds refills your magazine from reserves equal to 60% (70% with enhanced Perk) of weapon hits
These two perks work wonderfully in combination with any in the fourth column. Speaking of which, you have three choices. To efficiently deal damage to a single enemy, the following ones are suitable:
Target Lock increases gun damage over prolonged use
Bait and Switch boosts damage by 35% for 10 seconds (11 with enhanced Perk) when inflicting damage with all your guns
However, if you need Song of Ir Yut for ad-clear, Sword Logic (Increases damage depending on the type of enemy destroyed) will be your favorite
Even though Reconstruction and Rewind Rounds are hard to beat, we recommend you try equipping Demolitionist as shown in the video at the beginning (provides Grenade Energy from Final Blows and also reloads the weapon when using this Ability), as it fits perfectly into Grenade Builds. Song of Ir Yut also has a unique feature called Origin Trait named Cursed Thrall. After a Melee Final Blow, annihilation from this weapon will create explosions, damaging all enemies in small radius.
And, of course, you have to grind the latest raid to obtain this gun. This can be especially annoying due to inexperienced fireteams who often ruin encounters. Good for you that we can have your back:
Final Words
If you like these guns and want to get them already, don't forget to use our Destiny 2 Services. It is the most practical and fastest way to acquire such excellent weaponry, which requires you to spend dozens of hours farming while trying to find good teammates. With these services, you don't have to do any of this; just wait while the professionals resolve your request.
Thanks for Reading! Owl is Flying Away.