Destiny Item Manager Guide: How to Use Dim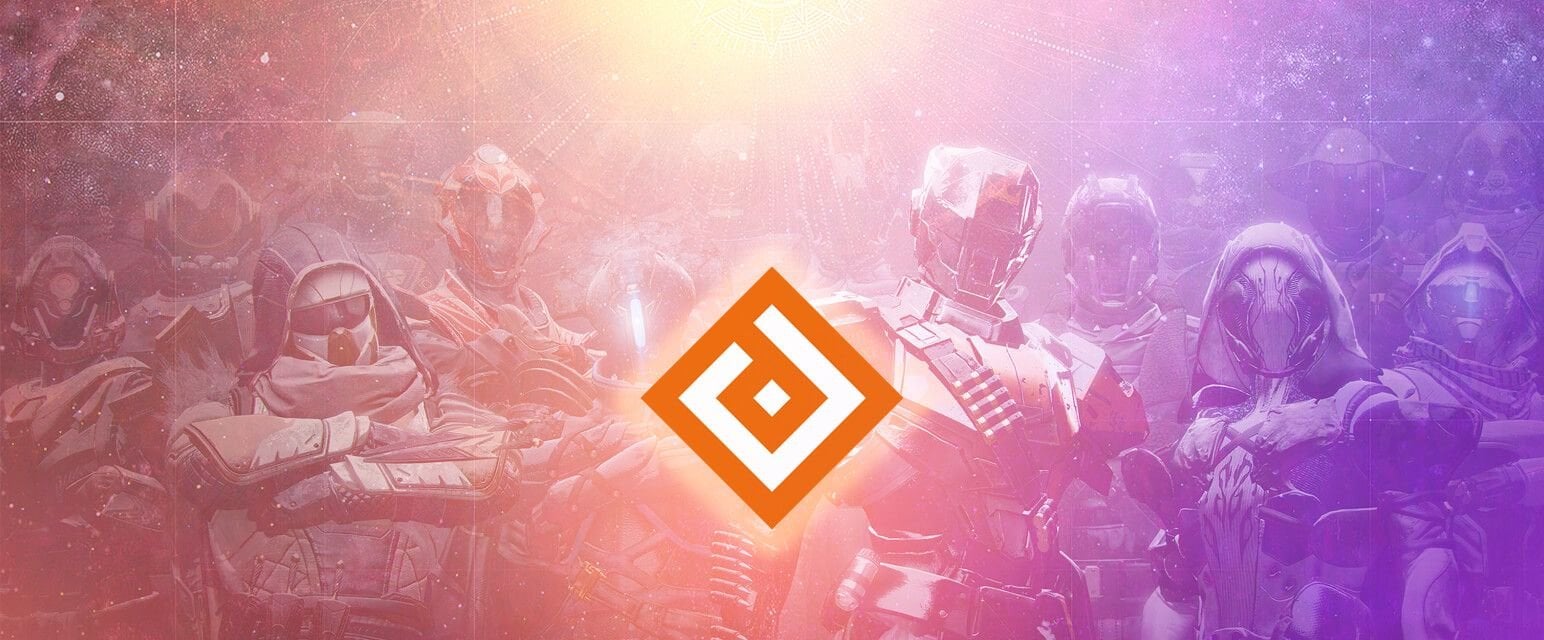 Any player at one point faces such a problem in Destiny 2 — inventory management. The Guardian's inventory is limited, and therefore players constantly have to organize it, whether it's cleaning it or storing the necessary items in the Vault. As you know, the Vault is only available in social spaces, such as The Tower. Bungie addressed this problem in the sequel with the Destiny 2 Companion mobile app, which has valuable features that solve these crucial problems for players. However, their app has its drawbacks, such as long downloads or lack of features, but fans have long since solved these problems with the creation of the Destiny 2 Item Manager website.
Despite the fact that Bungie offers its own application for such things, most of the guardians use DIM, which has received approval from Bungie itself, and even some of its employees are making efforts to improve the project. That's how comfortable and loved by the people it is. Many beginners probably have not even heard about this site and do not know how to use it. So today, we will briefly talk about all the functions of DIM. So, let us open the DIM website, follow all the necessary steps to enter it, and sit back to find out everything you need to know about the best Destiny 2 item manager.
Managing Your Inventory
Let's start our story with basic things, namely inventory management. This guide section will analyze all the handy functions of moving and editing things. We will explain how the search and filter work, understand the comparison of items in detail and show how you can make, save, and then use your loadouts. At the end of the article, you can expect additional details about various useful site options. In general, we will answer the most essential question: "How does Destiny item manager work?"
Moving Items between Characters and Vault
This is definitely the most obvious use of the DIM app. In just a few seconds, you can move the exotic that your Warlock, Titan, or Hunter has and then repeat this action, but vice versa. If you forgot to pick up the right gun or armor from the Vault, then with a couple of clicks, you can put this item in your inventory and throw the ones you don't need into the Vault if you wish. Incredibly comfortable and helpful features, which is why so many people have this Destiny vault manager and use it constantly. In the same way, you can take items from the Postmaster with one click!
Unfortunately, the dismantling items option will not work in DIM because Bungie disabled it in order to avoid problems with intruders. However, you can always repeat the steps above and move the items you want to dismantle. It will take some time, but it will make your life easier if you don't want to fly to the Tower.
There are easy-to-use sorting settings, thanks to which the guns you want to see first will always be at the top of the list. This setting could be beneficial if you wish to immediately access your crafted or masterworked weapons.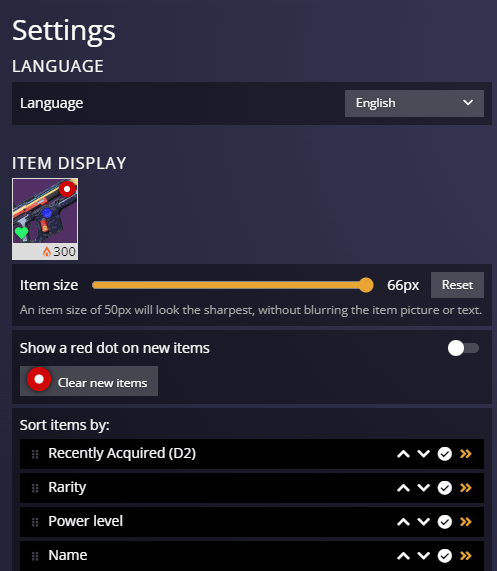 Of course, the application has restrictions that the game itself sets. For example, you won't be able to put anything on your character while being in any activity. Still, in orbit or the Tower, no one will disturb you from doing so. That's an unpleasant limitation, but these are the laws of Bungie's online shooter. It is also worth noting that if you, for instance, already have an exotic helmet on and want to put on exotic legs, then DIM will automatically remove the helmet and put on a random one from your inventory.
Editing Your Stuff
Like the Bungie app, with the Destiny Inventory Manager, you can edit your items without even having to log into the game. Paint the weapon to the desired color or apply needed ornament, find and then enable mods for armor, weapon or ghost, change abilities, emblems, ship, and Sparrow. Other than that, you have the ability to even infuse your items here! Overall, suppose you have no time to enter the game but want to urgently change something in your equipment. In that case, such seemingly unimportant functions help out a lot.
Search and Filters for Weapons and Armor
Moving on to a not-so-obscure but beneficial and important function, which is one of the main functions for Destiny 2 in DIM — Hidden Objects. As strange as it may sound, writing "Hand Cannon" is not enough. Initially, the search only works on item names, such as "The Messenger" or "HOARFROST-Z."
So how do I find any Hand Cannon in my Vault? Search terms will help you with this, of which there are many, and almost every one of them is handy. In this case, you must precede the gun type with "is:.". For example, "is:handcannon". Given search term is almost basic, you can apply it to the required damage type ("is:void"), armor type ("is:helmet"), or rarity ("is:exotic"). Commands such as "source:" to find guns from the desired activity, or else "perk: "Triple Tap"" to find the weapon with the desired perk will be absolutely valuable.

It will be very long to list all the filters, so if you want to know more about search terms, just click on Filters help when you click on search.
Comparison of Various Items
Have you ever had several identical exotic armors in your Vault that take up too much space, and manually comparing stats is long and dreary? Even with this, DIM can help you. If you click on any item and select the "Compare" function, you will see a list of all items in your inventory.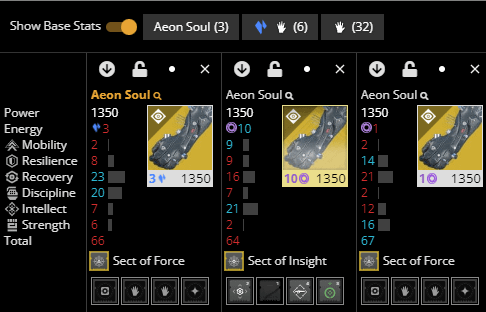 Also, just for comfort, you could expand your comparison list using the buttons on top or separately add things to the list you click on in your Vault or inventory. This feature shows itself even better with weapons, where you can see stats and perks, which will help you compare and find unique combinations to suit your taste.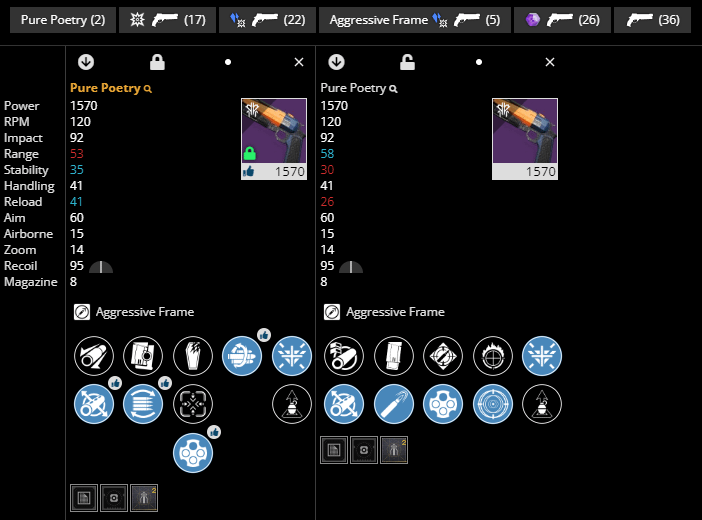 You may have noticed that some guns and perks have a "thumbs up" sign. The wish list database function is built into DIM, which consists of a wide variety of rolls from respected Destiny 2 content makers. The following feature can help you a lot in choosing the best gun because those content makers have put together a short and informative description about the benefits of either gun or its perks. They will not only tell you which mode this or that roll is suitable for but also offer their favorite options. Their advice will save you from endless searches on the Internet for the best rolls for a particular type of weapon. And to avoid suddenly forgetting to change perks in the game, you can always select them in the DIM itself.
Saving Loadouts
Well, the icing on the cake is the "saving your Loadouts" function! In the Destiny Item Manager, it is implemented conveniently: with one click of the "Save Loadout" button, all the equipment you are wearing will be saved in a separate slot, and later, when you need a particular loadout, you can instantly put them on in a couple of seconds. On top of all this, not only is your armor saved, but also the ornaments and shaders for them, which may be really important for some people. One of the most favorite things in Destiny gear manager. At the same time, this does not apply to your transport, ghost, and weapons, which is sadly not a good thing. If you wish, you are able to fully edit your loadout, replacing one or another item that you no longer need or was saved by mistake. For example, you want to put in a new and much better cannon to replace the old one.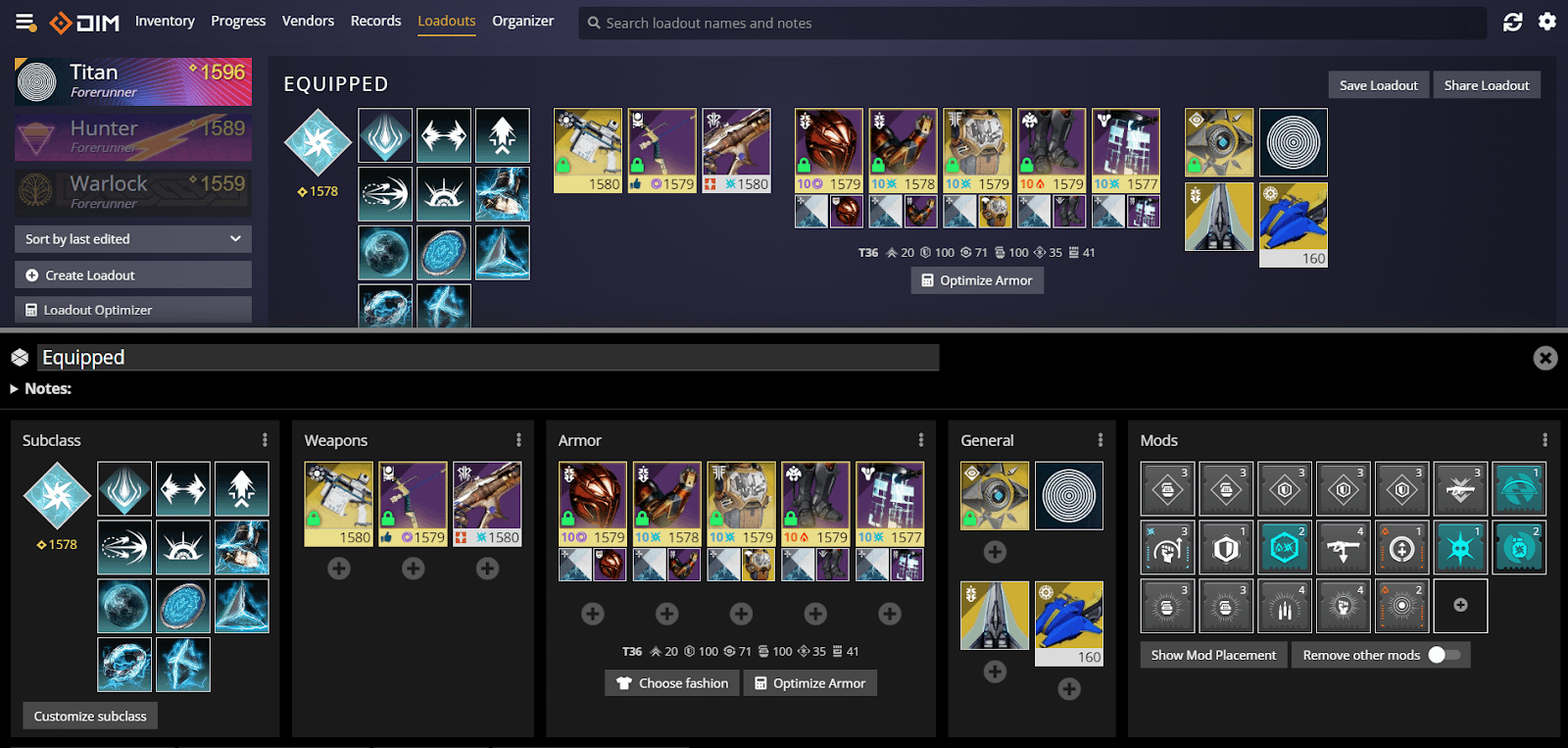 Fortunately, this feature will be built into the game with the release of the Lightfall add-on. However, it is still a couple of months away, which means that for now, we are happy with at least such an existing feature on other platforms.
Other Functions
We talked about the most important, and now let's move on to functions that are not at the top of the iceberg in terms of importance but will be no less valid for many players. The Destiny Item Manager lets you track your progress, check on all the Vendors have, shows you all your records, and also can help you to organize some of your items. Let's not rush and go through in order.
Progress
The title speaks for itself and clearly explains its essence, which is to show your progress in the game. "Progress" shows your ranks with various vendors, tracked triumphs, quests for major in-game events like Festival of the Lost, seasonal rank, milestones and challenges, and your active quests and raids progress. A handy feature that allows you to think about further activities in the destination gives you a detailed look at each task and even makes it possible to distribute everything by filters. The most crucial thing after work is to delve into this section, see what each class has for today and write down all the most essential activities in a notebook.
Vendors
Intelligent readers have already understood what awaits them in this section. Perhaps one of the most useful of all the above, since you can see the assortment, bounties, engrams, and so on from literally any vendor in the game. Whether it's yearly events like now with FotL's Eve, weekly events like Xur's comebacks, or even seasonal ones like Star Chart. Any vendor is available here, and you are able to easily explore their items without constantly flying to them. That is one of the reasons we use their Destiny item manager app all the time, and you should try it too!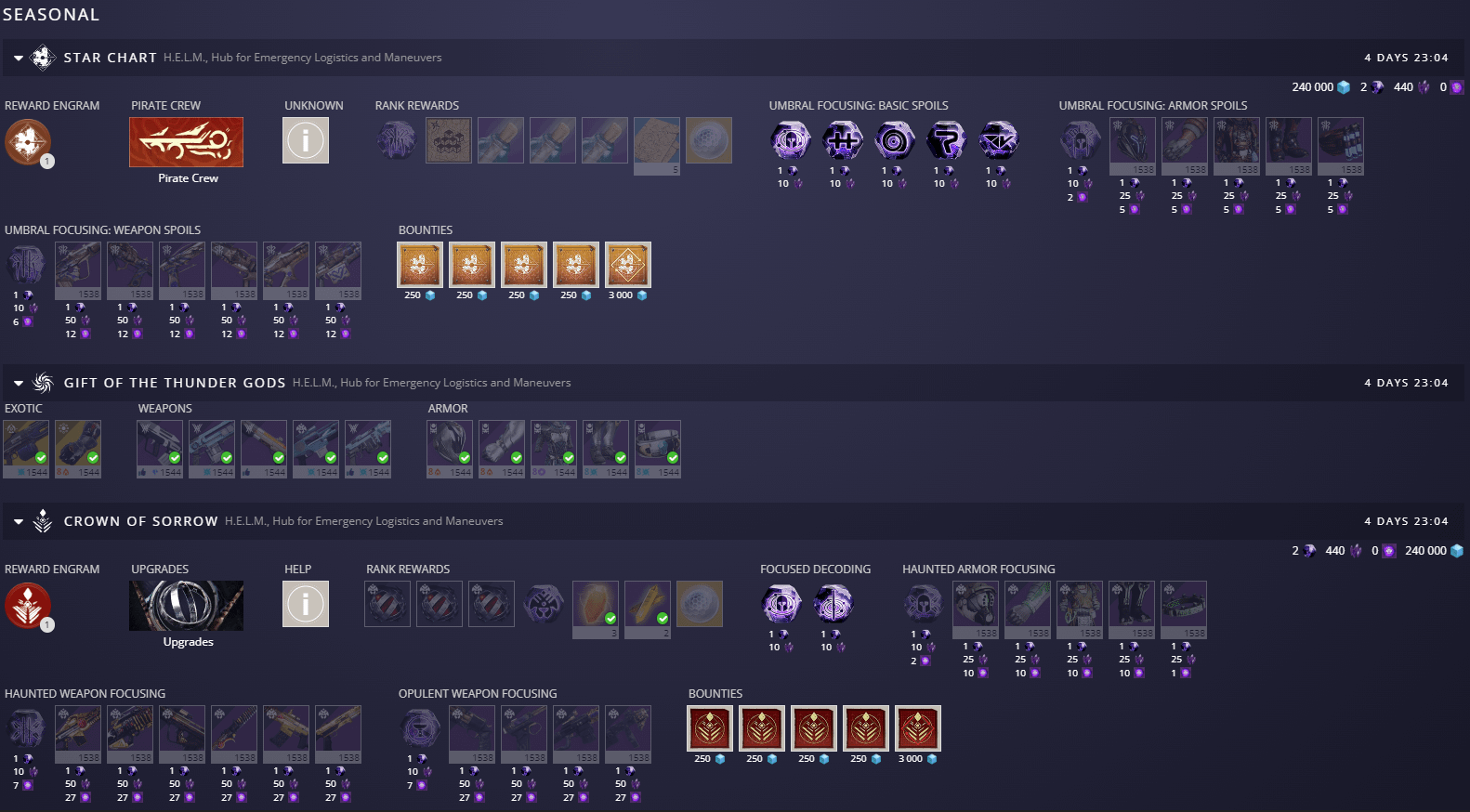 Records
Fans of collecting everything in Destiny 2 are also not left out. In the current section, you can keep track of everything related to this. Triumphs, exotics found, your stats for the seasons, lore collected, medals, patterns and catalysts, and many other things you have achieved in the game are collected here. As a whole, all the accumulated progress over the years of playing Destiny is shown here. If you want to show off your achievements to your friends, then the "Record" section will make it undemanding to do so. We can say that's a nice bonus for real fans of the game!
Organizer
The last and least important of all is the Organizer. Its whole point is to show all the information about your inventory: guns, armor for each class, and ghosts. Here you can look at all the available information about your equipment, statistics, strength, perks, and so on. You also have the opportunity to leave some notes about a particular subject. And suppose you want to get serious about creating a spreadsheet in Excel, for example, about weapons. In that case, you are allowed to upload all the given information to your computer in one document. Professional players in Destiny 2, with a massive amount of items in inventory, are better at familiarizing themselves with this section.
And this is where our guide ends, and we hope you now know how to use Destiny item manager. DIM does an excellent job of managing your inventory; even Bungie cannot offer a better analog right now. By using it on a regular basis, this application will make your life a lot easier, and you won't have to waste your time on regular flights around the planets. If you have other questions regarding Destiny 2, feel free to check out our different Destiny 2 guides, where we discuss equally interesting questions like "How to have a fun solo?" or "Which is the best build for my class with the new Arc 3.0 subclass?" and etc.
Thanks for reading! Owl is flying away.