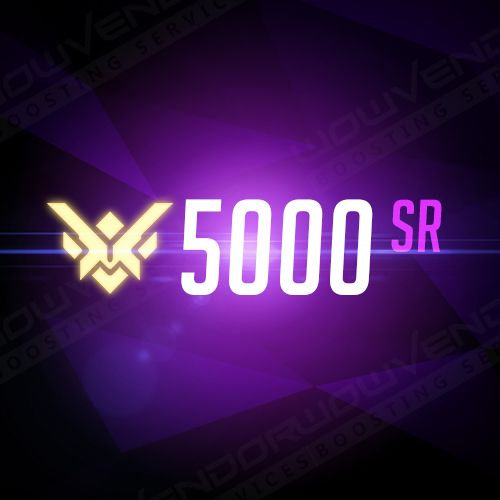 Skill Rating Boost
Rated 4.9 of 5 (19,598)
See reviews
By buying this service you will get rank of your choosing in the competitive playlist. As the result you will obtain competitive points for your golden weaponry, proceeding higher in the ranking system will net you even more points. You will also gain prestigious ranking names, emblems and sprays.
ETA: up to a few Weeks, depends on the chosen options.
Options:
• Open queue or Role queue.
• Competitive Rank: Bronze, Silver, Gold, Platinum, Diamond, Master, Grandmaster, Top 500.
Rewards:
• Desired competitive Rank.
• Competitive Points.
• Lootboxes for plentiful level ups.
• Sprays and Emblems.
Requirements:
• Account Sharing (we'll play your account).
• Placement matches completed.
Overwatch Boosting Services to Help You Truly Ace the Game Without Going Far
Overwatch continues to bring pure online FPS joy to millions of dedicated players worldwide, being a unique, truly outstanding shooter in its own right. The extensive OW community is as dedicated to the game as it is fierce in terms of competition. Thus, upping ranks and gaining higher in-game tiers is certainly a treat and a challenge at the same time for many keen players out there. And the process may spawn nerve-wracking difficulties, like unreliable, low-skill, or pure troll teammates that hinder your progress instead of making every game an enjoyable, mutually beneficial time.
To help you forget about such issues and start tracking felt ranking progress, we offer a range of Overwatch Skill Rating boost at the lowest prices – these will make your gameplay completely hassle-free while assisting you in reaching the top results on your Americas server.
Pick from a wide range of boosting options
WowVendor has been providing online boosts for years, giving you unprecedented opportunities at mastering the game without wasting unreasonable amounts of your time and nerves and without resorting to cheats or game engine tricks. We have a well-formed pool of seasoned Overwatch SR carry specialists who know the best way around advancing through rankings and tiers. And they are willing and ready to share them with you.
How does an Overwatch skill rank carry work?
All you need to employ an SR boosting service at WowVendor is to pick the required boost on the website and purchase it. Once you do that, you immediately get assigned a dedicated carry. You may have to share your account information for the specialized carry to conduct boosting activities for you. They get access to your OW account through a protected system and cannot share it with anybody else.
Once your dedicated carry is successfully assigned and introduced to your account, you can watch them do the job of flawlessly winning ranked matches for you. 
Personalized boosting options
At WowVendor, you can pick from several readymade OW rank boosting options, but you can always contact our support team and discuss any custom changes you would like to make in this or that boost. A highly customized Overwatch sr boost will allow you to achieve particularly wanted results and adjust the service however you see fit. We focus on providing the most convenient boosting conditions for every client, even if it requires certain major adjustments of the whole process. 
You hire a professional Overwatch skill rank carry to wave your grinding cares goodbye once and for all.
Turn to WowVendor
At WowVendor, you can find a Skill Rating boost at the most fitting price for any platform you prefer playing OW on – PC, PS4, Nintendo Switch, or Xbox One. All you need to do is visit the site and pick an SR boost.
The rest is our responsibility – we'll get you an Overwatch rank boost that will propel your account to the forefront of global game rankings!