Best Warlock Strand builds for Destiny 2 Lightfall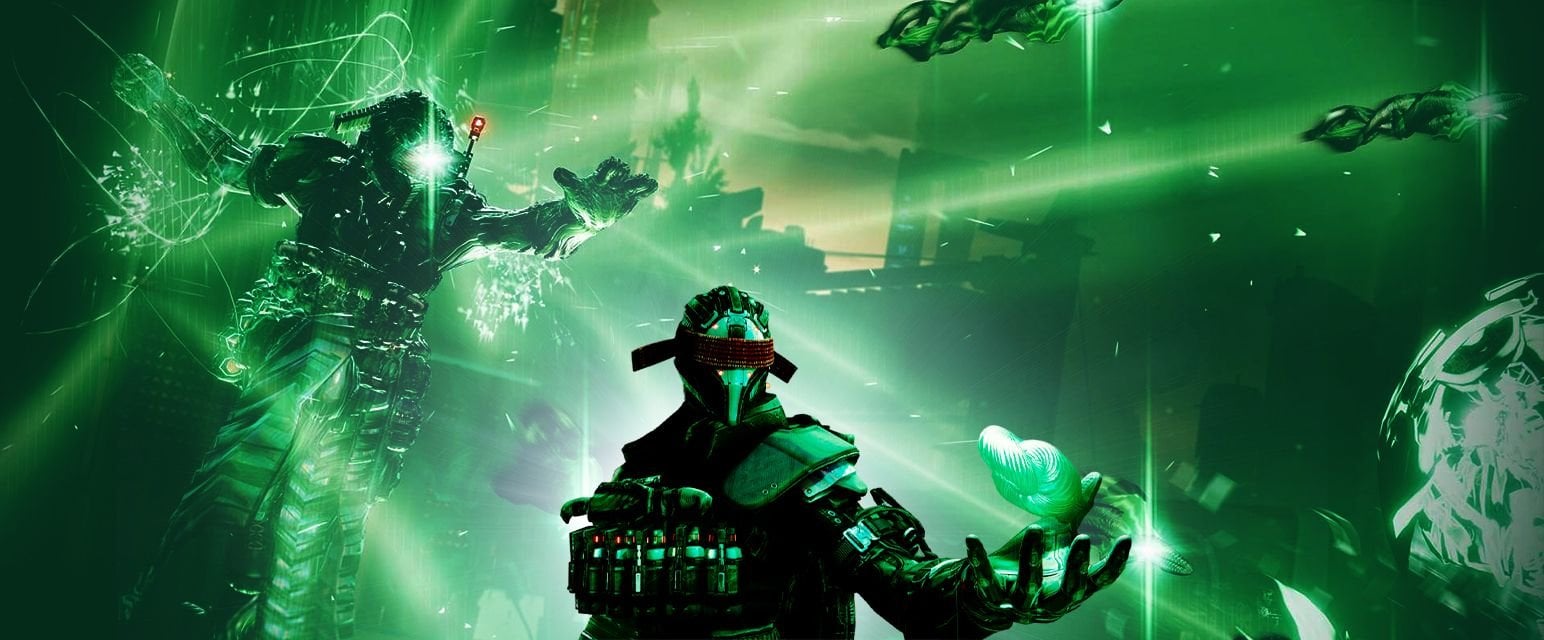 We have been waiting for a new subclass in Destiny 2 for so long, and finally, Strand has arrived in Lightfall. It has been a huge and pleasant surprise for most players. Offering a refreshing change of pace from Stasis, Strand's gameplay is lightning-fast. Like Spider-Man, you can swing from one location to another, quickly defeating enemies and spamming abilities. You may wonder how you can optimize your class to make the most out of this exciting new addition. If so, you have come to the right place.
There are articles covering the best builds for Titans and Hunters on our site. But today, our focus is on your favorite class: the Warlock. If you are interested in the magic of threads, then let's break down the best Warlock Strand Builds.
Poison Threads Build
Exotic Weapon: Osteo Striga
Exotic Armor: Necrotic Grip
Aspects: The Wanderer and Mindspun Invocation
Fragments: Thread of Warding, Continuity, Mind and Generation
Class Ability: Healing Rift
Grenade: Shackle Grenade
Must-Have Mods: Kinetic Siphon, Grenade Kickstart, Focusing Strike, Impact Induction, Charged Up, Stacks on Stacks, Innervation, Bomber, Reaper
Recommended Stats: 100 Resilience and Discipline, Max Recovery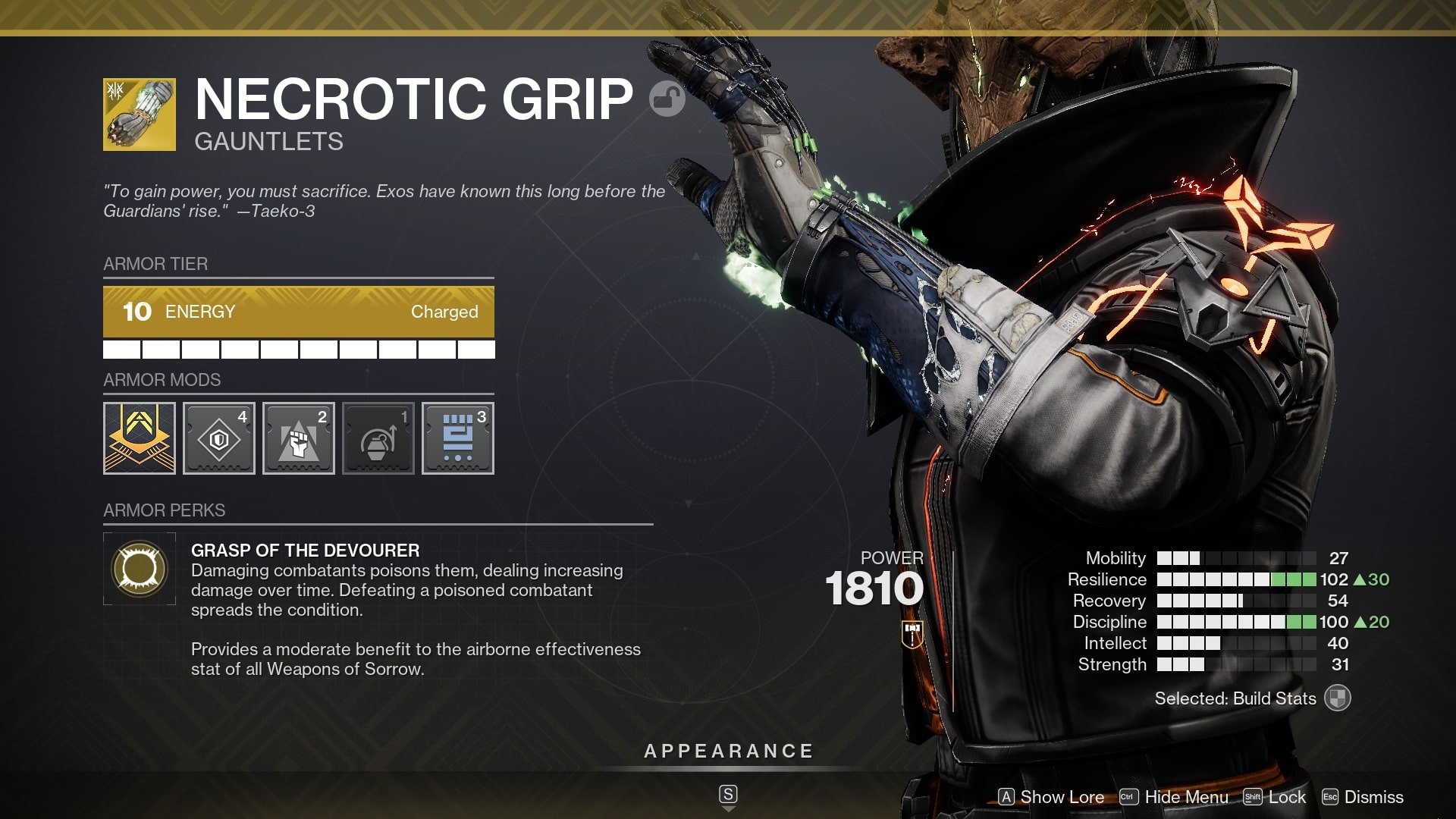 Do you want to become a disease that will spread to enemies and quickly destroy them? With our build, you can poison and suspend your foes, creating passive and increased damage. Once activated, they won't stand a chance as unraveled projectiles jump from one defeated enemy to another until none remains. And if you pick up some of the best Warlock Strand loadouts, Champions will be afraid of you for a long time. Also, Thread of Generation will help replenish grenades back in stock.
One of the main changes is the Shackle Grenade, which grants the Weaver's Trance buff for 25 seconds on consumption. This buff will take effect upon defeating an enemy, and everything around the defeated enemy will be suspended in the air. The second main difference is the focus on poison Exotics. While opponents try to survive against your Strand abilities, the poison will help you with additional passive damage and create a plague on enemies thanks to Necrotic Grip. This combo is incredibly effective, especially in end-game activities.
The Warlock Strand Build has more to offer beyond its initial capabilities. With the help of The Wanderer Aspect, you have the ability to suspend enemies even more frequently. Tangle will be boosted by this Aspect, leading to an explosion that suspends enemies in the surrounding area. Tangle Bomb would prove particularly useful against enemies beyond Osteo Striga's reach. Regarding mods, it's simple because we need to restore Shackle as quickly as possible, with which Grenade Kickstart helps. There shouldn't be any problems with Orbs of Power either, as Kinetic Siphon works excellently with our Exotic SMG.
Threadlings Build
Exotic Armor: Swarmers
Aspects: Weaver's Call and Weavewalk
Fragments: Thread of Fury, Evolution, and Generation
Class Ability: Healing Rift
Grenade: Threadling Grenade
Must-Have Mods: Siphon mods, Grenade Kickstart, Firepower, Charged Up, Stacks on Stacks, Better Already, Recuperation, Bomber, Outreach, Reaper
Recommended stats: 100 Resilience and Discipline, Max Recovery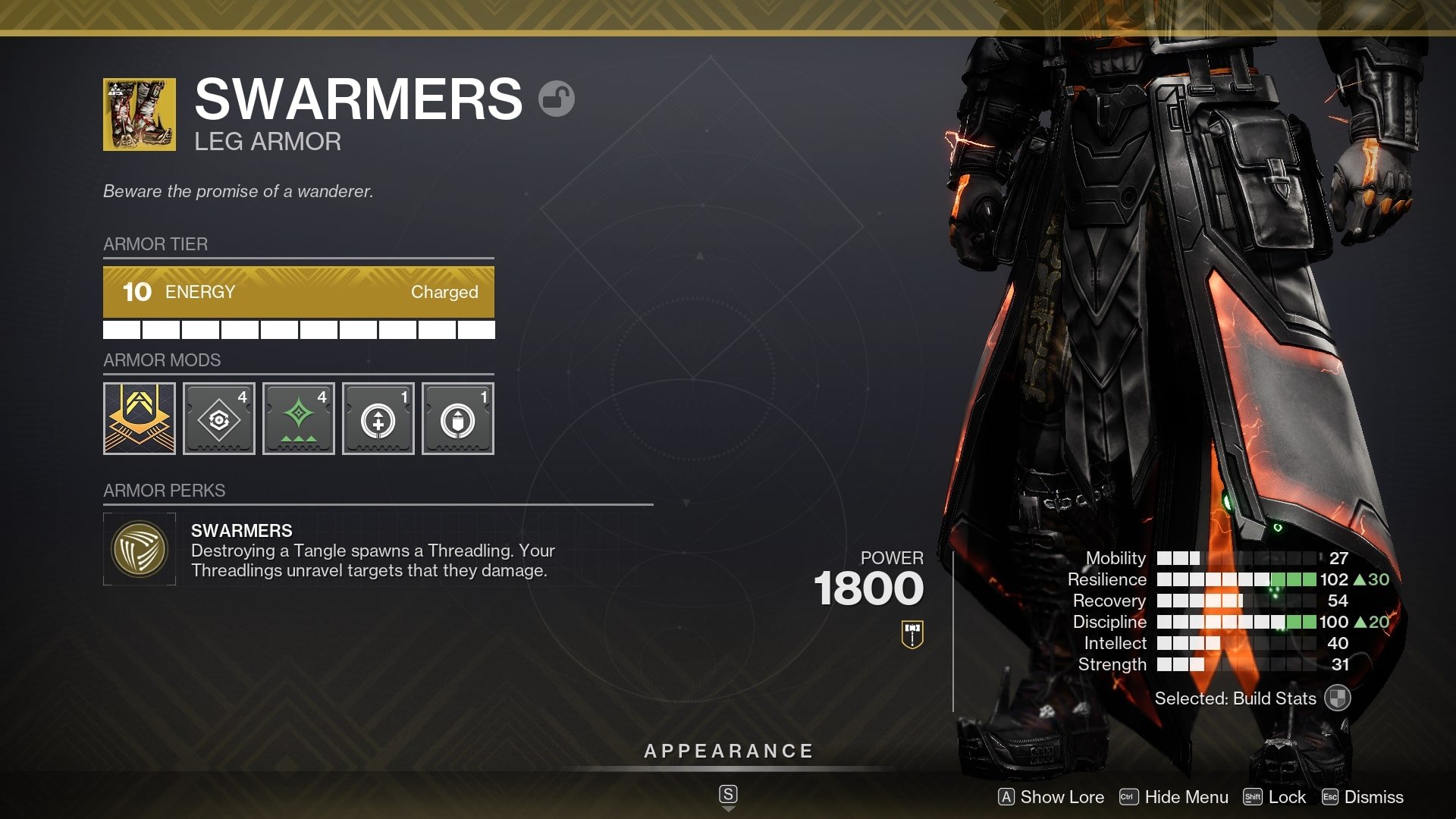 Perhaps that's the most standard choice for any Warlock and an easy way to get to know the subclass's uniqueness and power. The whole point of the loadout lies in creating as many Threadlings as possible. The combination of perks and fragments mentioned above significantly extends the duration and effectiveness of your abilities, making them feel as if never-ending. Right now, it's one of the top Warlock Strand builds.
First, let's talk about a compelling new Aspect called Weavewalk. It'll let you enter Weave Form, where you get 90% damage resistance and create Perched Threadlings every 0.5 seconds. While this aspect is active, 25% of your Melee Energy will be consumed every second. However, you could quickly replenish it by using the Thread of Fury. If you want to increase the frequency of creating small minions, you can utilize Weaver's Call. This ability will summon three Threadlings and deploy any Perched Threadlings, which works seamlessly with the previous Aspect.
Swarmers will be the best of all the Exotics here, giving Unravel to your Threadlings and allowing them to be created when destroying Tangle. Mods and stats, like in the previous Poison Threads loadout, help restore Grenade as often as possible because you could never have enough summons. In the battle against a huge number of enemies, Threadlings will be your indispensable partners, giving us the best Warlock Strand PvE build.
PvP Loadout
Exotic Armor: Swarmers
Aspects: Weavewalk and Mindspun Invocation
Fragments: Thread of Fury, Evolution, and Generation
Class Ability: Healing Rift
Grenade: Grapple
Must-Have Mods: Targeting, Loader, Dexterity, Holster and Unflinching Aim mods (which gun you prefer), Grenade Kickstart, Better Already, Insulation, Reaper, Outreach
Recommended stats: 100 Recovery and Discipline, Max Strength.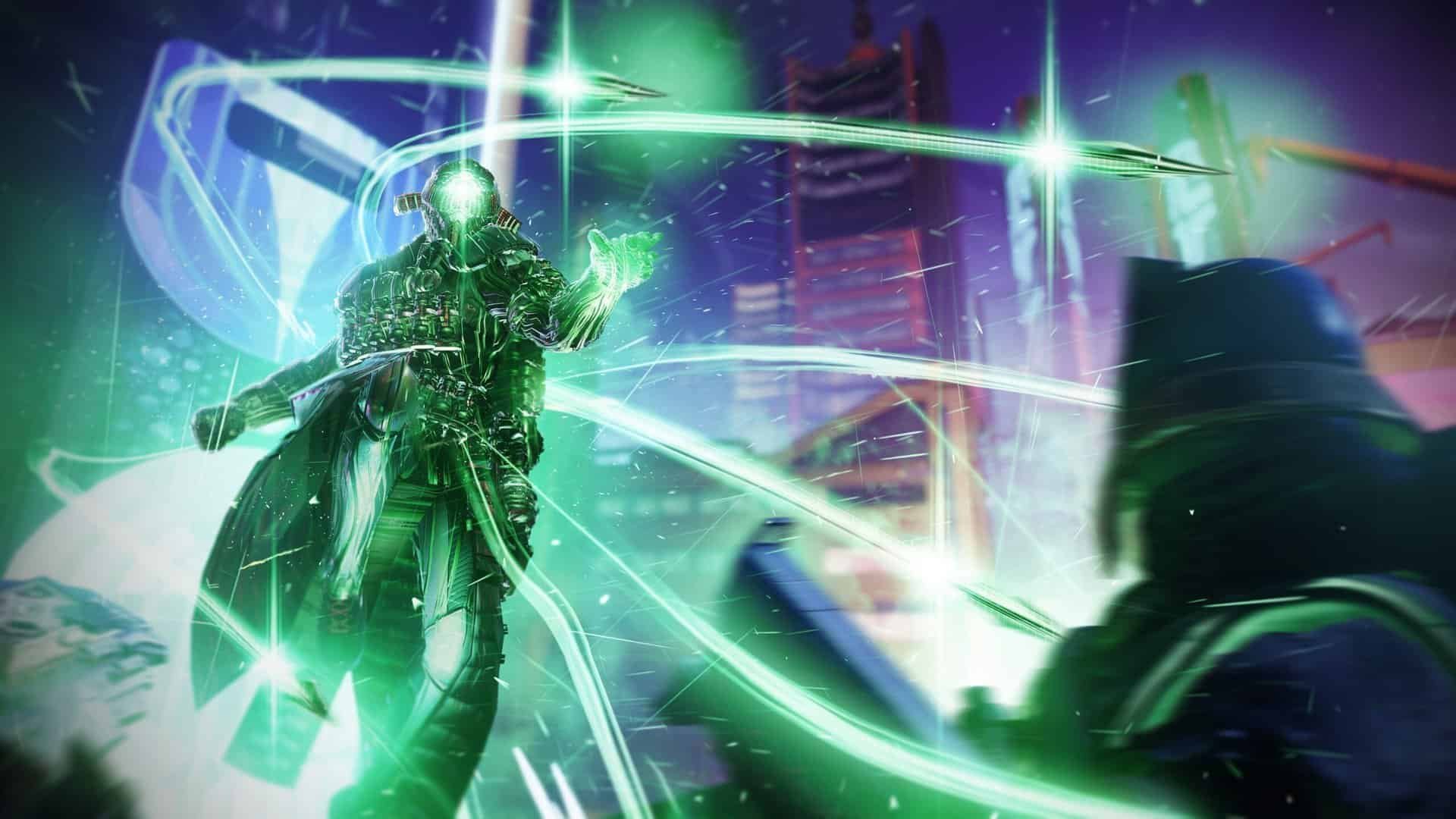 We couldn't leave you without a PvP Loadout, which, like the previous one, is built around Threadlings. We'll use two Aspects for their generation, and if you want, you can use any gun with Hatchling. Weavewalk has already managed to create noise, as having massive damage resistance in PvP is incredibly useful. Mindspun Invocation allows you to spawn Threadlings with Grapple Melee, which means you may one-shot any Guardians with this Grenade. Even though we recommend Swarmers, they don't play a significant role in this Destiny 2 Warlock Strand build, so you can choose whatever you want!
Artifact Recommendation for Strand Warlock
Bungie made a wise decision with Lightfall's release to make Artifact's perks passive. This means less fuss when it comes to selecting perks, especially for beginners. Now, you simply choose the one you want in the Artifact, which immediately activates as the passive buff. Moreover, you can quickly change them from one loadout to another. Bungie has done everything possible to ensure that the Artifact helps you throughout the season and does not become unnecessary cargo. So, let's figure out how to make the best Warlock Strand build in Destiny 2 even better.
First Column
Any Weapon that you prefer
Second Column
Any Siphon Mod
Diviner's Discount
Third Column
Fourth Column
Semi-Auto Striker
Communal Pickups
Refreshing Pickups
Fifth Column
Frenzied Stacks
Elemental Munitions
All these perks will help make each of these builds even more powerful, so don't worry and take them. The rest is up to you, other bonuses depend on your equipment.
And that concludes our little guide for Warlocks. We are sure these builds will be helpful to you. Unfortunately, the best Warlock Strand PvP build is currently in danger of being nerfed, but you won't find a better option. Still, you can take the ones we've recommended above or try experimenting with creating your ideal build. If you are a Hunter or Titan main, then don't forget to check out our specifically tailored articles for these two classes. And, if you're interested in getting the Exotics mentioned in this article, be sure to check out WowVendor's Destiny 2 services.
Thanks for reading. Owl is flying away.