Everything We Know About Destiny 2 Solstice 2023 Event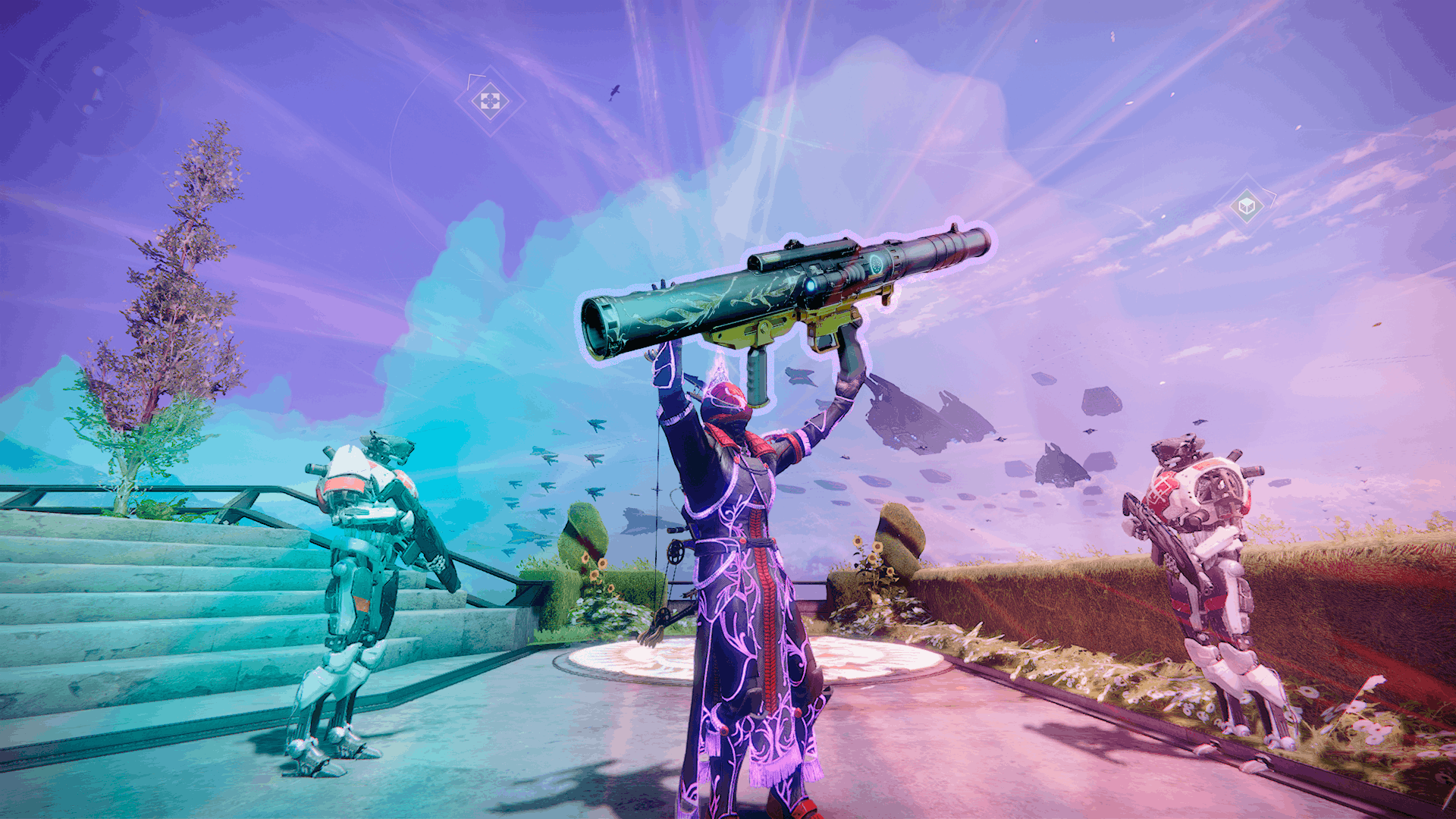 Finally, the Destiny 2 Solstice 2023 event is here, and it's an excellent opportunity to return to the game for a few days or weeks. The annual event once again delights players with beautiful gear and many cosmetics that will make you shine like never before. However, not all players are familiar with the content of this event. In this article, we will address this gap by answering all your questions!
What is Solstice of Heroes and what is its Meaning?
The wonderful event known as Solstice begins every summer in the Destiny universe. From a lore perspective, it celebrates the accomplishments and achievements of humanity, how the civilization is being built, and where it is headed in its imminent future. On the other hand, Guardians swoop into the European Aerial Zone, wreak havoc on waves of enemies and feed the Bonfire.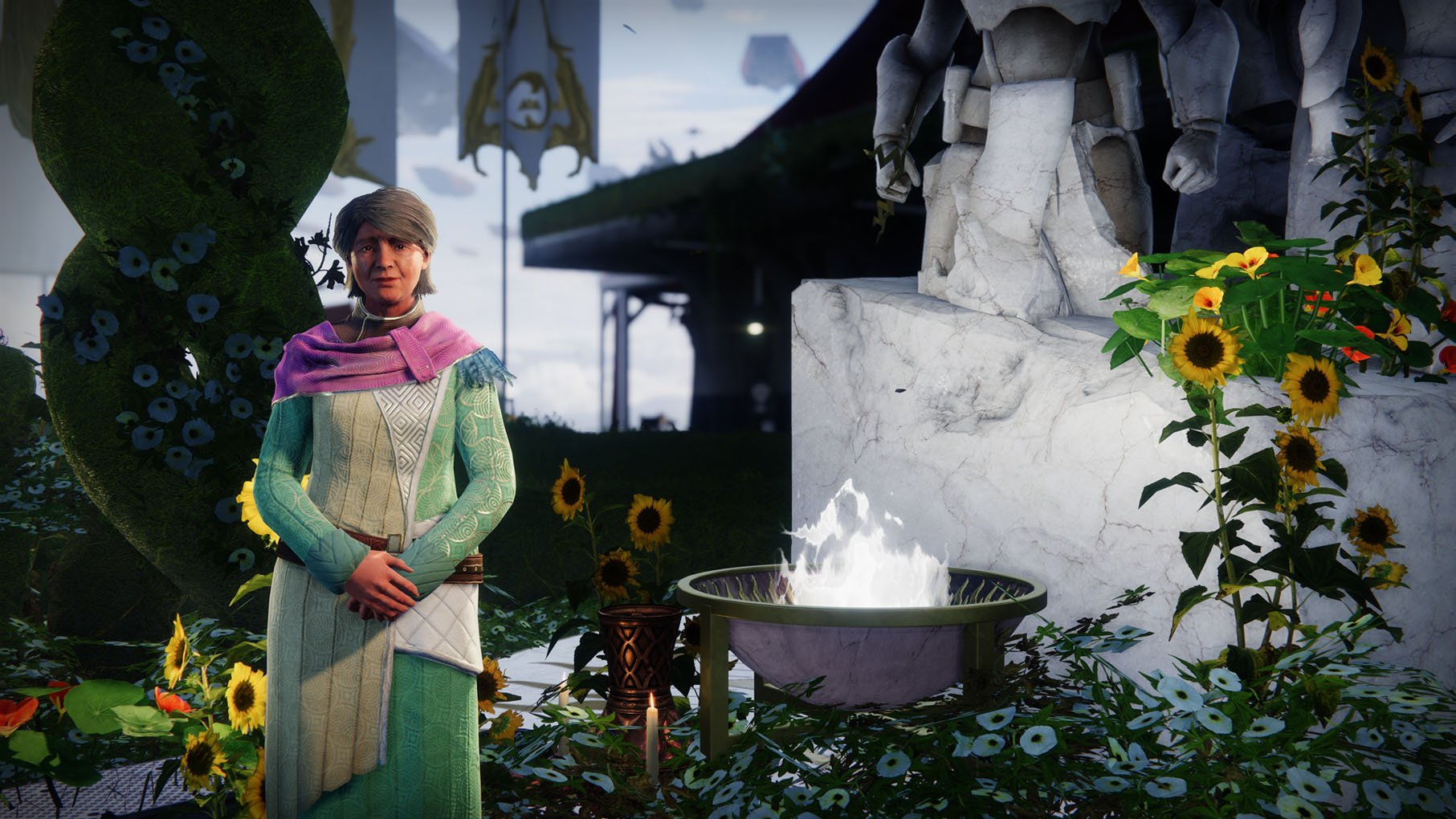 The main distinctive feature of the occasion is the armor given to you by the kind old lady, Eva Levante. What's so special about this armor? The essence is that during the Destiny 2 Solstice of Heroes 2023, players can build the high-stat armor of their dreams, leveling it up themselves. In order to accomplish this task, individuals must acquire Silver Leaves, Silver Ash, and Kindling. If you wish to enhance a single armor piece, you will require approximately 50 Silver Leaves, 120 Silver Ash, and 6 Kindling. These materials can be obtained through a few hours of gameplay with little difficulty. Thus, by the end of event, your Guardian will be ready for any endgame activity and even the upcoming seasons in Destiny 2!
When Does Solstice End Destiny 2?
The Solstice of Heroes runs from July 18 to August 8, 2023. Hurry, grind your armor there, or get it in Destiny 2 Services!
Solstice Activities in 2023
What entertainments did the Solstice in Destiny 2 bring us this year? Once again, we head to the European Aerial Zone!
Welcome to the Bonfire Bash! What does this activity offer? Well, you'll have to do the following:
Clear the point from enemies until the local mini-boss appears
Beat mini-boss, and it will drop three Orbs
Quickly throw them into the Bonfire since they can only lie on the ground for 10 seconds
After you deposit 10/20 orbs, clear a specific zone from Taken
If you manage to deposit 30 Orbs or time runs out, a Taken Boss will appear, which must be destroyed to complete the activity and receive rewards
That's all that will happen in this activity. But why even participate in it during Destiny 2 Solstice? The following sections will answer this question.
How to get Silver Leaves in Solstice 2023?
Silver Leaves are the standard event currency, which can be earned basically in any activity. Whether you fancy diving into PvP to farm leaves, teaming up with friends in Nightfalls, Raids, or Dungeons, or revisiting the good old Gambit mode for nostalgia, Silver Leaves will be your reward. Just remember, these Silver Leaves are crucial to acquire Silver Ash.
How to get Silver Ash in Solstice 2023?
Silver Ash is essential for upgrading Destiny 2 Solstice Armor to its high-stat condition and rerolling its stats. You can earn it by completing the Bonfire Bash while having Silver Leaves in your inventory. Use Silver Ash if you're not pleased with the stats you receive, and hope for the best. After two tries, you'll be allowed to upgrade a specific stat on your armor by a minimum of +20 points. Yet, you won't be able to reroll afterward. If luck's not on your side, consider dismantling and trying to upgrade other armor pieces. Remember to remove the Ghost mod since you can't reroll any stat with it.
How to get Kindling in Solstice 2023?
Kindling is the final and most challenging currency to obtain, needed for increasing the stat roll potential (applied to the entire Armor Slot). You'll receive Kindling after finishing event challenges, of which there are a total 19. Some may be straightforward, while others can be pretty time-consuming. For instance, the Good Ignite challenge requires you to destroy Ignition Carries, which is relatively easy and could be completed in a few runs. On the other hand, there's Burn Them Down, demanding you beat over 40 bosses in any activity — straightforward but undoubtedly time-consuming.
SoH Weapons Overview
What's an event without unique weapons available only for three weeks a year? We've prepared a brief analysis of each weapon and the desired rolls for them, helping you decide whether they're worth the grind.
It's worth noting that all Destiny 2 Solstice weapons include a unique Origin Trait named Dream Work. To operate it, you'll need at least one teammate, as assists or assisted Final Blows refill 66% of the Magazine, and it can be overflowed. It's a delightful bonus, although it might only sometimes be handy.
Something New
Best PvE Perks: Fluted Barrel, Flared Magwell, Rapid Hit/Wellspring, Headstone/Frenzy
Best PvP Perks: Fluted Barrel, Ricochet Rounds, Rapid Hit, Kill Clip
If you're in the market for a solid Stasis Hand Cannon to use in PvE, or you still don't have the Round Robin from Lightfall to equip in PvP, then it's worth grinding Something New. If you're a fan of the Stasis Subclass, consider getting the Wellspring + Headstone perk combo. The former grants 8% Ability Energy after Final Blows, evenly distributed among all uncharged abilities. Upon achieving a Precision Final Blow, the latter creates a Stasis Crystal at the target's location. The beauty of this combination is that takedowns with the made Stasis Crystal also trigger the Wellspring perk, thus significantly speeding up your Abilities Regeneration.
In Crucible, Something New is also a pleasure to use, although there are alternative options with slightly better perks. We highly recommend Rapid Hit, which boosts Stability and Reload Speed after every Precision Hit, as well as Kill Clip, improving damage by 25% if you reload post Final Blow. If you weren't aware, Kill Clip on Aggressive Hand Cannons allows you to down Guardians with just two headshots, provided they don't have 100 Resilience.
Compass Rose
Best PvP Perks: Smallbore, Accurized Rounds, Quickdraw, Snapshot Sights
If you're unlucky with the Matador 64 or Retold Tale, the Compass Rose is a decent alternative during the Solstice Event Destiny 2. However, it lacks the essential Opening Shot perk for this weapon type. Nevertheless, the Quickdraw + Snapshot Sights combo is decent because drawing Shotguns swiftly and quickly aiming is crucial.
Crowning Duologue
Best PvE Perks: Hard Launch, Impact Casing, Auto-Loading Holster/Field Prep, Envious Assassin/Cluster Bomb
Although that's the first Strand Rocket Launcher, it's unlikely to compete with behemoths like the Apex Predator or The Hothead. Sadly, the Crowning Duologue comes with the Häkke Precision Frame, which possesses the lowest damage output among all Rocket Launchers. Moreover, while this Rocket Launcher boasts commendable perks in its third column, such as Auto-Loading Holster (reloads the gun after 2.5 seconds of stowing) or Field Prep (expands ammo reserves and raises Reload Speed when crouching), the fourth column is a bit disappointing. Sure, there's the Envious Assassin, capable of overfilling the Magazine with up to 3 rockets. Still, the only noteworthy damage perk here is Cluster Bomb, which is not so good compared to other perks.
Solstice Event Card and Title
Traditionally, players can level up an Event Card that features free rewards and also earns a unique seal titled "Flamekeeper." To achieve this, you'll need to complete various Challenges.
Bashing Success: Complete the Bonfire Bash activity in Solstice Destiny 2
Good Ignite: Defeat 15 Ignition Carriers
Torch the Taken: Destroy 15 Prismic Takens
Fuel for the Fire I, II, III: Stoke 15/70/100 flames in the Bonfire Bash (Ephemeral Spark Ship as a Tier 3 reward)
Ash Tray: Collect 350 Silver Ash
Like Wildfire: Defeat combatants and Guardians anywhere in the system
Superlative: Destroy targets with Supers
Forged in Flame: Annihilate 10 Guardians
Hand Lighter: Take down Combatants with Hand Cannons, Shotguns, and Rocket Launchers
Burn Them Down: Defeat 40 bosses anywhere in the system
Raking the Coals: Earn Silver Leaves by completing playlist activities
Dare to Dream: Complete Blind Well or Dares of Eternity several times
Brightfall: Beat Vanguard Ops or Nightfalls a necessary number of times
Fires of Competition: Finish 10 matches in Crucible or Gambit
A Spark in the Darkness: Complete rounds of Alars of Sorrow or Salvage
In the Hot Seat: Complete Activities on Neptune
If you upgrade the card, you'll instantly receive one of the new Destiny 2 Solstice Packages containing: Liberated Fish emote, Sandrail sparrow, and the Arboreal Refuge shader. The tickets can grant you the Water Balloon emote (8 tickets), Flotation Ghost Shell (6 tickets), Hallowed Geometry transmat effect (3 tickets), and Bobbing Buoy effect to Ghost (1 ticket).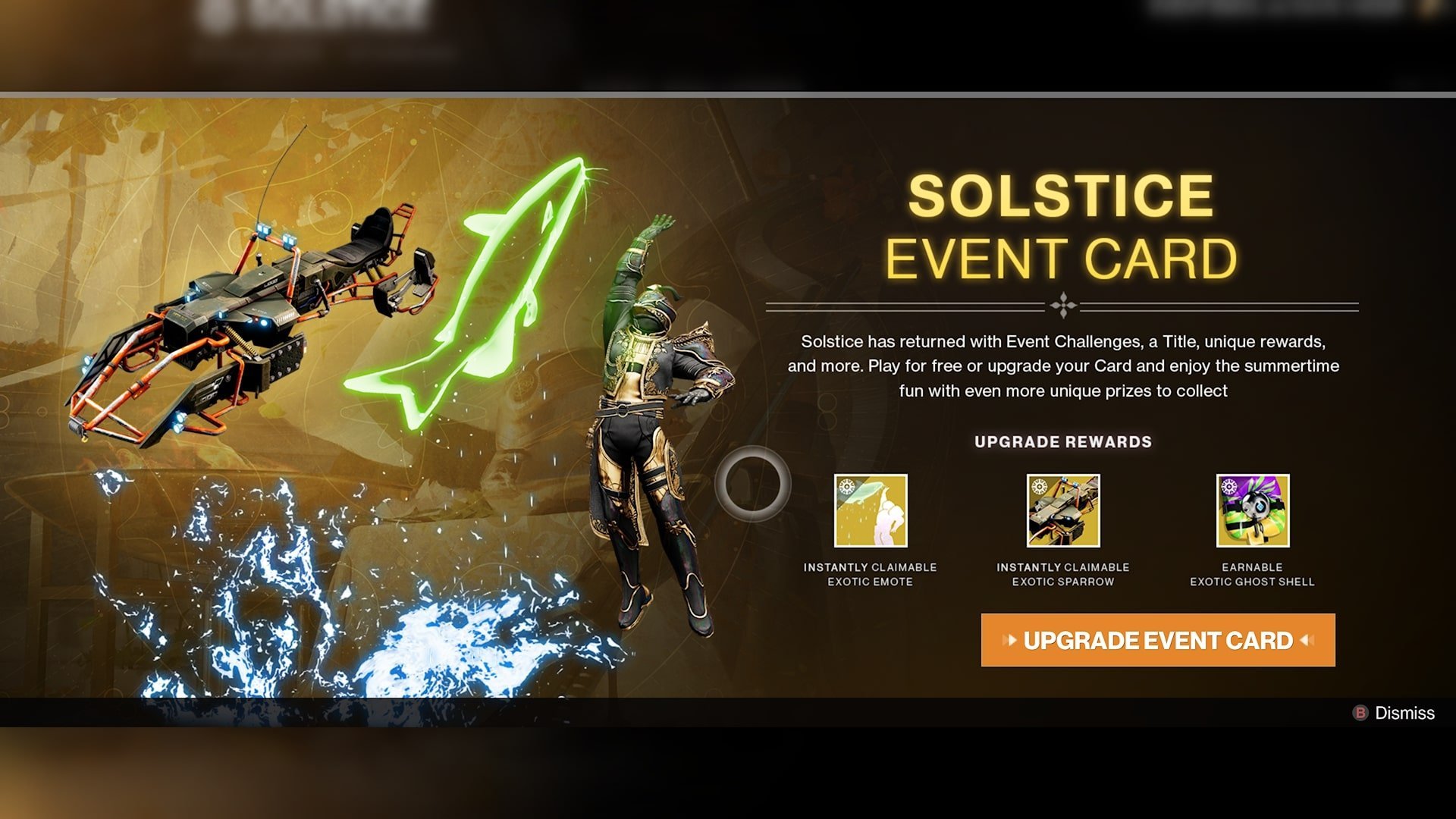 In terms of the Title, you need to complete all the Challenges in order to get it. As always, you can glide the Title, which will require you to complete four triumphs:
From the Ashes: Fully upgrade all armor pieces
Sunlight 'em up: Complete Master or Grandmaster Nightfalls, Raids, or win rounds in Trials with a set of fully rekindled Sunlit armor
Bunfire Dash: Fully stoke the bonfire in the Bonfire Bash activity
Inextinguishable: Complete the Bonfire Bash without dying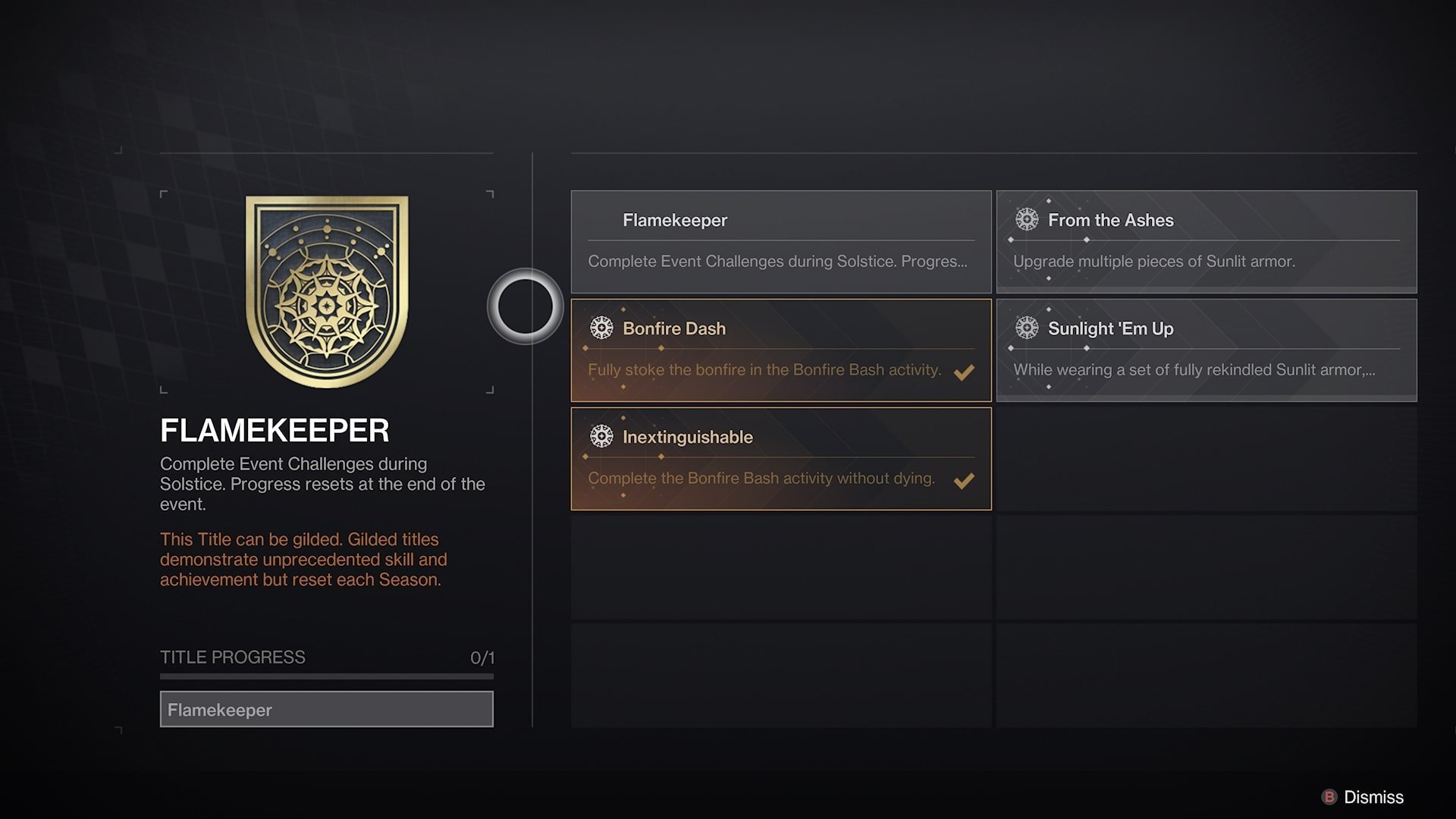 Solstice 2023 Cosmetics: Armor Sets, Finisher, Sparrow, and more
Lastly, we'll delve into all the new cosmetic items. This time, there are quite a few, but we'll try to cover them briefly:
New Solstice Armor Destiny 2 2023 set for each class, reminiscent of 19th-century French military uniforms (changing the subclass changes their glow color):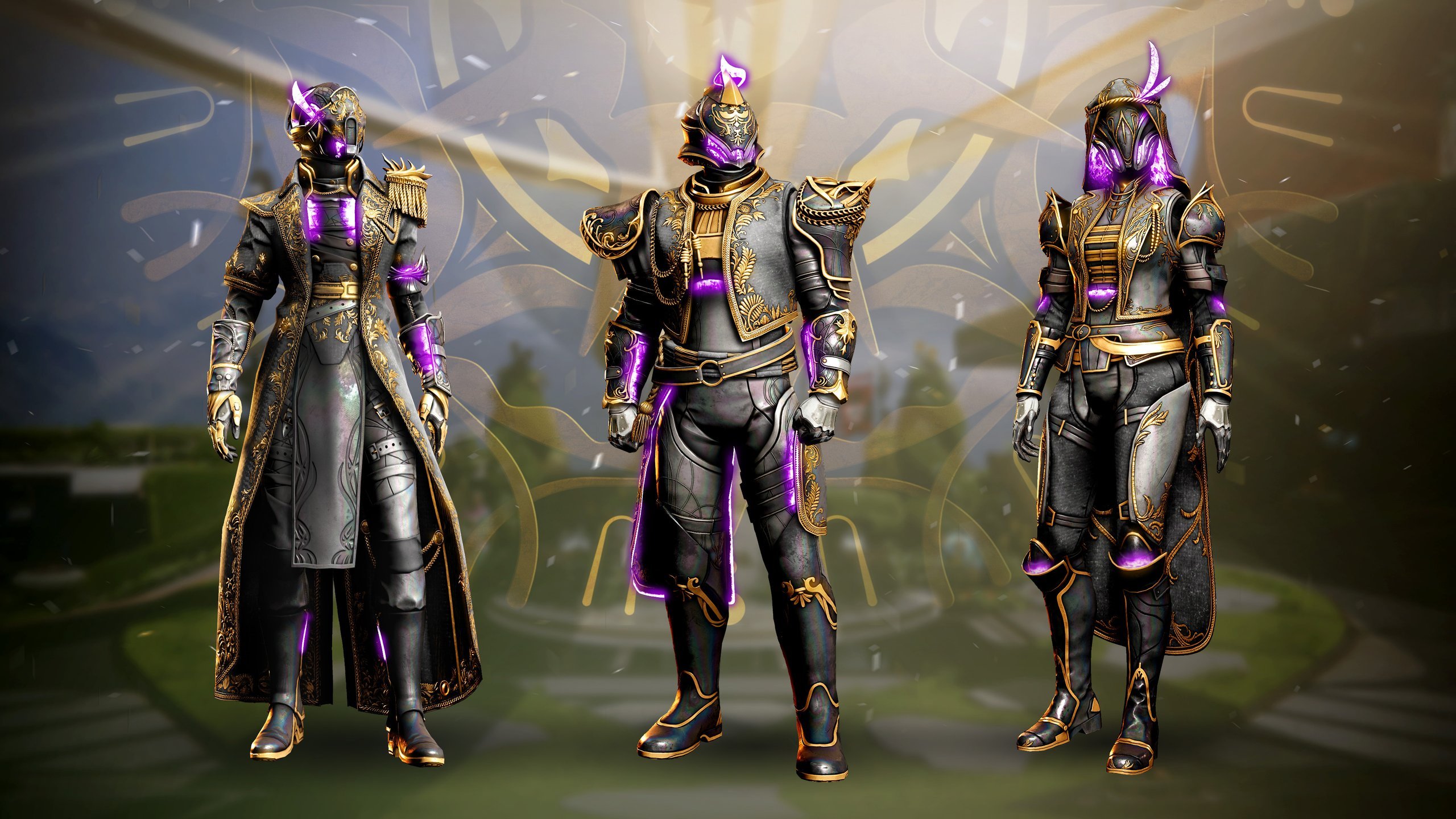 Two Ghosts: Festive Nest and Finned Shell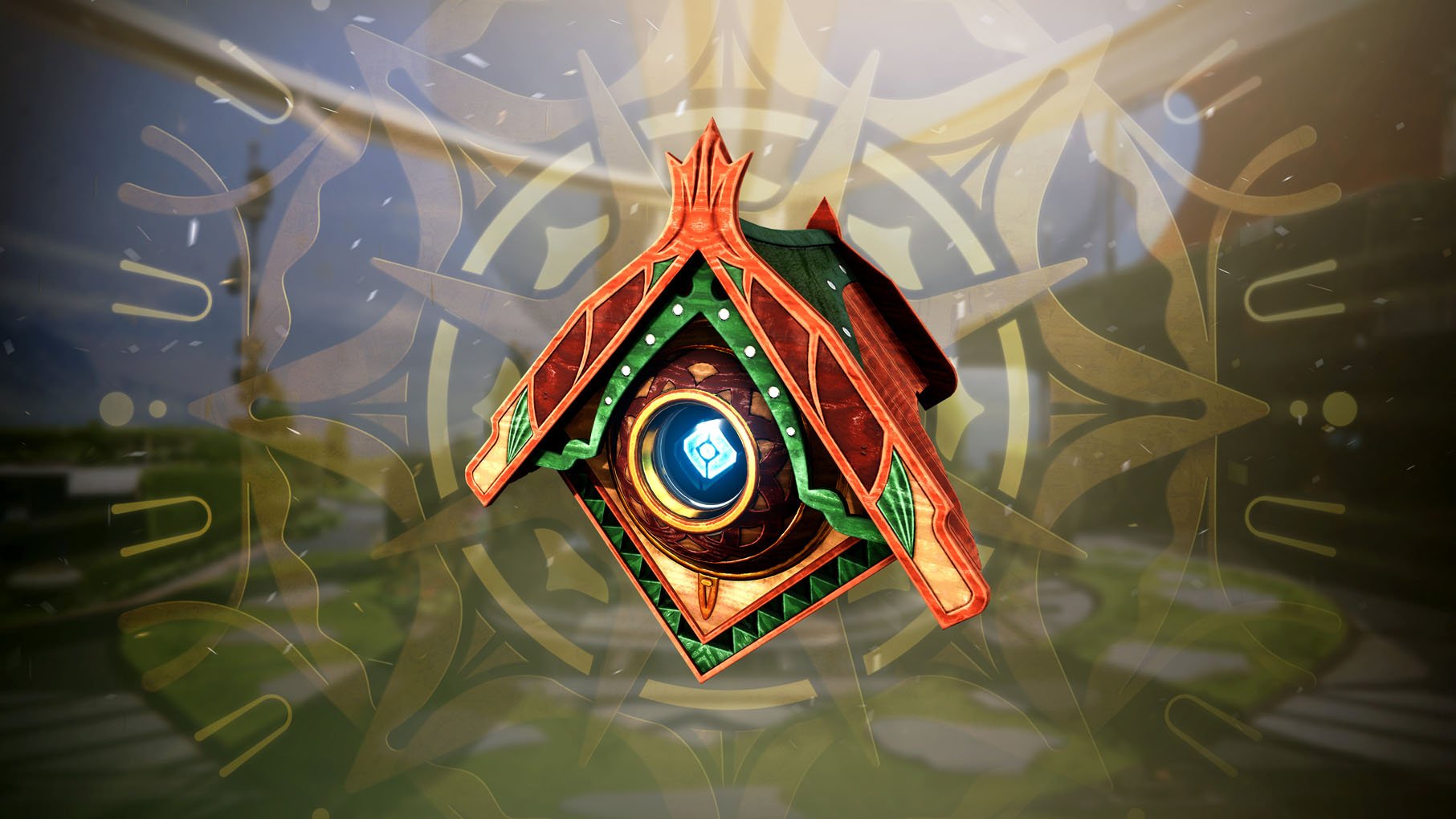 Two Sparrows: Bumped Boat with a water effect and Off My Lawn with a mowed grass effect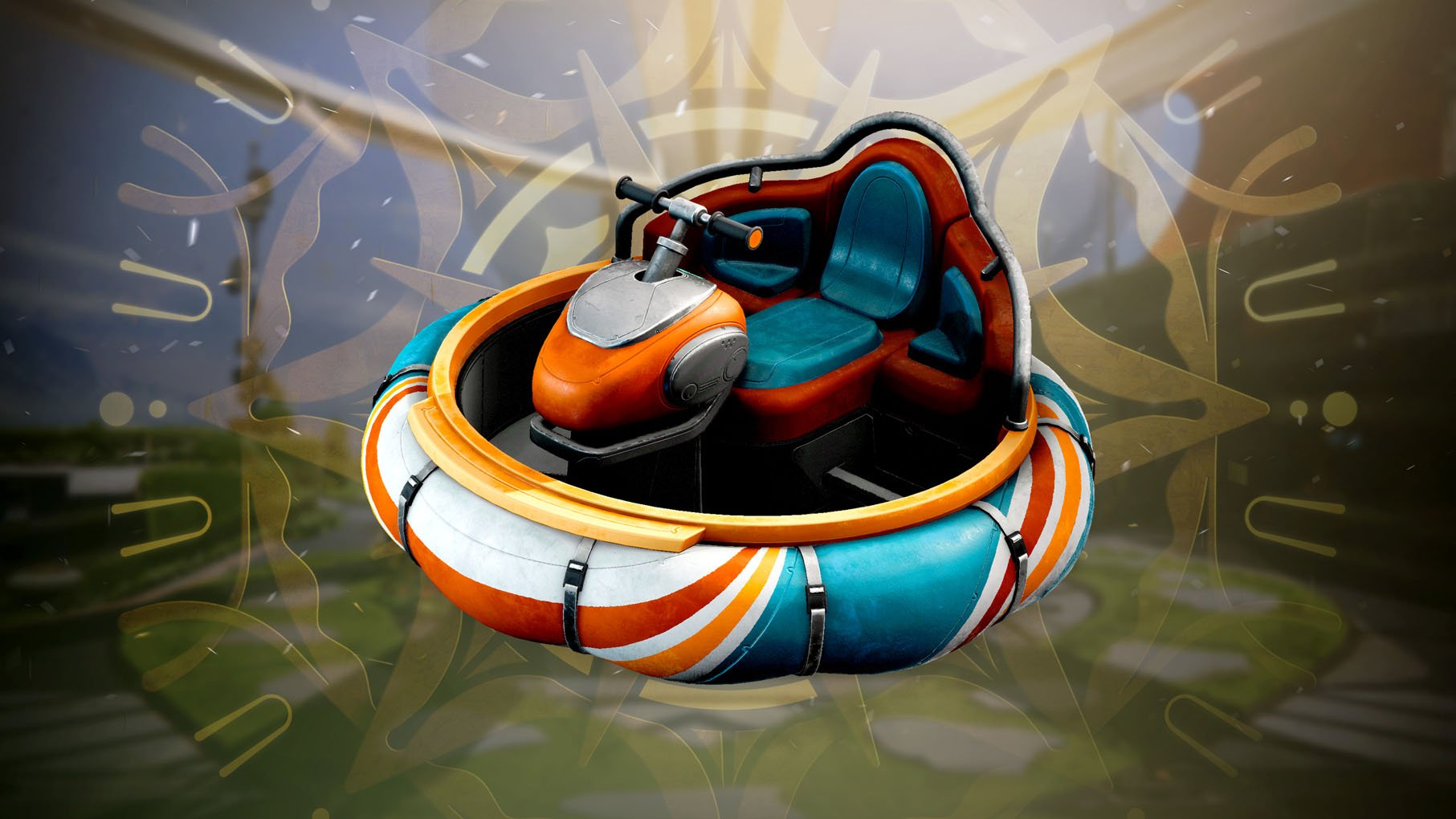 Two Ships: Well-Traveled and Scout Zeppelin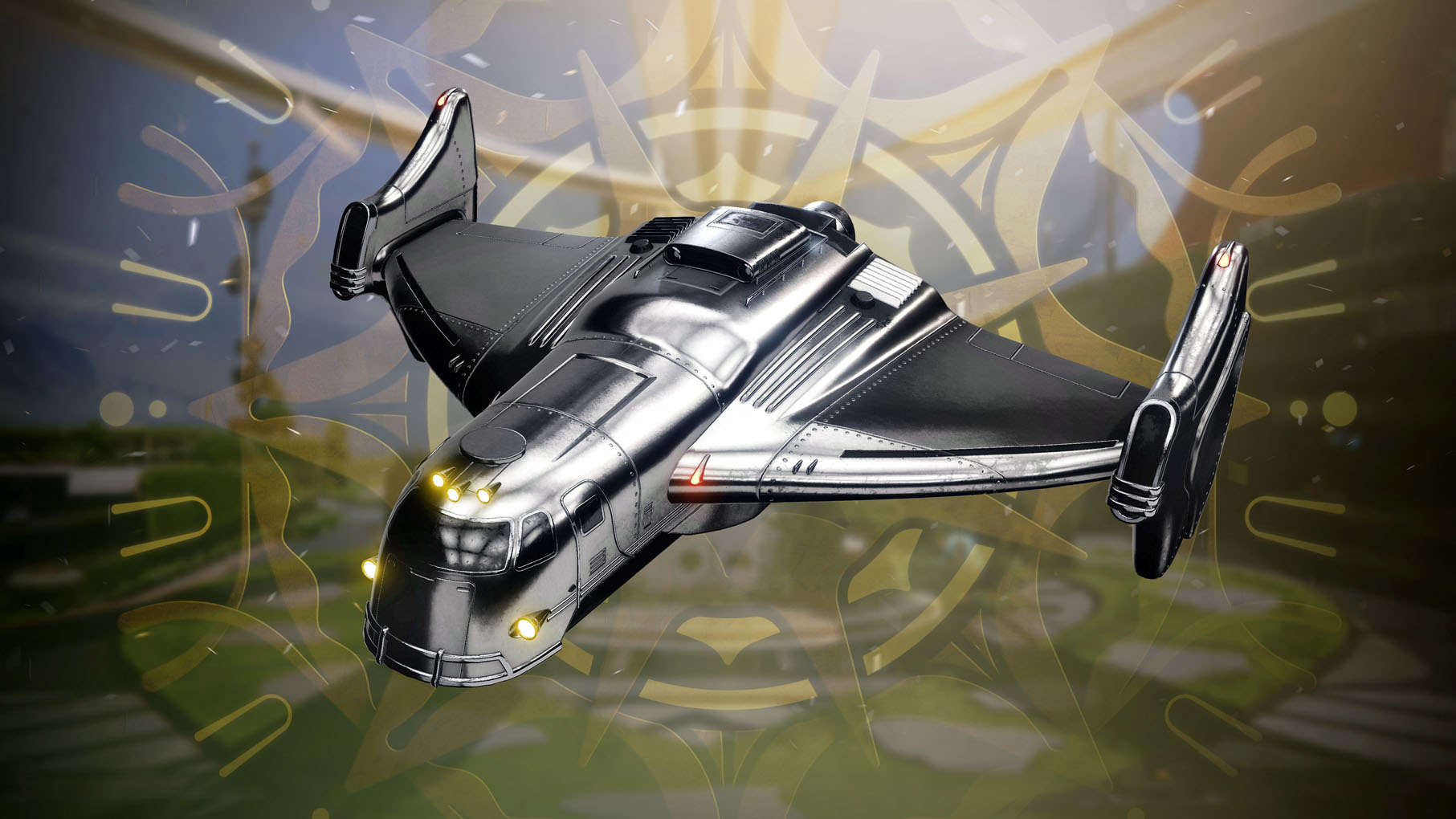 Three Emotes: Double Dutch featuring a two-person jump rope, Guardian Pride showing off your class emblem, and Solar Reverence which praises the sun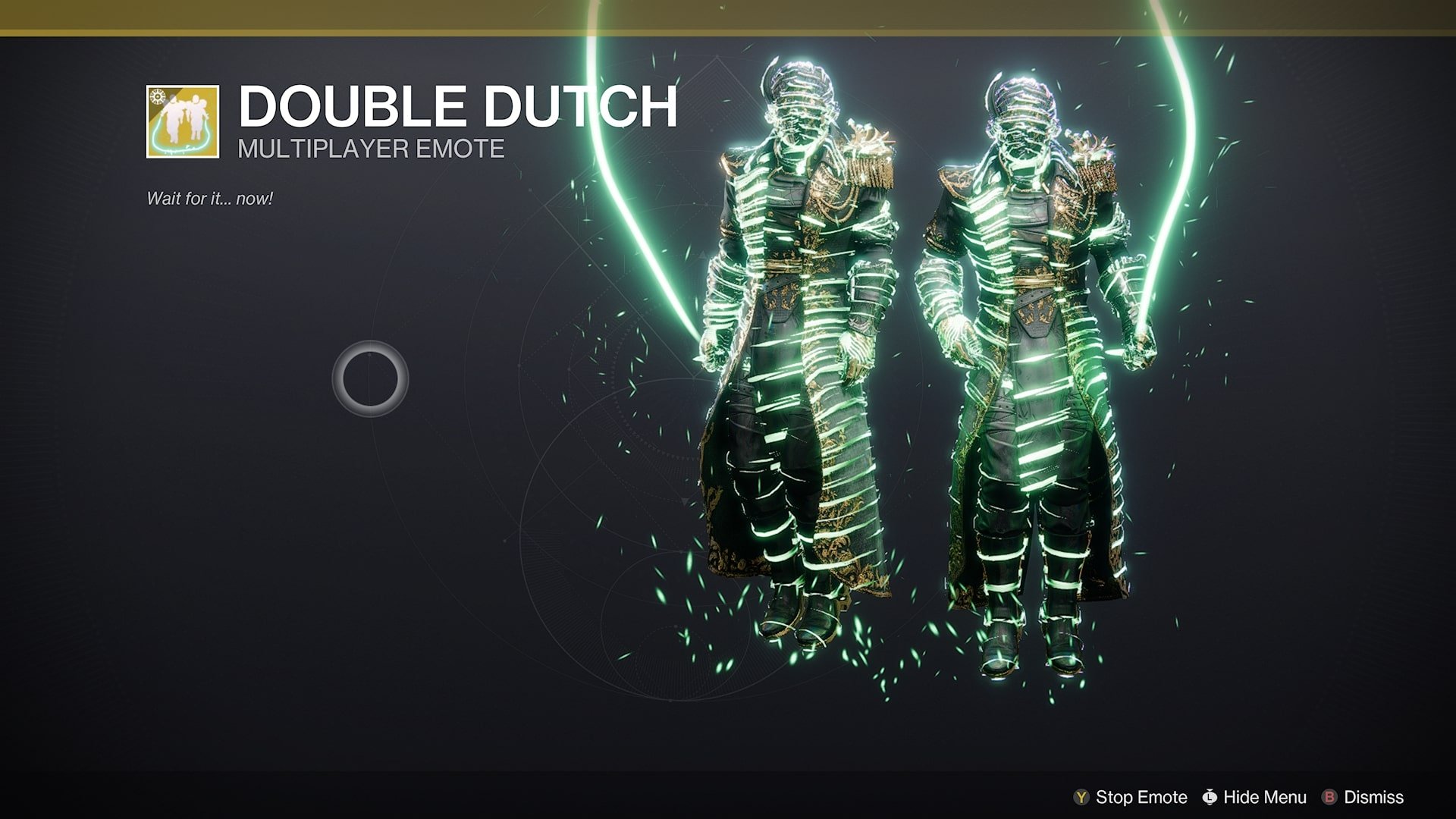 One Finisher: Gyroscopic Force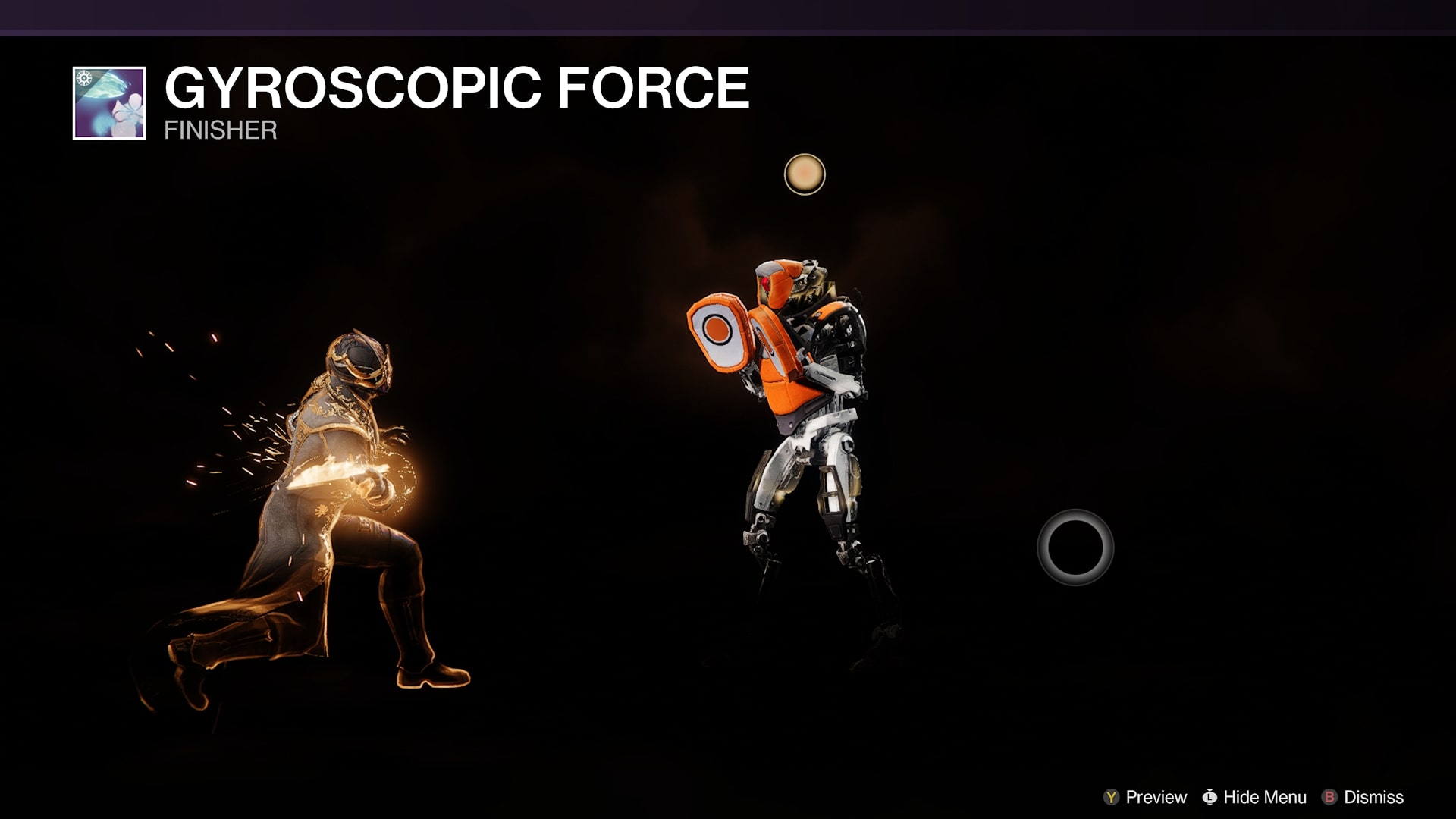 Final Words
With our Solstice 2023 Guide, we hope you can dive deep into this joyous summer festival and obtain any desired high-stat armor. If you have questions or if we missed mentioning something, we'll be waiting in the comments section, ready to answer your queries. Remember, you can swiftly boost your event progress with Solstice Services from WowVendor, ensuring you save time and get all the rewards without the grind!
Thanks for Reading! Owl is Flying Away.