How to get Last Wish Red Borders Destiny 2

With the new season, Bungie has delighted us not only with new content and fishing but also with another significant change: a complete Last Wish weapon rework! All guns from this Raid have now received updated perks and the option to craft them, as well as an origin trait for these weapons: Explosive Pact, which grants better stability and reload speed after using a grenade but also gives additional stacks by making grenade Final Blows or using a healing grenade.
These three essential changes lead to the question of whether we should pay attention to them and begin grinding this Raid. So, sit back and relax; it's time to fight Ahamkara again and explore the Last Wish weapons rework guide!
How To Get Deepsight Last Wish Weapons?
The easiest way to get them is to wait for the Raid to appear in the rotation. When it is in rotation, you can replay the same stage repeatedly, getting the desired Deepsight or godrolls. We recommend completing the first encounter because it can be completed in a minute, taking Sleeper Simulant for damage, Well Of Radiance + Lunafaction Boots to make weapons radiant and speed up reloading, and Anarchy to stun the boss. As soon as you defeat the boss, immediately fly out of the Raid and fly back.
Another way is to take the weekly quest from Hawthorne, which is guaranteed to give a Deepsight weapon after fully completing Last Wish. It's long and requires your team to know the steps, so it's less efficient. But, after completing it, you can purchase a Last Wish weapon from Hawthorne once a week.
The third way is to open weekly Raid chests on each character with a high chance of obtaining a Deepsight weapon.
Truthfully, these are all possible ways, in addition to simply passing on each character once a week. Now it's time to sort out the updated Last Wish weapons.
Chattering Bone
Best PvE Roll: Arrowhead Brake, Tactical Mag, Rapid Hit/Kill Clip/Keep Away, Kinetic Tremors/Rampage
Best PvP Roll: Arrowhead Brake, Accurized Rounds, Rangefinder/Keep Away/Rapid hit/Kill Clip, Headseeker/Rampage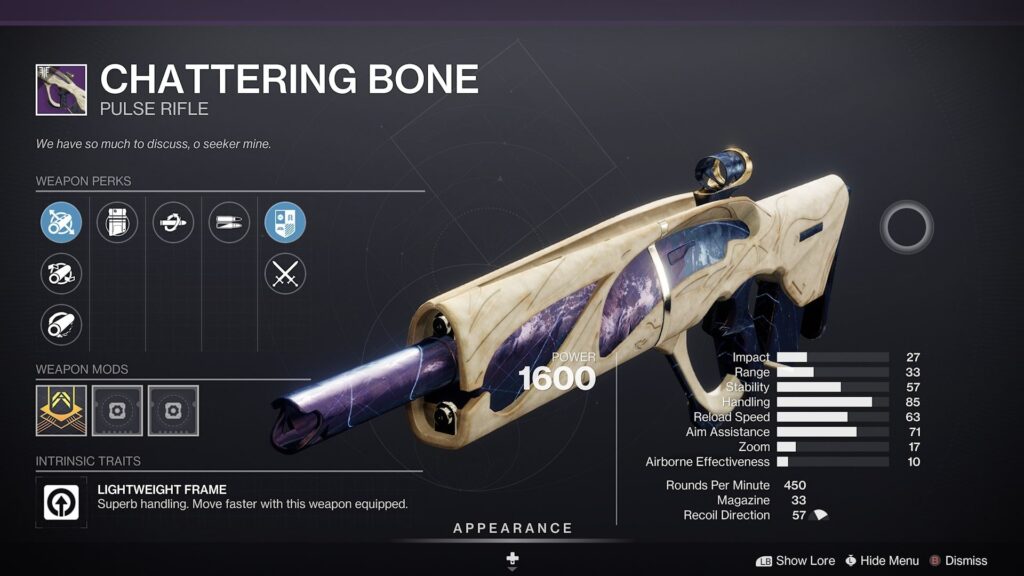 First up is Chattering Bone, which has received some excellent new perks. Perks such as Rapid Hit or Keep Away are always a great choice for Pulse Rifles because who doesn't want to get Reload Speed in PvE or Accuracy with Stability in PvP for free?
The situation with other perks is more interesting. Kinetic Tremors, which create Shockwaves that deal a considerable amount of damage, have already proven itself in Endgame Activities last season. But what most attracted people's attention was the Kill Clip and Rampage combo, which allows you to eliminate Guardians with a 2-burst.
The Supremacy
Best PvE Roll: Arrowhead Brake, Appended Mag, Rewind Rounds/Lead from Gold, Bait and Switch/Fourth Time's the Charm
Best PvP Roll: Corkscrew Rifling, Ricochet Rounds, Snapshot Sights, Opening Shot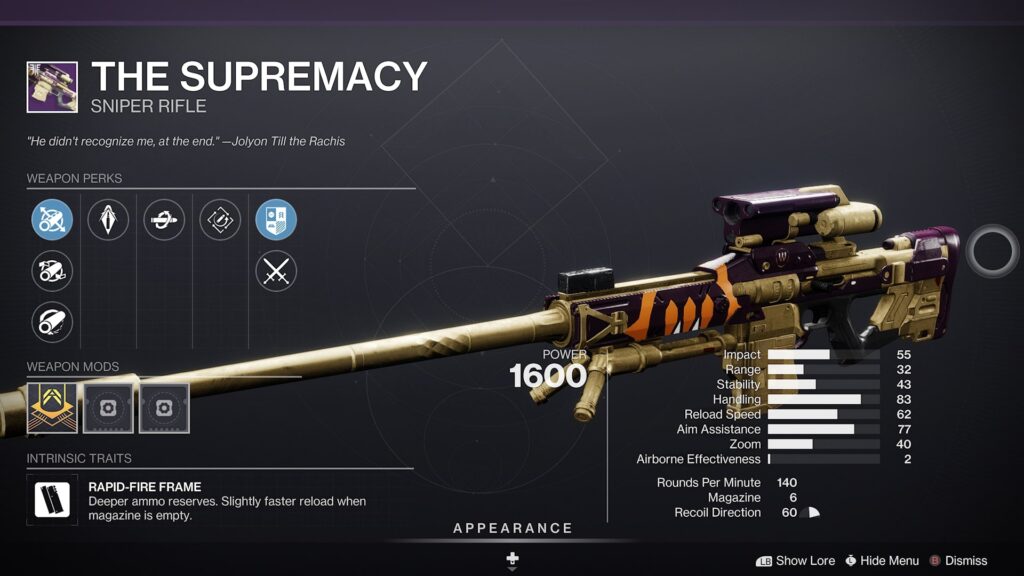 The Supremacy was one of the worst for DPS, but now the situation has turned upside down. The Bait and Switch perk, previously only on guns from Vow of the Disciple, has now appeared on weapons from Last Wish. It boosts damage by a whopping 35% for 10 seconds if you deal damage from all your guns. However, this Sniper has such an interesting combination as Rewind Rounds and Fourth Time's the Charm, allowing you to fire about 40 shots without reloading.
In the case of PvP, this sniper has direct competitors that are much better than The Supremacy in many respects, but the perks mentioned above will make it at least decent.
Transfiguration
Best PvE Roll: Arrowhead Brake, Tactical Mag, Rampage/Rapid Hit/Keep Away/Demolitionist/Rewind Rounds, Kinetic Tremors/Explosive Payload/Kill Clip/Adrenaline Junkie
Best PvP Roll: Arrowhead Brake, Accurized Rounds, Rampage, Kill Clip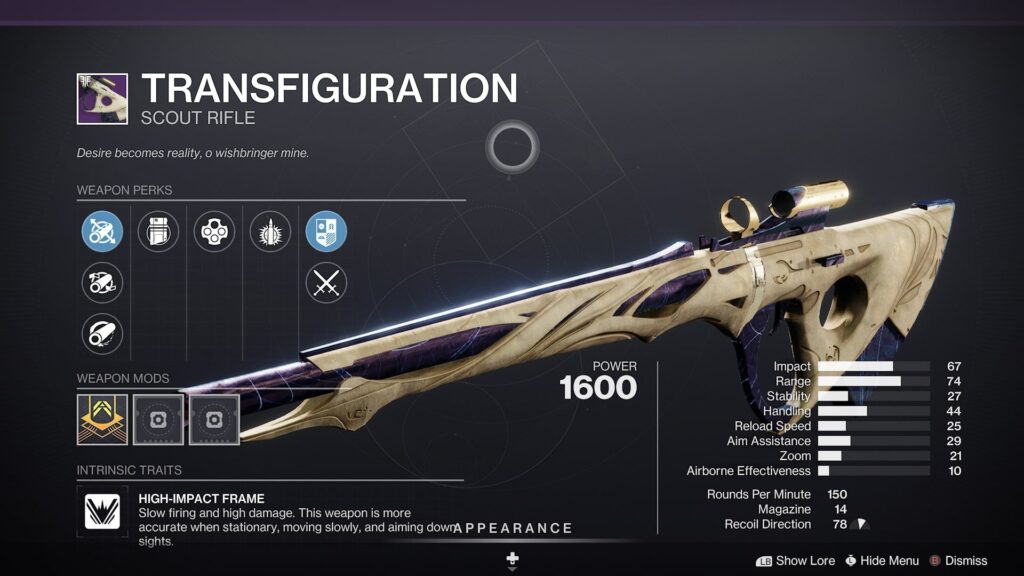 This Scout Rifle became famous for its Rampage and Kill Clip combination, which is capable of exterminating Guardians with two headshots. Fortunately, Bungie didn't take them away and instead decided to add perks for PvE. The most notable combinations here are Rampage + Kinetic Tremors and Demolitionist + Adrenaline Junkie. We recommend paying attention to the second combination, as the new Origin Trait perfectly synergizes with these perks.
Age-Old Bond
Best PvE Roll: Arrowhead Brake, Tactical Mag, Repulsor Brace/Dragonfly/Stats for All, Destabilizing Rounds/Collective Action
Best PvP Roll: Arrowhead Brake, Accurized Rounds, Dynamic Sway Reduction/Tap the Trigger, Kill Clip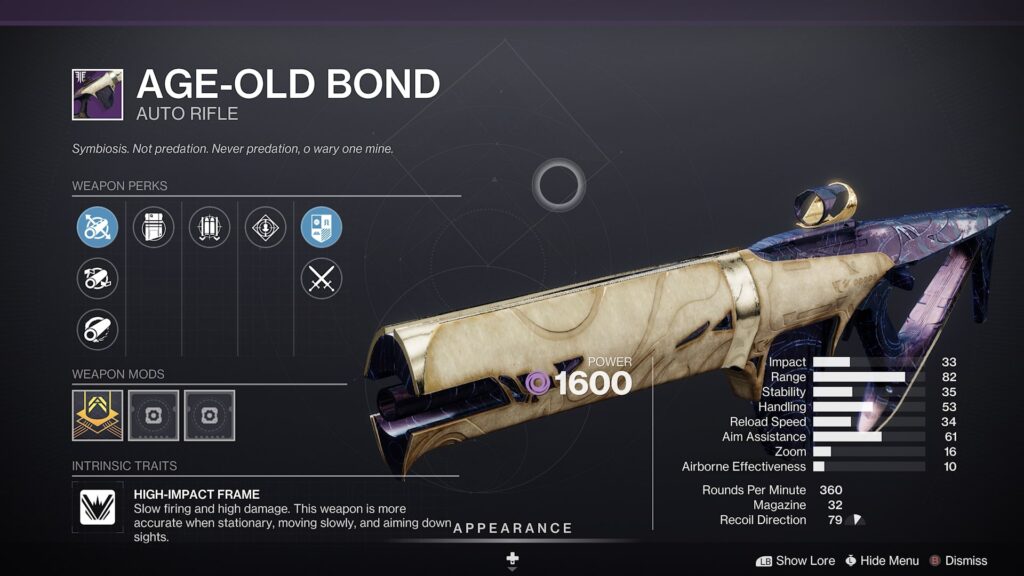 Age-Old Bond, like many weapons here, was a passable weapon that could be used at times. With updated perks, it has every chance of being in the top 5 best Auto Rifles in the game.
For PvE, we got a bunch of intriguing perks and combinations:
Destabilizing Rounds will make a Volatile explosion at the location of a killed enemy. This would be perfectly complemented by Repulsor Brace, which provides a Void Overshield for destroying enemies with Void Debuff (Volatile, Weaken, or Suppression)
Dragonfly and Collective Action are two good perks by themselves. You can't call them an extraordinary combination with some features, but if you get both perks, it's not bad either. After a precision takedown, the former makes an elemental damage explosion, and by collecting elemental pickups, the latter increases your damage by 20%.
Stats for All is also a useful perk, which after hitting three targets, gives improved reload speed, handling, stability, and range. It'll play nicely with Destabilizing Rounds.
For PvP, we got no less excellent perks, which are in demand for many Auto Rifles, but there is one catch. Age-Old Bond has a High-Impact frame, which is ineffective for Crucible so excellent perks won't fix its main problem.
Nation Of Beasts
Best PvE Roll: Corkscrew Rifling, Tactical Mag, Dragonfly/Keep Away/Perpetual Motion, Explosive Payload/Voltshot/Golden Tricorn
Best PvP Roll: Smallbore, Accurized Rounds, Keep Away/Opening Shot/Perpetual Motion, Explosive Payload/Kill Clip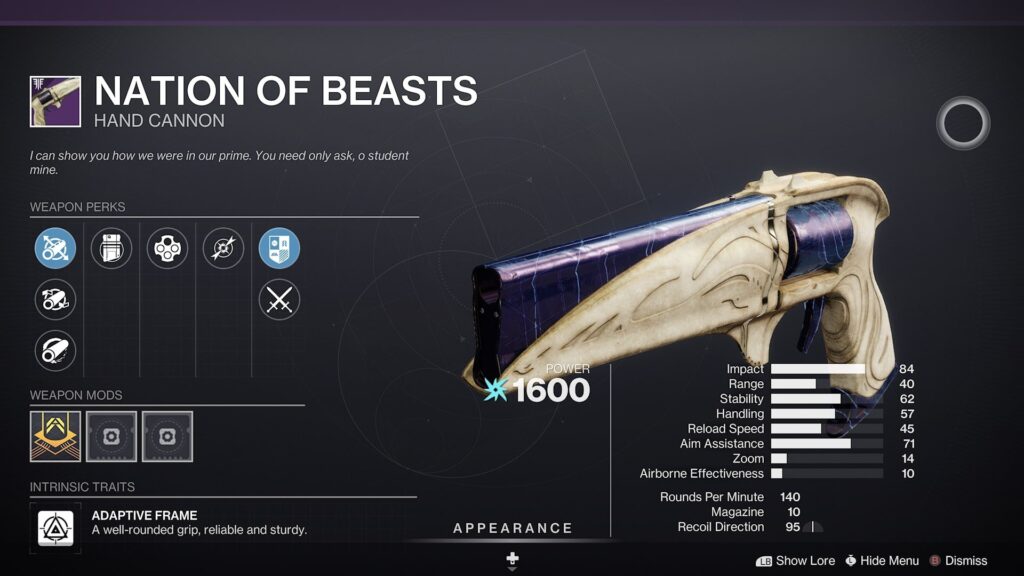 The Nation of Beasts had an amazing story because it was a fine Hand Cannon before the rework, and now genuinely new possibilities have opened up. For PvE, the best combination is Dragonfly and Explosive Payload, as you get two explosions for the price of one. Notably, there's another excellent perk called Voltshot, which after taking down an enemy and instant reloading, makes the next hit Jolt.
If you obtain Keep Away and Explosive Payload, you can use them in both game modes, as it's always necessary to keep your distance with a hand cannon, and nobody would want to refuse better accuracy with improved reload speed.
Tyranny Of Heaven
Best PvE Roll: Polymer String, Straight Fletching, Explosive Head/Archer's Tempo/Dragonfly, Incandescent/Golden Tricorn/One for All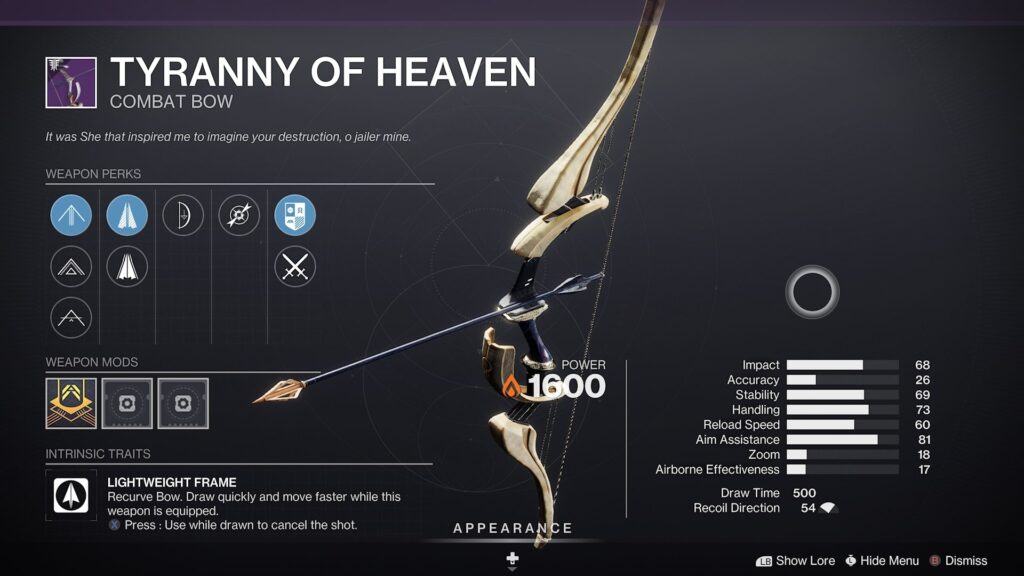 Legendary bows have always had a hard time, and Tyranny of Heaven was a direct testament to this. Bungie tried to fix the situation around it, and now you can go to endgame activity with the right perks, which are plentiful here.
Explosive Head and Incandescent is an excellent combination for a Solar Build. The first perk significantly increases the bow's damage, and the second opens up the possibility to inflict Scorch on enemies.
Archer's Tempo and Golden Tricorn work great together. Archer's Tempo decreases draw time after every precision hit. At the same time, Golden Tricorn activates a buff that improves damage by 15% after weapon takedowns. Moreover, with the second perk, matching Grenade and Powered Melee takedowns grant 50% increased damage for 10 seconds while the buff is active.
Dragonfly and One for All are also suitable picks to strengthen the bow. The former explodes enemies after a headshot, and the latter enhances damage by 35% after hitting three targets. Essentially, Dragonfly instantly activates One for All, with which you'll constantly cause explosions on the battlefield, turning any ad-clear into a pleasure.
Alas, this bow isn't suitable for PvP, and it doesn't even have practical PvP perks, so continue to take your favorite Exotic bows.
Techeun Force
Best PvE Roll: Arrowhead Brake, Enhanced Battery, Reconstruction, Controlled Burst
Best PvP Roll: Arrowhead Brake, Projection Fuse, Under Pressure, Rangefinder/High-Impact Reserves/Kickstart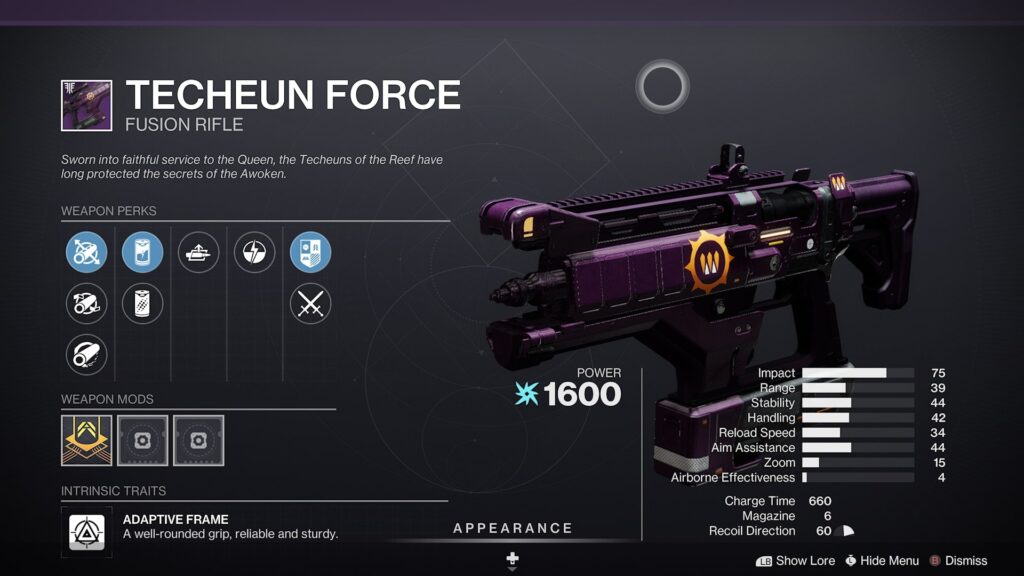 One of the best Adaptive Fusion Rifles has become even better with the update of guns in Last Wish, receiving an excellent perk for PvE, but first things first. If you're a PvP lover, you should get them first. Under Pressure and Rangefinder are the best perks for any Fusion Rifle, as who wouldn't want to receive Stability, Accuracy, and Range by doing nothing literally? The Reconstruction and Controlled Burst combination has turned Techeun Force into a non-Exotic Merciless. The first perk will gradually charge your magazine up to double size, and the new second perk increases damage and charge speed if you hit all bolts.
Apex Predator
Best PvE Roll: Quick Launch, Impact Casing, Reconstruction/Slideways/Demolitionist, Explosive Light/Bait and Switch/Frenzy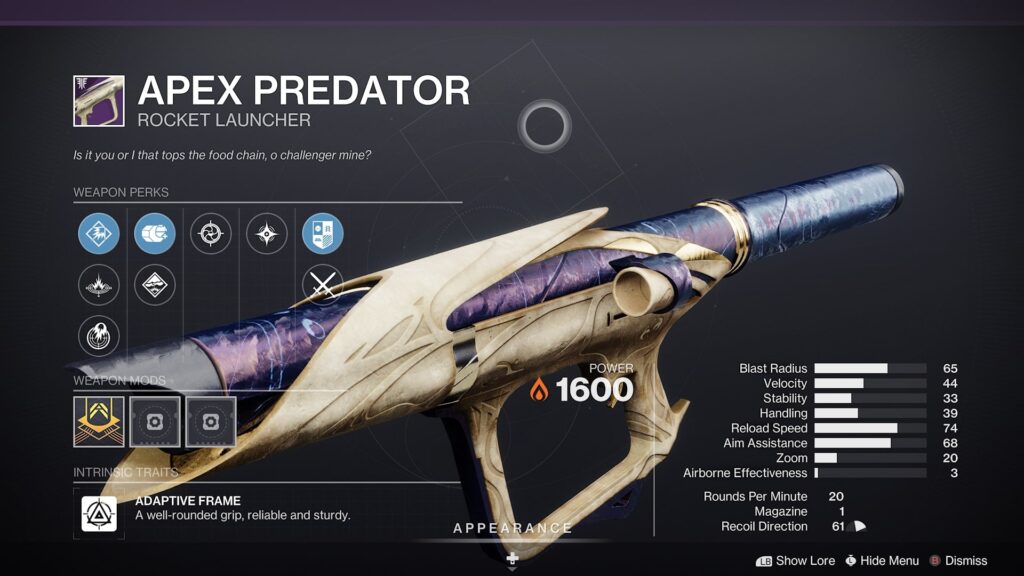 And we conclude our list with an updated Rocket Launcher, which is a must-have, as it's the new best Rocket Launcher in Destiny 2 and one of the best weapons in Last Wish Raid.
In the third column, you have the following perks for reloading:
Reconstruction: Refills the magazine every 4 seconds up to 2 rounds
Slideways: Reloads while sliding
Demolitionist: Reloads due to throwing grenades
In the fourth column, you can go in three different ways:
Explosive Light: Boosts damage when picking up Orbs of Power up to 6 stacks
Bait and Switch: Increases damage by 35%, but if you fire all your weapons at opponents for three seconds
Frenzy: improves damage by 15% if you are in combat for a long time
Pick what suits your taste and get the perfect weapon for the third slot.
Final Words
And that's all we could tell about the weapon rework in Last Wish. All these weapons now enter the meta or are their best variations among other weapons of the same archetype. We highly recommend you start farming them in the first stage of the Raid when it's in rotation.
We've finished with this article on weapons, but we have many other guides, such as a guide on the best guns for Raids or a guide on different types of guns, such as the best Sidearms or Scout Rifles. We even made a guide on the best perks for PvP and PvE, so check it out in your spare time to better understand which perks are worth paying attention to.
At the end, we only want to note that Last Wish is a challenging Raid, and farming Deepsight here can be very long and hard. That's why WowVendor has prepared a special service for you, where you can earn a Deepsight weapon or a complete pattern for any Last Wish Weapon. You won't have to spend long hours farming and searching for a good fireteam, and we guarantee you the loot!
Thanks for reading! Owl is flying away.