Best PvE Weapons Destiny 2: Ultimate Primary, Special, and Heavy List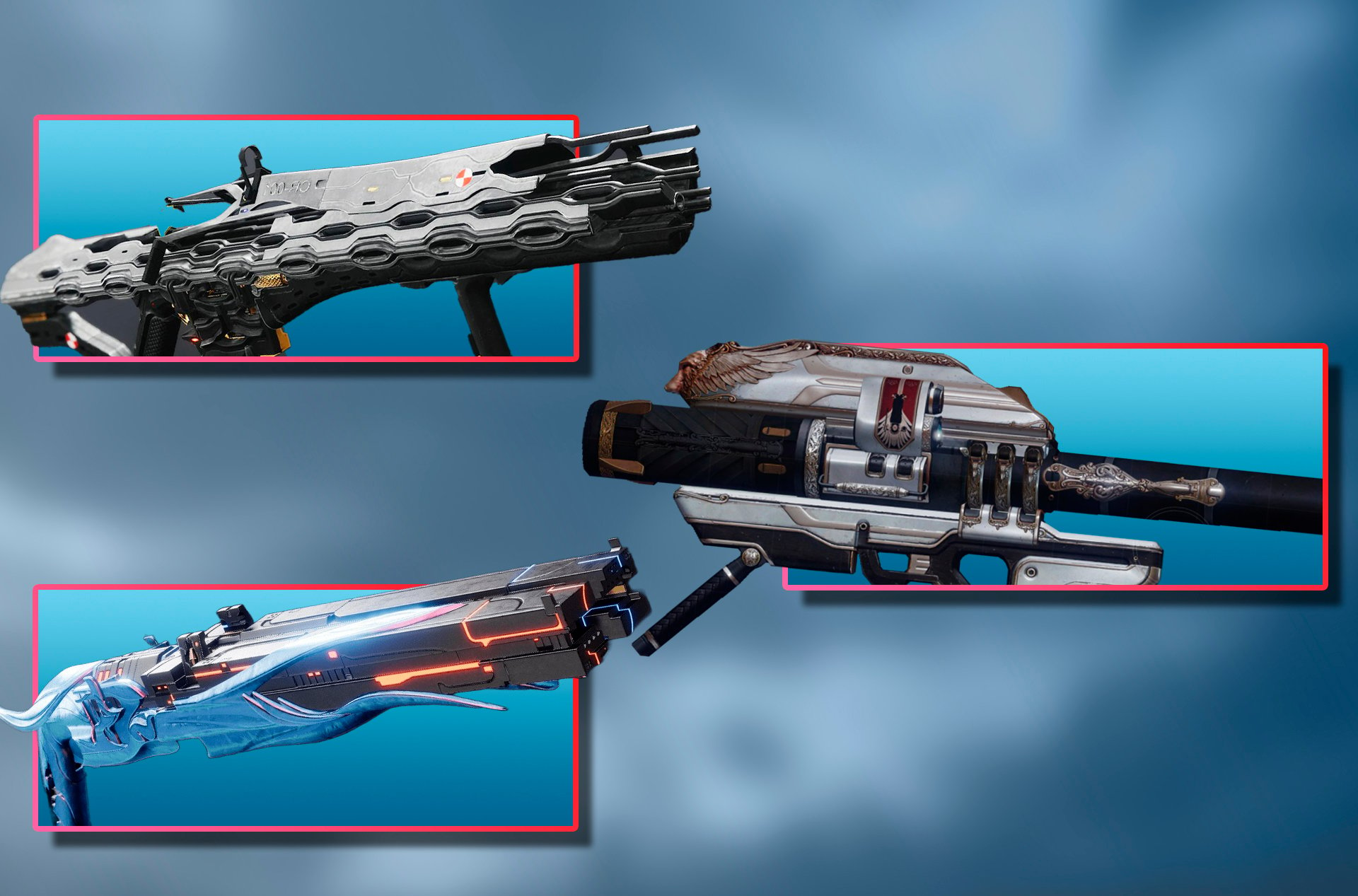 After hundreds of hours playing D2, you finally reach the game's endgame content, which intrigues you like never before. A slew of challenging activities to complete opens up for you, and you're eager to dive into the action as soon as possible. However, rushing into these activities might not be a good idea because your current loadout might not be suitable in endgame.
We understand the vast collection of guns in D2, therefore we have compiled a list of the top PvE weapons in Destiny 2 for Guardians. Discover a comprehensive guide on the most efficient primary, special, and heavy weaponry and expert tips on utilizing them to your advantage. Additionally, explore the recommended perks that can significantly enhance your combat effectiveness. Get comfortable, as you are in for a vast array of what you should definitely acquire.
Best PvE Primary Weapons Destiny 2
Starting with Primaries is a good idea, as nobody wants to lose access to infinite ammo. Bungie was able to buff some of them in such a way that they now rival even the Special ones. Learn about the best PvE Exotics in Destiny 2, so don't skip this segment!
Osteo Striga, Submachine Gun
How To Get It: Witch Queen Campaign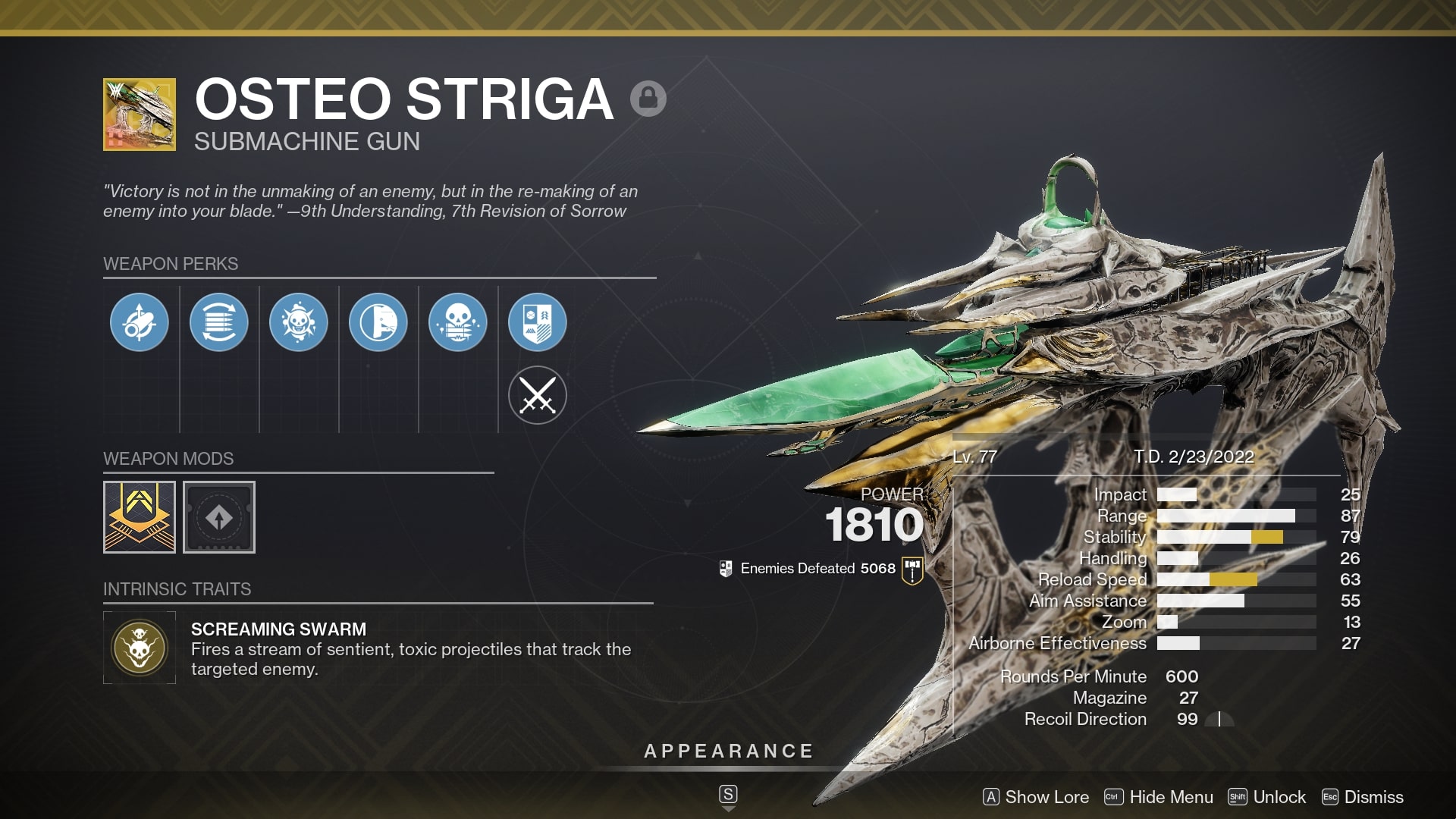 Do you need a Primary for ad-clear that's effective and easy to use? Then, Osteo Striga is the most effective SMG for you! Osteo Striga fires slow-moving projectiles that can also apply poison, which can spread seamlessly from one enemy to another. The Catalyst synergizes well with it, as due to it, Poison Final blows overflow 100% of the Magazine, resulting in up to 300% increased Magazine Capacity.
Quicksilver Storm, Auto Rifle
How To Get It: Monument to the Lost Light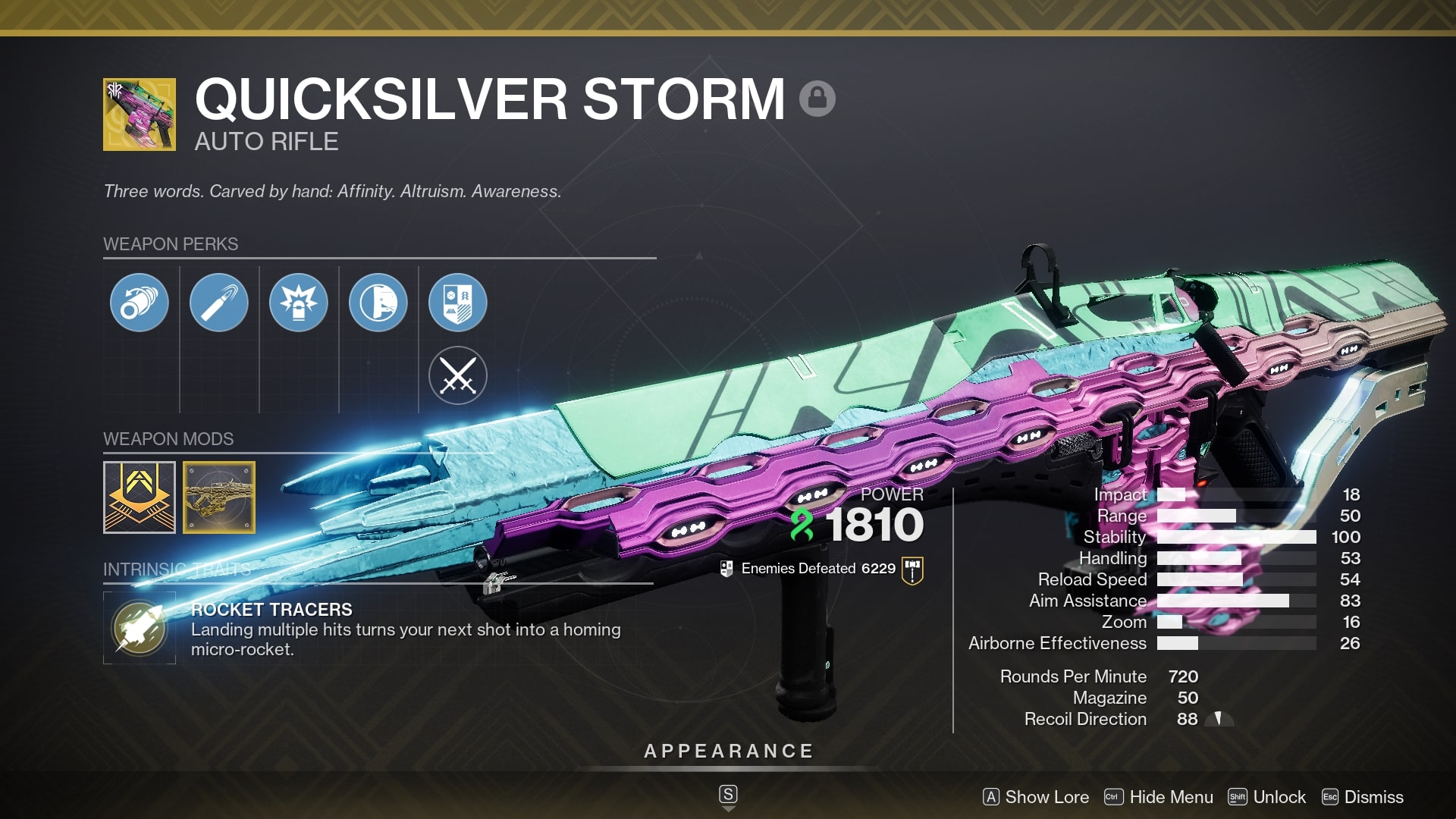 Quicksilver Storm Exotic Auto Rifle can be considered the best primary weapon, all thanks to the Grenade Chaser perk. It converts missiles that hit the enemy into grenades, which can be used in an alternate shooting mode. In its Grenade Launcher mode, this Strand Auto Rifle not only deals a significant amount of damage but can also generate Tangles because of its Catalyst. Besides, Quicksilver Storm has excellent stats and archetype, making it even better.
Wish-Ender, Bow
How To Get It: Hunters' Remembrance Quest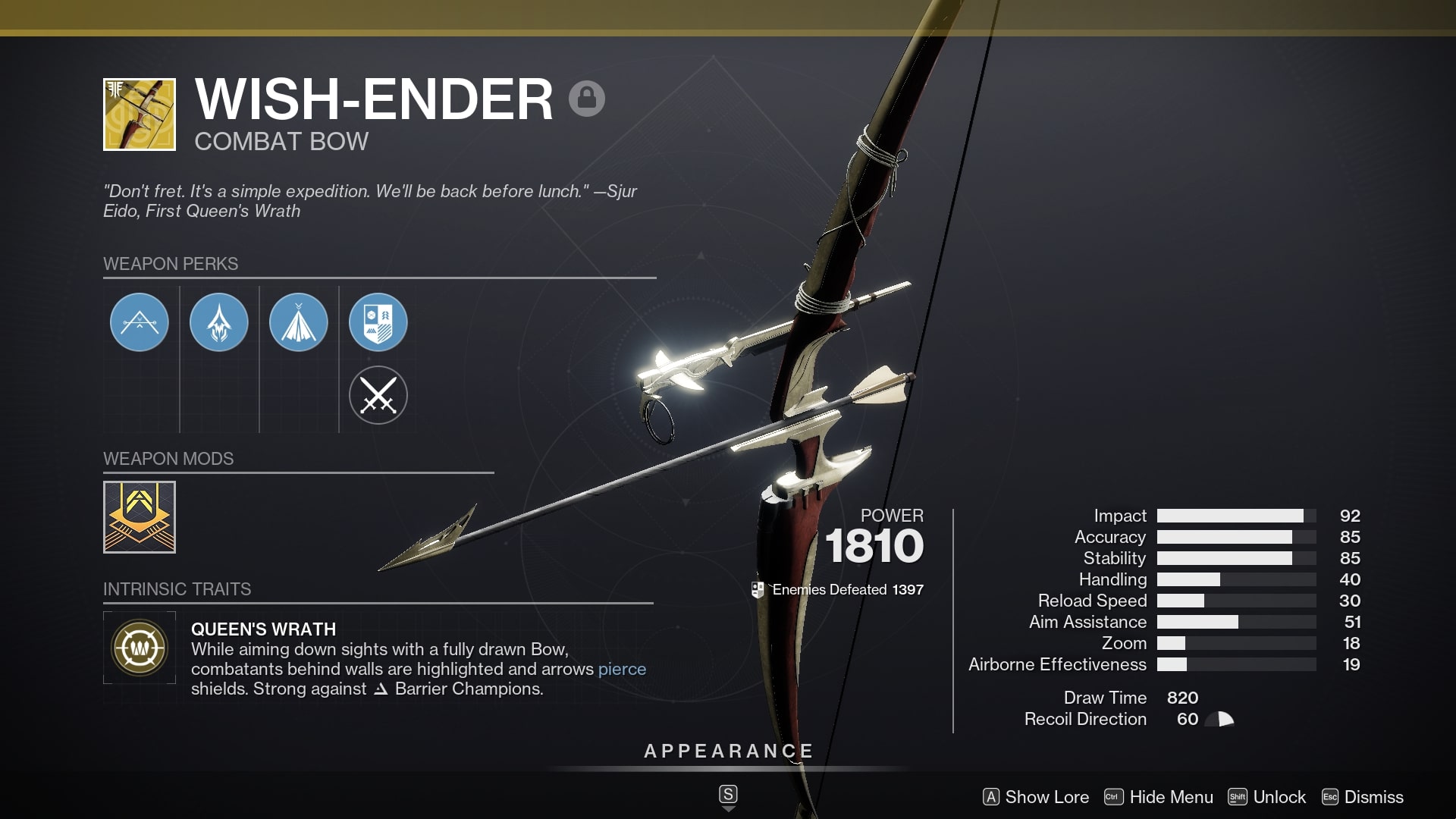 If you need a powerful primary weapon to efficiently defeat major foes or Barrier Champions in Grandmaster and other endgame activities, then Wish-Ender is your perfect choice. This bow has the highest damage among all bows because of the Broadhead perk, which allows arrows to pass through the enemy, causing double damage and even hitting combatants behind them. The additional bonus is the ability to look through walls when you aim with a fully drawn bow, which is helpful in PvP and even in PvE (like on Crota's End's third encounter). No wonder it is in Destiny 2 PvE Meta and really good for dealing sustained damage!
Malfeasance, Hand Cannon
How To Get It: Darkness In The Light Quest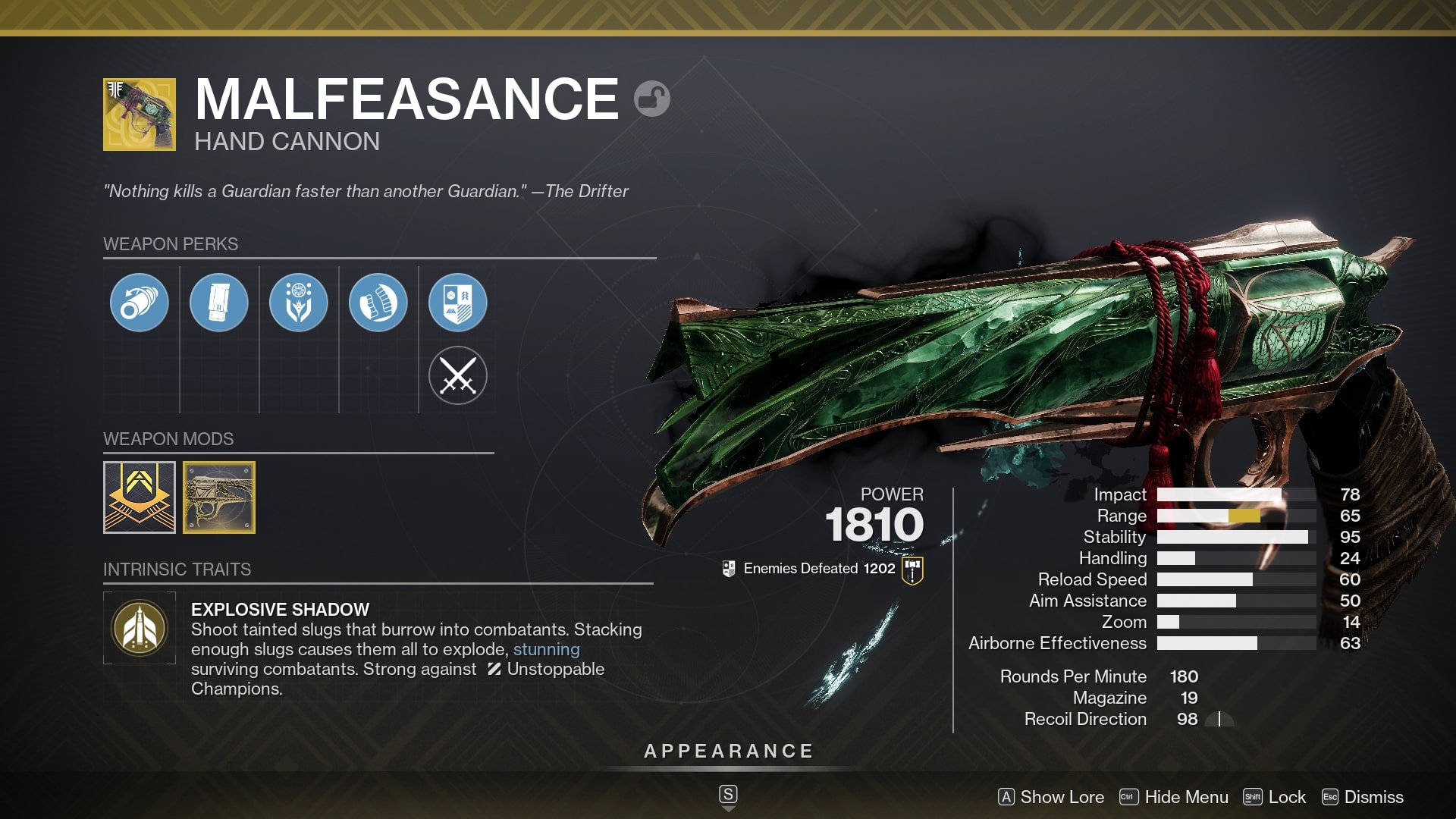 After a recent buff to Hand Cannon archetype, they have become much stronger and more effective, so including Malfeasance in our list is no surprise. Malfeasance is the most promising in terms of DPS and has the capability to even compete with some Heavies when using the Lucky Pants Exotic. A pleasant bonus with one of these best PvE Kinetic weapons Destiny 2 is the ability to stun Unstoppable Champions upon explosion, perfect in Nightfalls. If you want to know how to acquire Malfeasance, we recommend checking out other guide, where everything is briefly and clearly laid out. You will need to farm a little, but if you want to save time and acquire it immediately, use our service.
Sunshot, Hand Cannon
How To Get It: Random Exotic Drop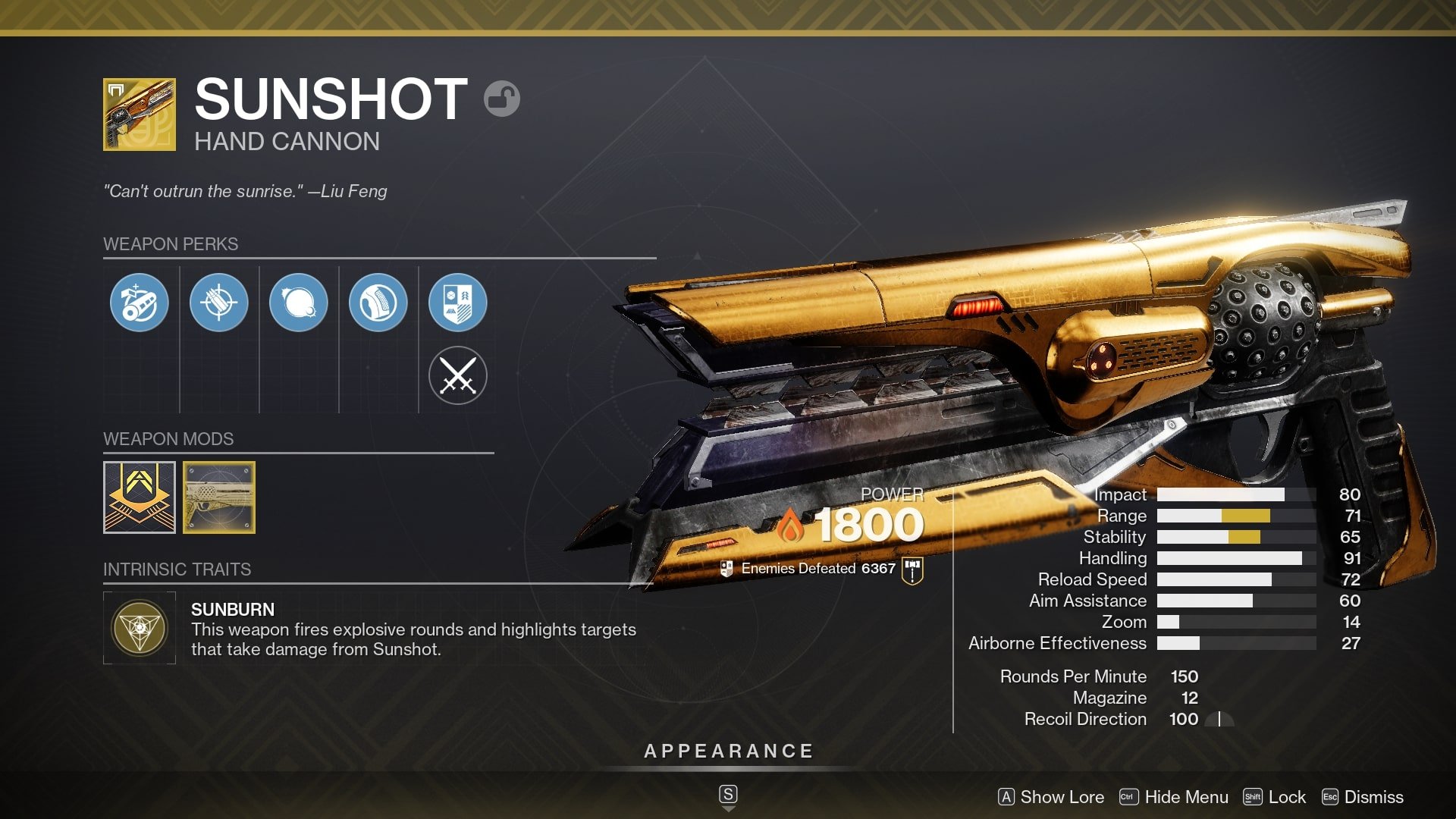 As stated earlier, Hand Cannons got a significant buff, so Sunshot became one of the Best PvE Hand Cannon Destiny 2 and a perfect choice, especially for any ad-clear encounters. With its help, you can blow up foes, and anyone caught in the blast radius obtains ten stacks (or fifteen with Ember of Ashes) of Scorch debuff. Moreover, the unique 150 RPM archetype and explosive rounds make it very effective even against Orange Bar enemies. In PvP, it could be an excellent choice if it is in good hands because it can blow up Guardians while damaging their teammates. Acquired Catalyst is also appreciated if you need better Range and Stability.
Fatebringer, Hand Cannon
Must-Have Rolls: Explosive Payload, Frenzy/Firefly
How To Get It: Vault of Glass Raid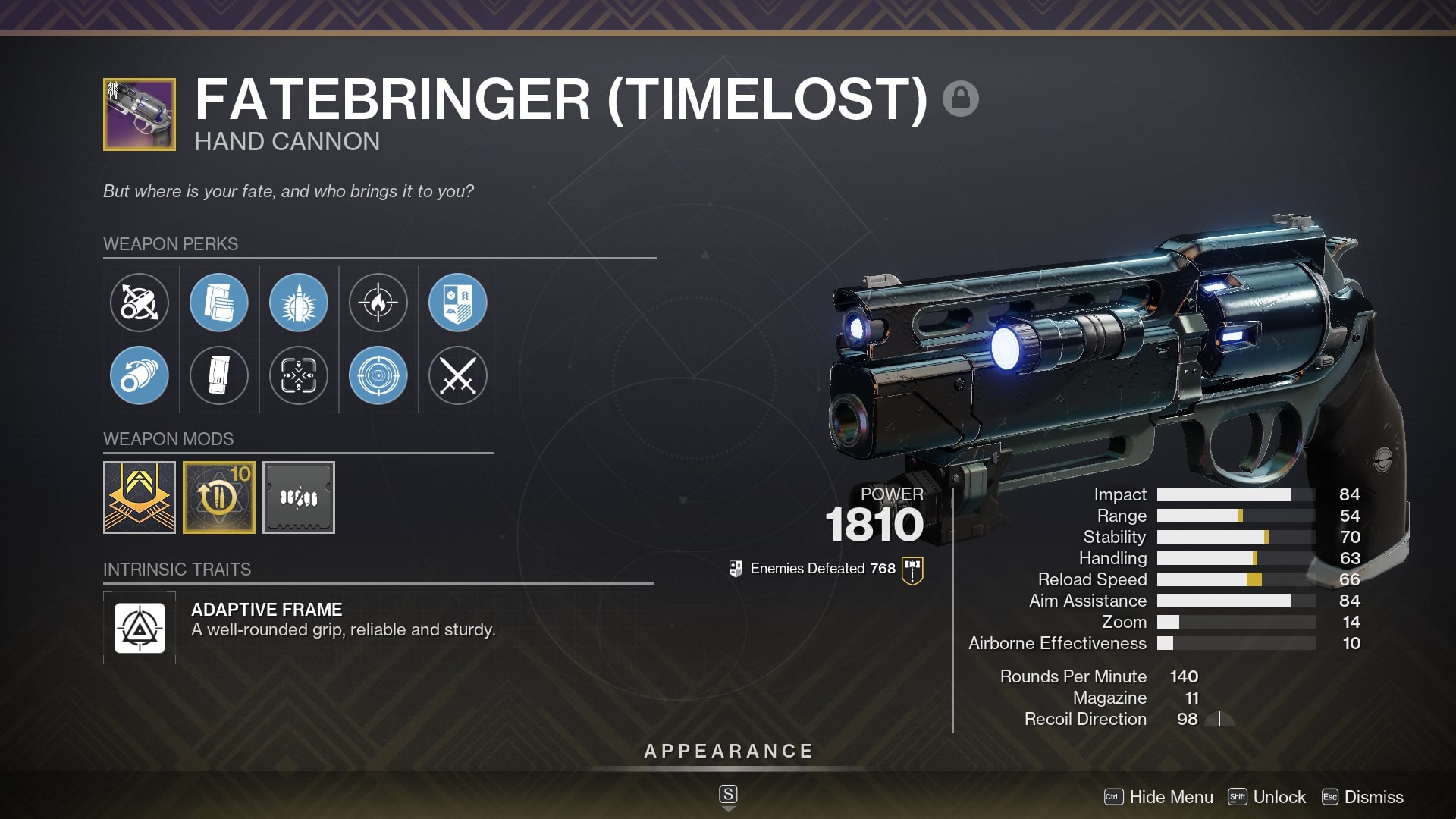 Fatebringer is often referred to as the Legendary Sunshot, and it even outperforms Sunshot in some aspects, being an example of what the best PvE legendary weapons Destiny 2 should be. If you love explosions, then the combination of Explosive Payload and Firefly will definitely be your favorite. However, if you require a more dependable weapon for the endgame, Frenzy will be much more useful due to the simple obtainment of a 15% Bonus Damage.
For a simpler god roll acquisition, we recommend waiting until Vault of Glass is in Raid Rotation. At that point, Master Difficulty will be available, meaning you can get the Timelost Version. What's its main advantage? Not only is it effortless to obtain since it drops from the Challenge on Templar, but you are also guaranteed to get the combination of Explosive Payload and Firefly.
Rufus's Fury, Auto Rifle
Must-Have Rolls: Demolitionist/Rewind Rounds, Paracausal Affinity/Target Lock/Frenzy/Hatchling
How To Get It: Root of Nightmares Raid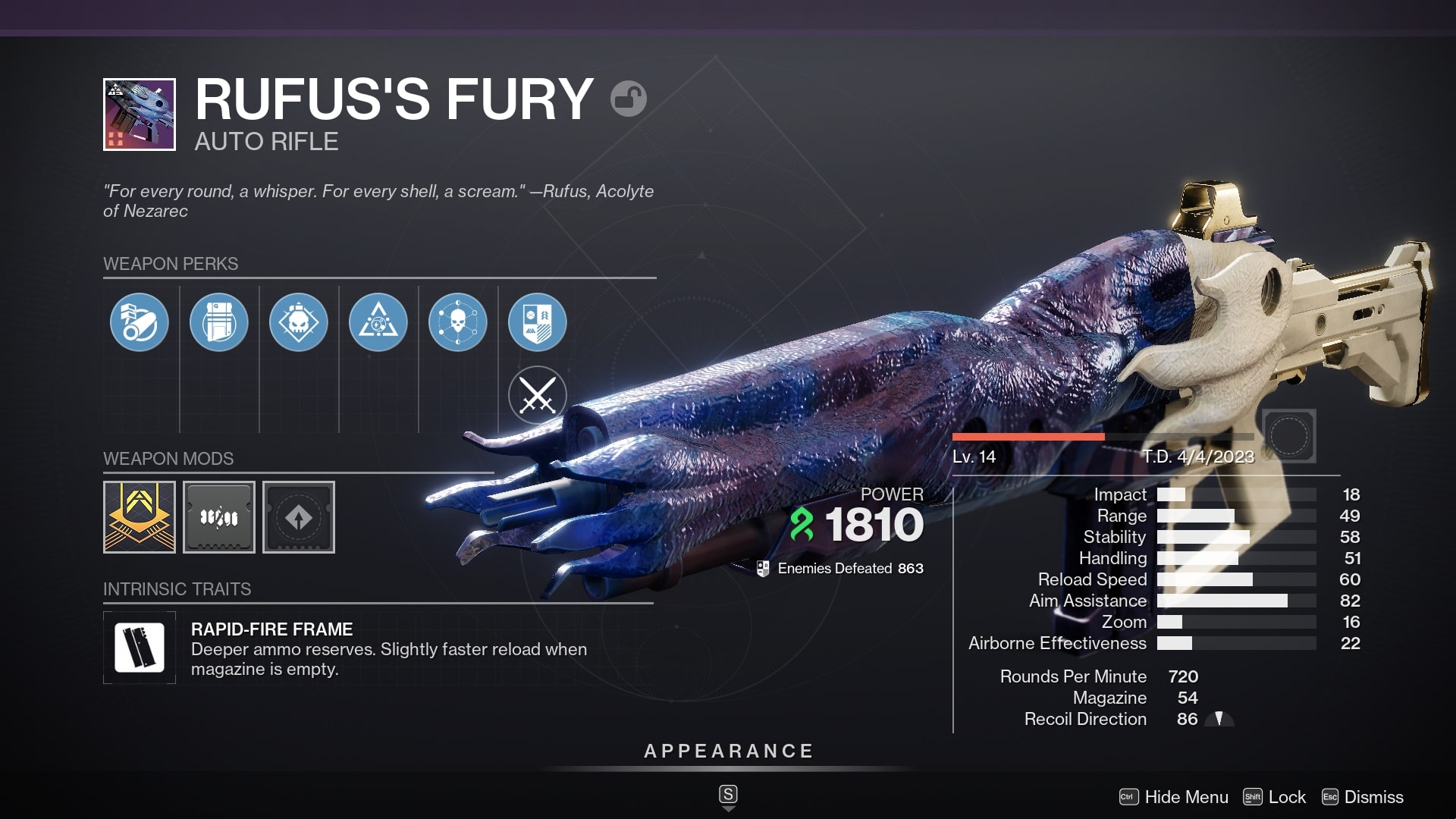 Some D2 best PvE weapons are relatively tricky to acquire because you need to find people to complete the Raid, or the activity itself is pretty challenging to finish. As a compromise, we can offer you to get Root of Nightmares weapons to use in endgame. The Raid itself is very easy, and you don't have to spend much time finding players in the community who want to beat it. Most of the Raid's loot won't disappoint you, and a fantastic example of that fact is Rufus's Fury.
Many Auto Rifles have various disadvantages, but with Rufus's Fury it's exactly the opposite, and here's why:
Rufus's Fury is the best PvE Legendary Auto Rifle with outstanding stats and a great Rapid Fire archetype suitable against combatants
It has a vast assortment of valuable perks to choose from. And this means that this weapon can be used in a variety of game scenarios and builds
Most importantly, you can craft it, opening a massive amount of possibilities on how you want to utilize Rufus's Fury
It's really such a good gun from all Auto Rifles, and we recommend obtaining it as fast as possible.
Ikelos_SMG_V1.0.3, Submachine Gun
Must-Have Rolls: Feeding Frenzy/Threat Detector, Voltshot
How To Get It: Operation: Seraph's Shield Exotic Mission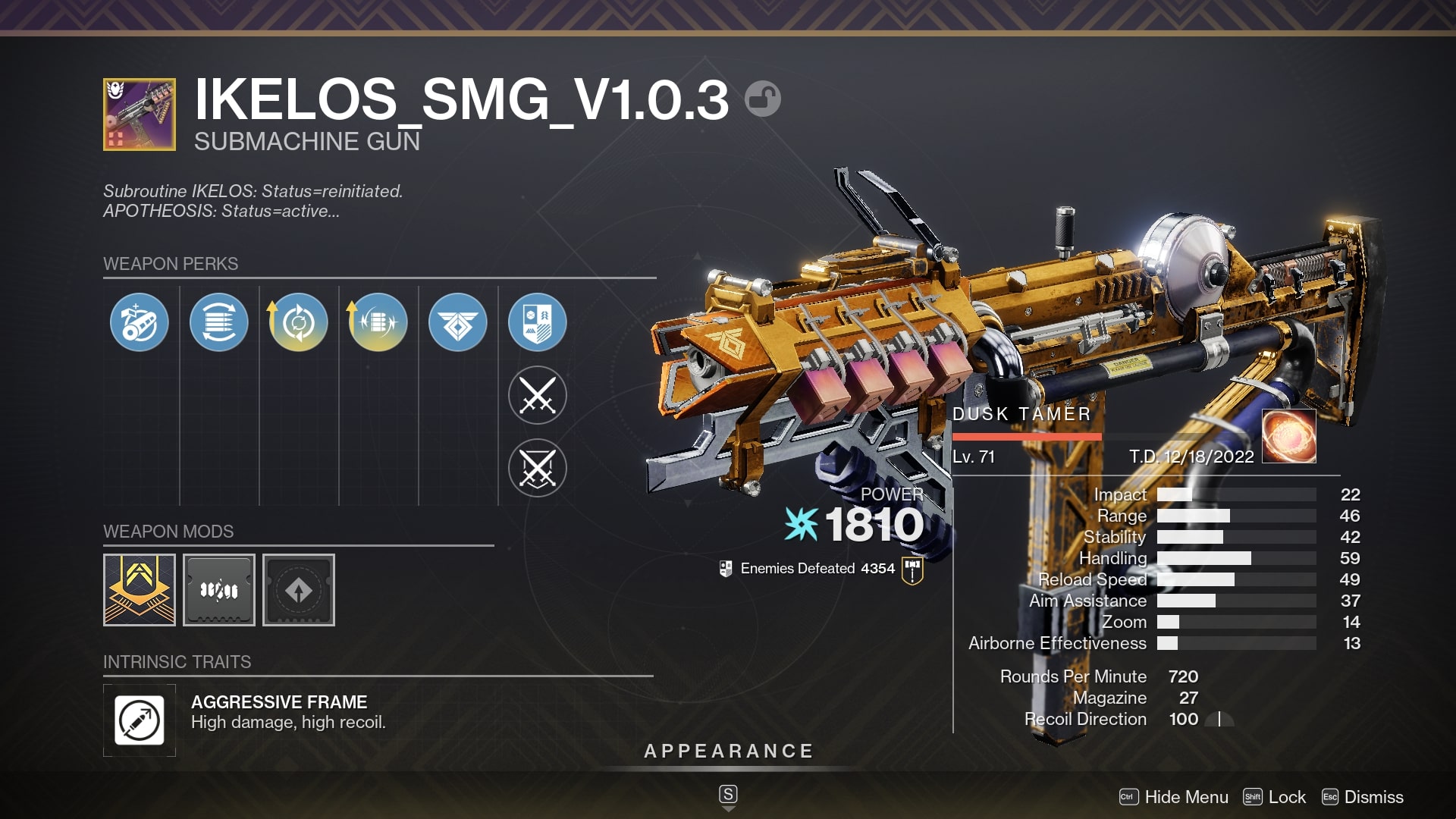 Ikelos_SMG is back again, and it's still as beautiful as the day we lost it. So, what's the deal with this gun? In short, it's an unstoppable killing machine monster that no one can stop (except bosses), and it hasn't gotten off Destiny 2 meta weapons PvE for a long time. It's a fast-firing gun that refills after breaking the shield, and with Feeding Frenzy and Voltshot, it destroys waves of enemies in the blink of an eye. Just wait until Seraph's Shield in Exotic Mission Rotator and try your luck to obtain all the patterns to craft it.
Doom of Chelchis, Scout Rifle
Must-Have Rolls: Explosive Payload/Firefly, Frenzy/Dragonfly
How To Get It: Kings Fall Raid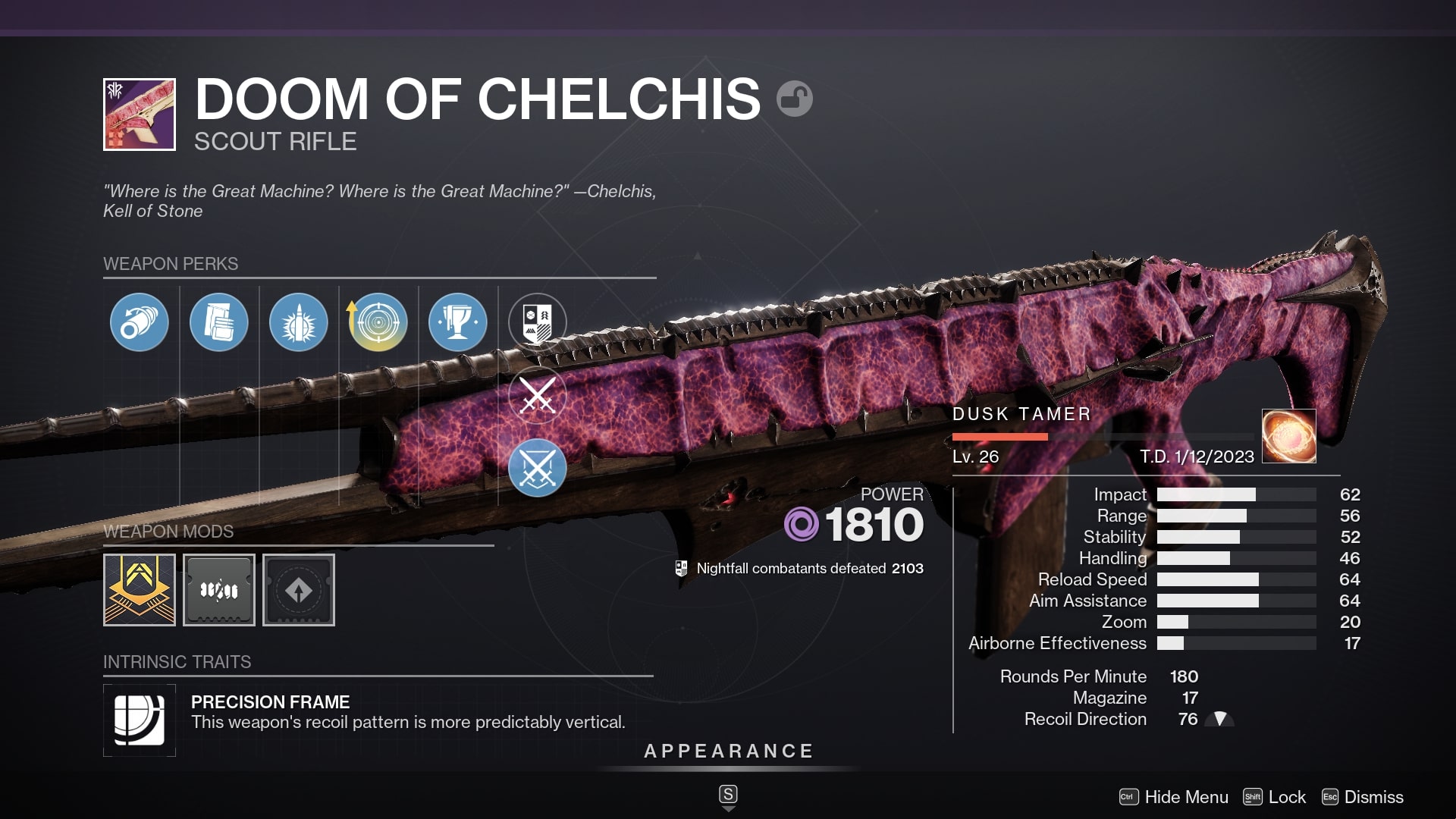 So, what if you are a big fan of Scout Rifles and want the best PvE Scout Rifle for your collection? Well, hop on to the King's Fall; loot from our beloved Raid is worth your attention, especially Doom of Chelchis. The main feature of the Raid's Scout Rifle is perks. As an example, Explosive Payload with Frenzy are going to improve your damage and reload speed, allowing you to annihilate enemies quickly at long distances. At the same time, pick up the Firefly and Dragonfly combination to create a lot of explosions on the battlefield and make a wonderful addition to your loadout.
Best PvE Special Weapons Destiny 2
Special ammunition should still be in your loadout to deal with major opponents. Our Destiny 2 PvE weapon tier list will help you decide what you really need.
Conditional Finality, Shotgun
How To Get It: Root of Nightmares Raid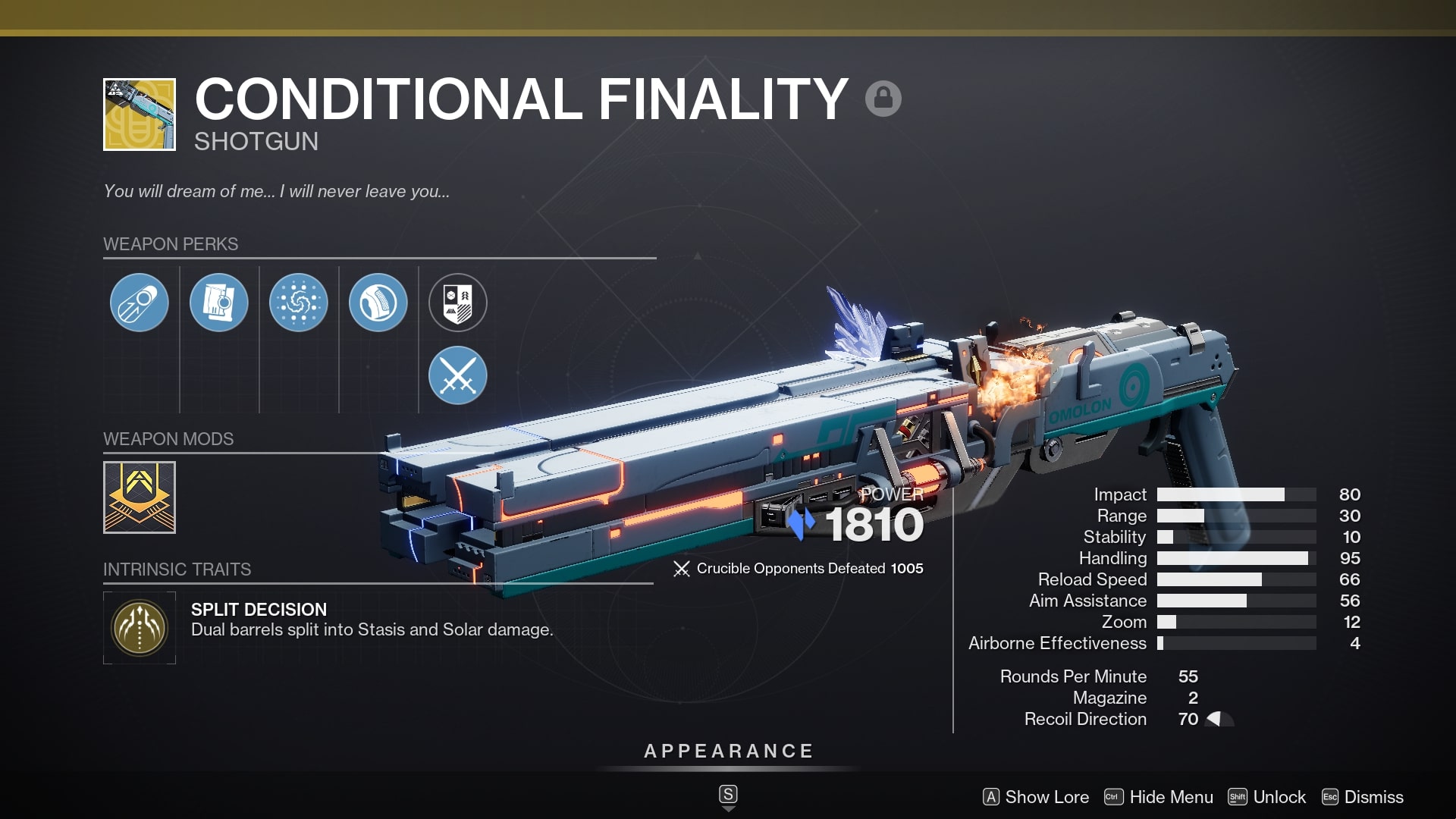 Conditional Finality will reliably assist you at any moment, especially if you must deal a lot of damage to a target or stun an Unstoppable Champion. That's all because the first shot freezes the target, and the second ignites it. It's worth mentioning that Conditional Finality is excellent even in PvP, which is why many love it. We choose it as one of the best PvE guns Destiny 2, which can show itself everywhere.
Witherhoard, Grenade Launcher
How To Get It: Monument to the Lost Light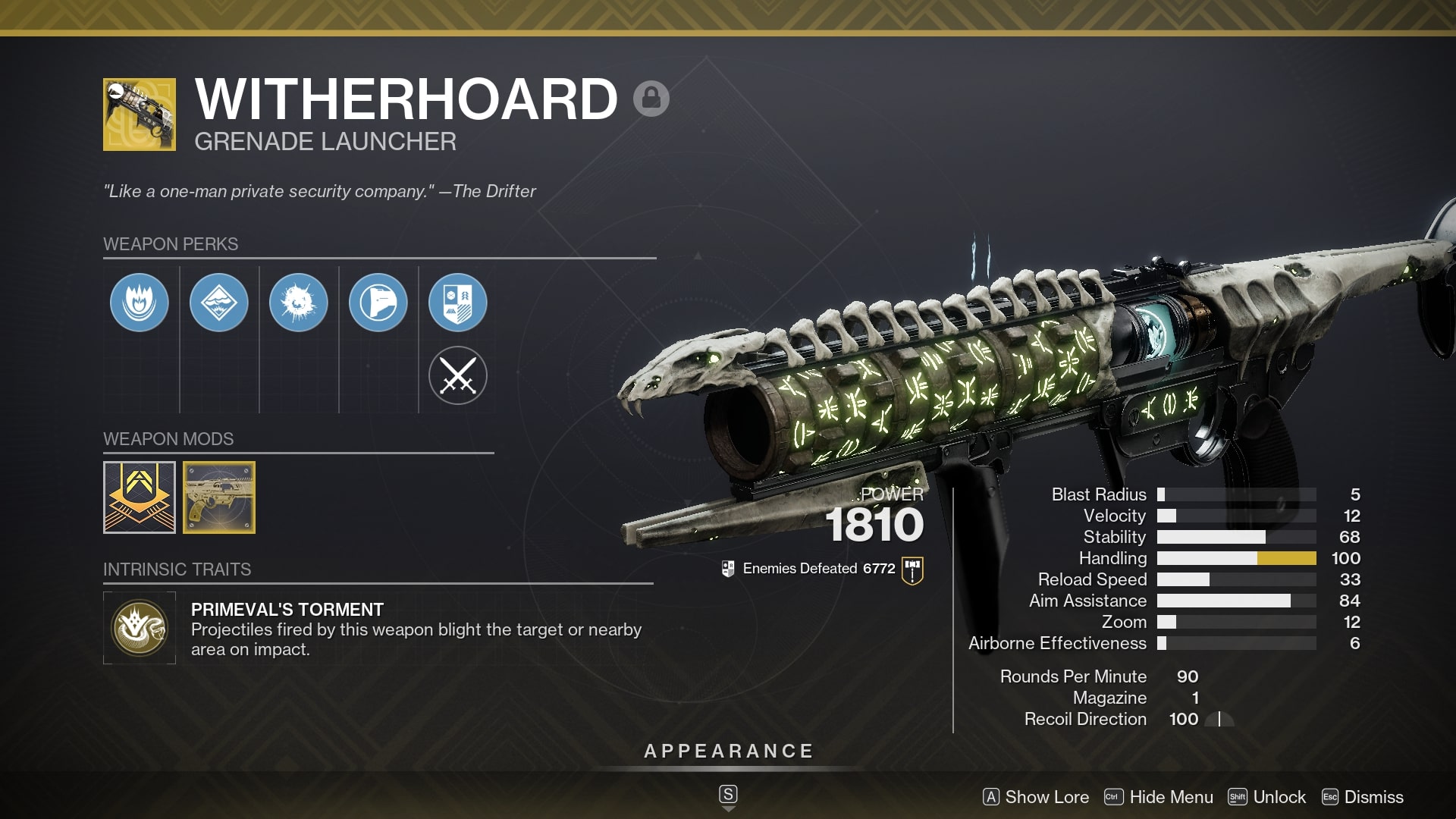 Witherhoard is considered by many to be the perfect kinetic for any activity due to its versatility. This GL fires unique grenades that impose damage over time. You can attach them directly to enemies or create a small damage area if you hit a surface. As a result, a lot of Guardians use Witherhoard in both ad-clear and boss damage phases. Unsurprisingly, every Guardian would put it in the list as the best PvE weapon.
Izanagi's Burden, Sniper Rifle
How To Get It: Monument to the Lost Light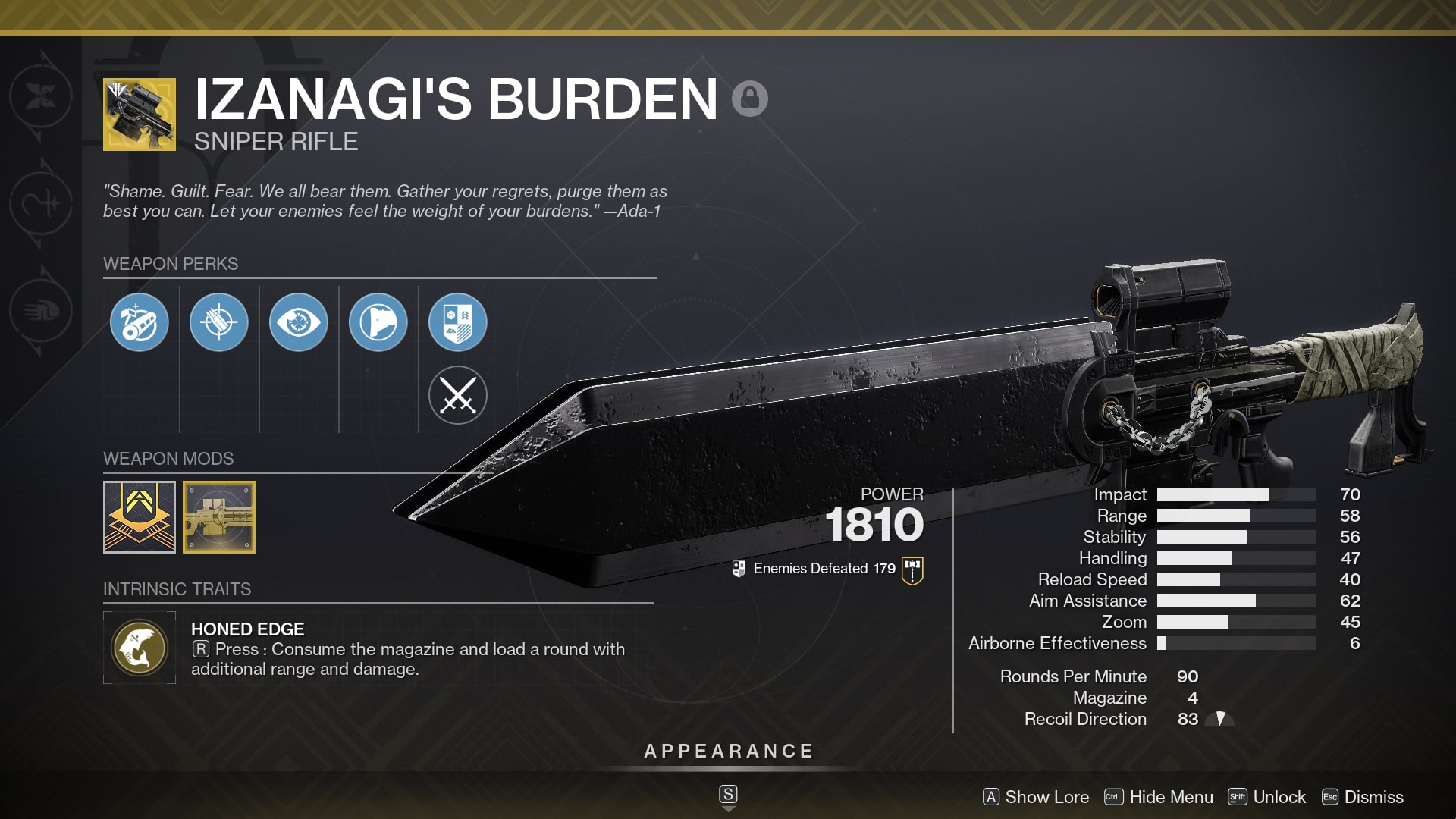 If you need a Special capable of inflicting a massive amount of burst damage, Izanagi's Burden will smoothly assist you. Its unique feature is that you can combine all the rounds in the Magazine into a single, powerful shot, which results in massive DPS. Of course, beloved Exotic has its drawbacks. The reserves are only enough for five shots, so you often need to generate a Special Ammo for yourself frequently.
Riptide, Fusion Rifle
Must-Have Rolls: Auto-Loading Holster/Lead from Gold, Chill Clip
How To Get It: Crucible Matches or Crucible Focused Decoding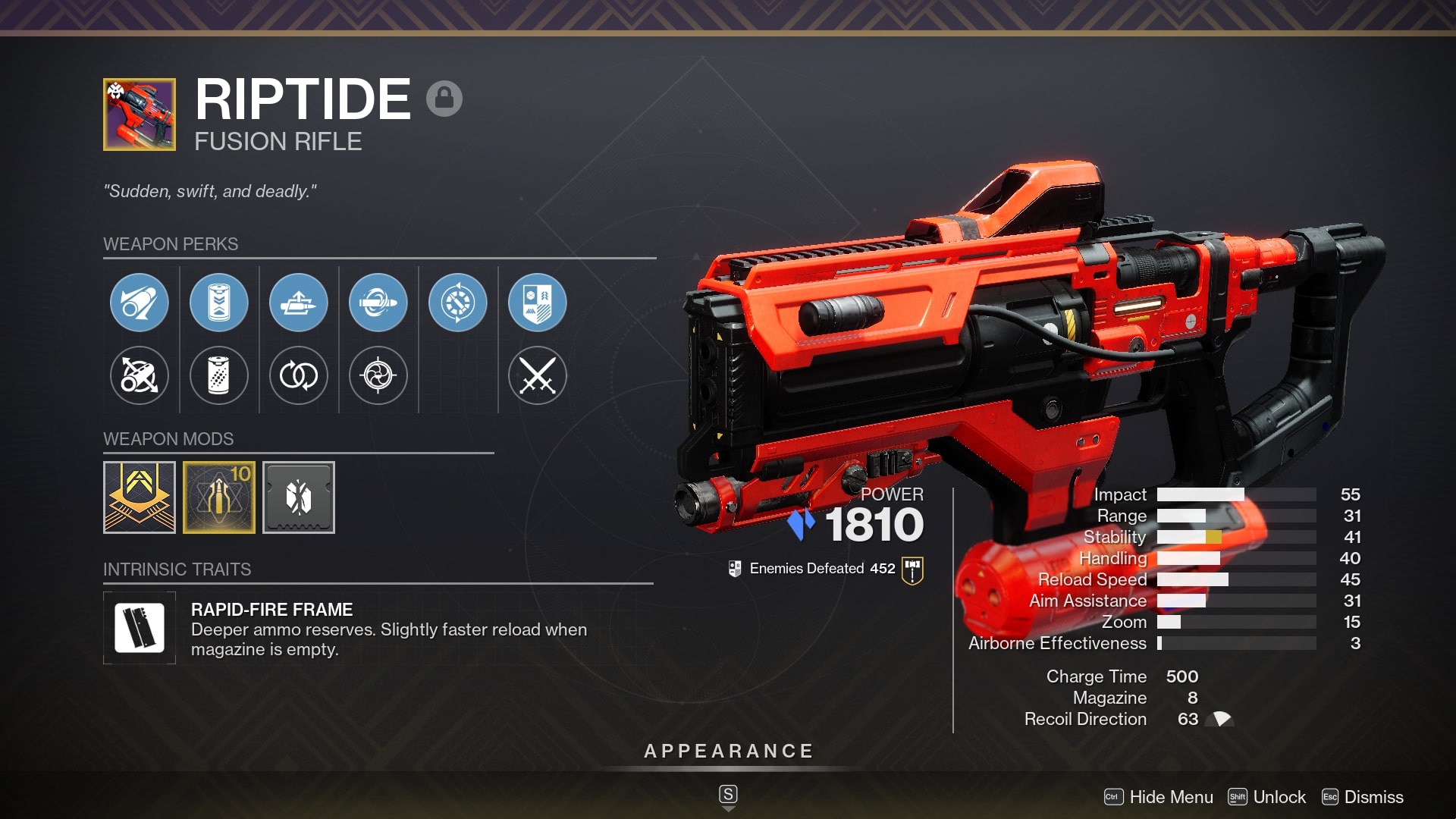 Although Chill Clip received a significant nerf, it hardly affected Riptide, which is still the best PvE Fusion Rifle in Destiny 2. In addition to Riptide having a great Charge Time, it has excellent perks, especially Chill Clip. The essence is in the Slow Stacks, with which you can easily Freeze an enemy. The perk literally allows you to stun Overload Champions with one shot and Unstoppable ones with three shots, which is very useful in GM Nightfalls. Moreover, in the third column, you can use one of the two complementary perks that either reload stowed guns from reserves or grant Special ammo after picking up Heavy ammo.
Heritage, Shotgun
Must-Have Rolls: Reconstruction, Recombination
How To Get It: Deep Stone Crypt Raid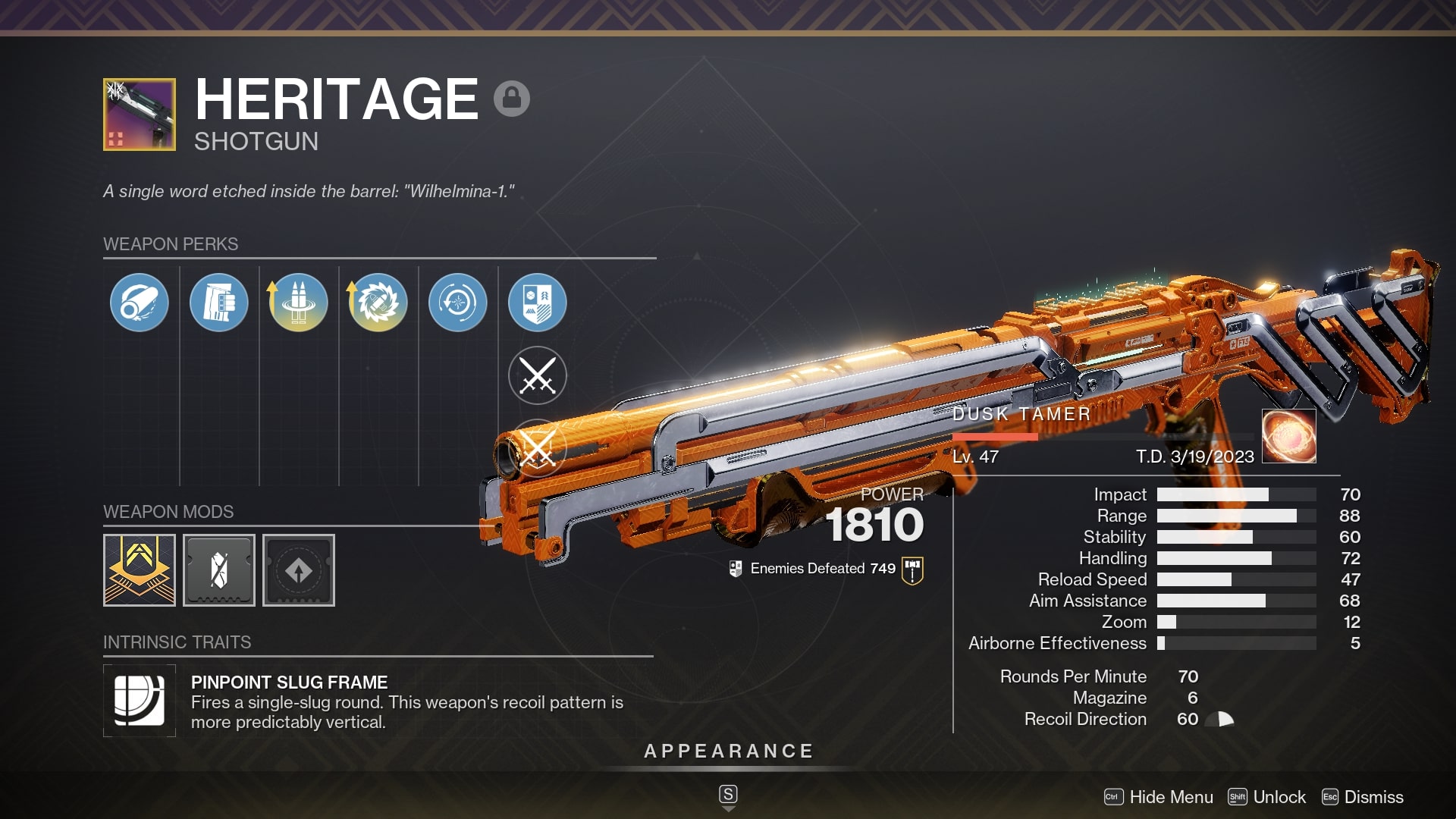 Slug shotguns have long been an obvious choice due to their high damage and rapid-fire rate. As it turns out, Heritage is currently one of the finest representatives. Combined with Reconstruction and Recombination, you gain twice the number of rounds in the Magazine and boosted damage due to elemental Final Blows, making it the best PVE shotgun in Destiny 2 for any activity. Tough Enemies will be scared of it, especially with enhanced perks.
Succession, Sniper Rifle
Must-Have Rolls: Reconstruction, Vorpal Weapon/Firing Line
How To Get It: Deep Stone Crypt Raid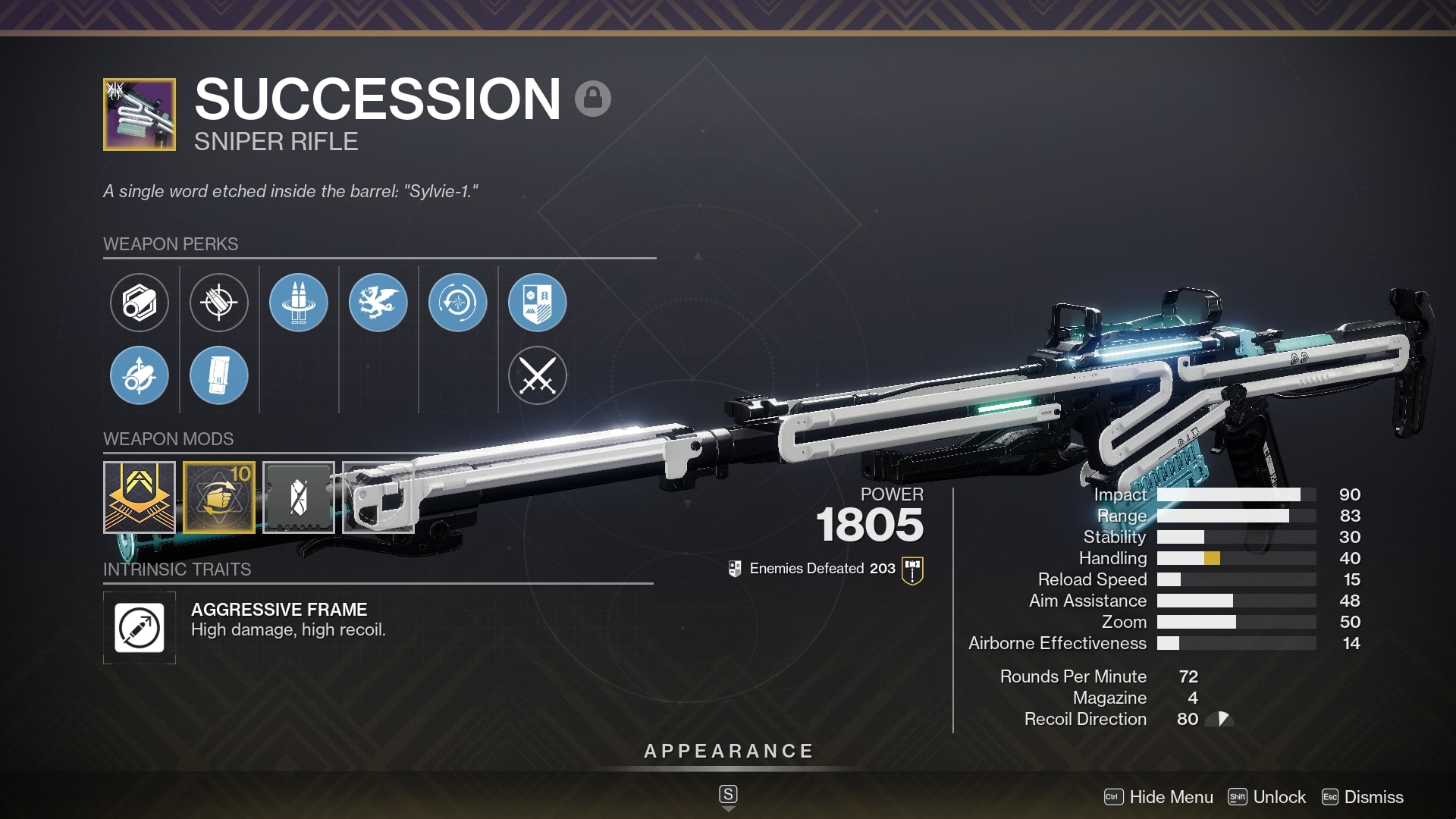 If you decide to go for Heritage, don't forget to acquire the equally excellent Succession, which is just as effective and will assist you during DPS phases. The options in the third column are clear, while the fourth one requires your situational judgment. Vorpal is a good choice if you are playing solo, as it increases damage to bosses and vehicles. Firing Line, on the other hand, is a better option if you are playing with two teammates nearby, as it can increase damage even more.
The Eremite, Fusion RIfle
Must-Have Rolls: Envious Assassin, Controlled Burst
How To Get It: Season of the Witch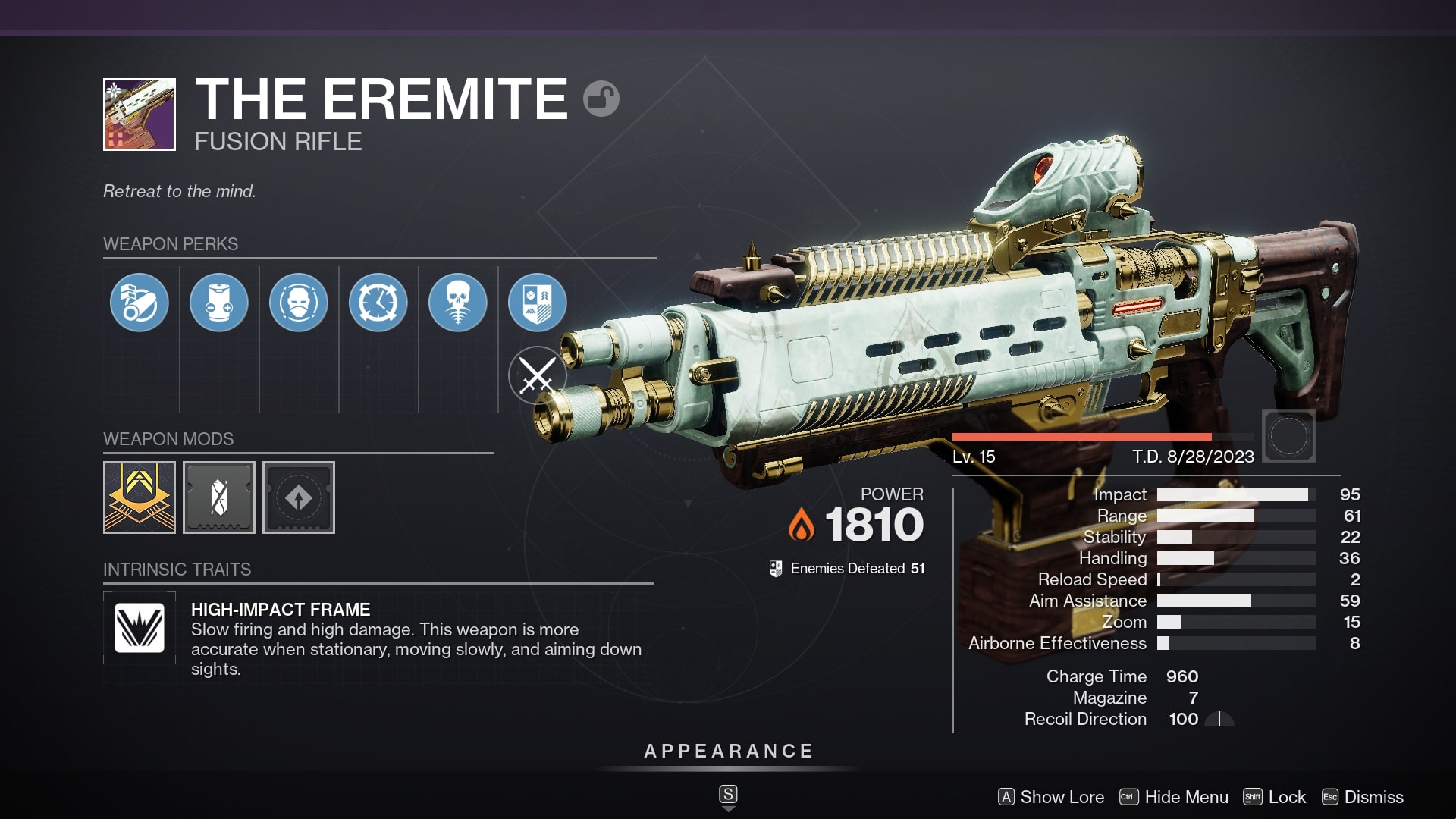 Although we've already had a Fusion Rifle on our list, Riptide is far from ideal in terms of DPS, unlike The Eremite. It can easily be considered one of the best PvE Energy weapons in Destiny 2, and all thanks to two perks. 
Envious Assassin allows you to fit all the reserves of the current gun into the Magazine, as it overflows the Magazine based on the number of Final Blows achieved from other weaponry in your loadout. 
Controlled Burst improves damage by 20% and reduces Charge Time by 10% when hitting all bolts in the burst.
Forbearance, Grenade Launcher
Must-Have Rolls: Ambitious Assassin, Chain Reaction
How To Get It: Vow of the Disciple Raid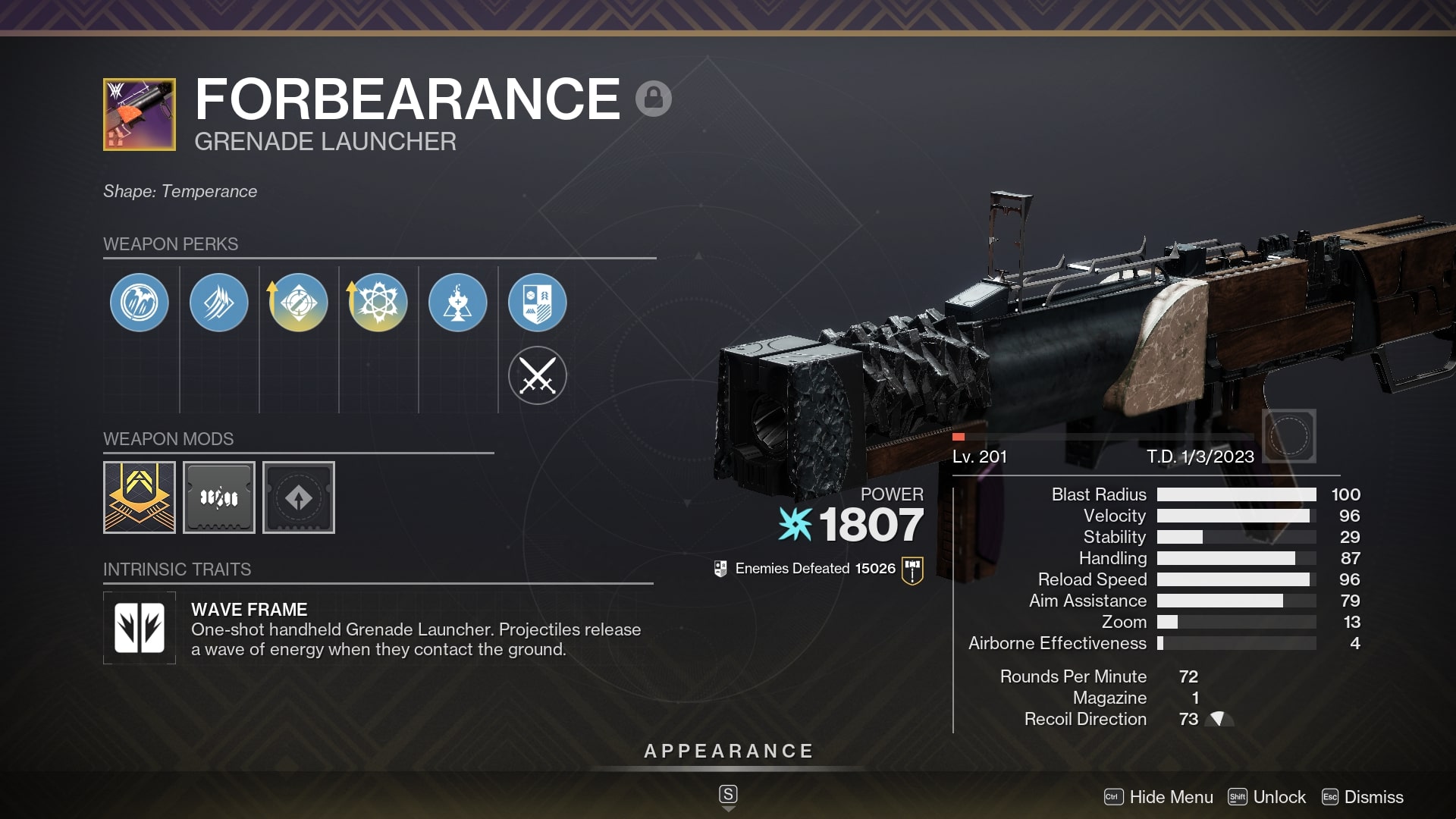 Forbearance is the best PvE Grenade Launcher in Destiny 2, which is so good that it can easily replace any other ad-clear weaponry. It owes its effectiveness not only to the perfect combination of Ambitious Assassin and Chain Reaction for its archetype but also to the Origin Trait. When playing with this wave frame grenade launcher, you'll do a lot of damage, and after reloading, the Soul Drinker Trait triggers and heals you, depending on the amount of damage dealt.
Best PvE Heavy Weapons Destiny 2
Well, here we are at the most crucial weaponry for endgame and DPS Phases. Here, you'll find various types of ammunition, including even swords.
Gjallarhorn, Rocket Launcher
How To Get It: And Out Fly the Wolves Quest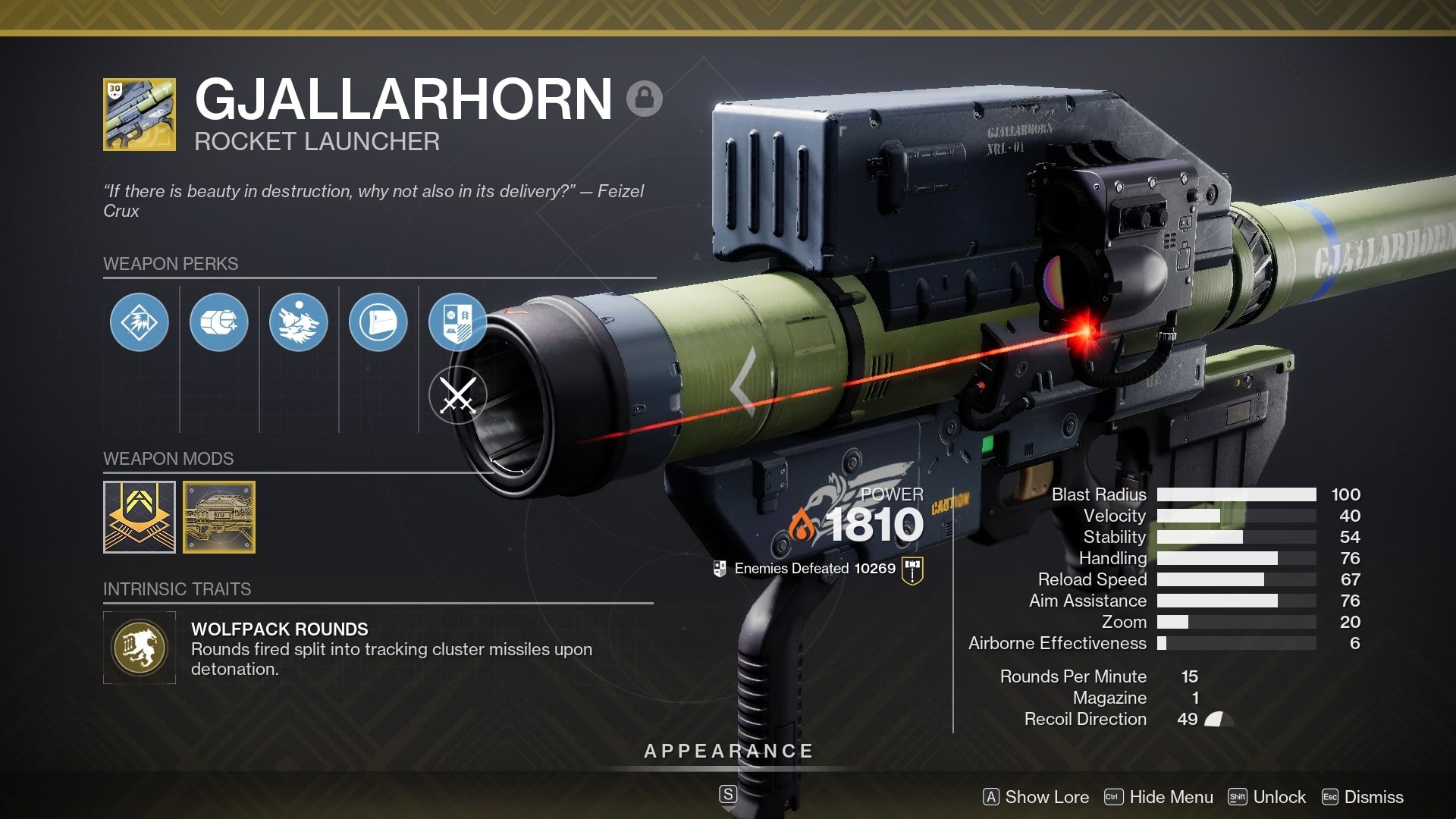 Making the PvE meta list without mentioning Gjallarhorn is impossible because boss DPS from Rocket Launchers wouldn't be as effective without it. In the original Destiny, Gjallarhorn was magnificent and overpowered on its own, but in D2, it became a great support Rocket Launcher, often surpassing its predecessor.
The first and foremost feature lies in its perks, which make it so amazing. Upon hitting an enemy, your rockets split into cluster missiles, causing additional damage. You can also share this feature with nearby allies who use legendary Rocket Launchers. To accomplish this, stand next to them and fire from our beloved Exotic Rocket Launcher while also increasing reload speed and handling. A pleasant bonus will be the Catalyst, expanding the Magazine by one rocket and simplifying ad-clear from Gjallarhorn due to Final Blow with cluster missiles, creating a more potent projectile at the enemy's location.
Leviathan's Breath, Bow
How To Get It: Monument to the Lost Light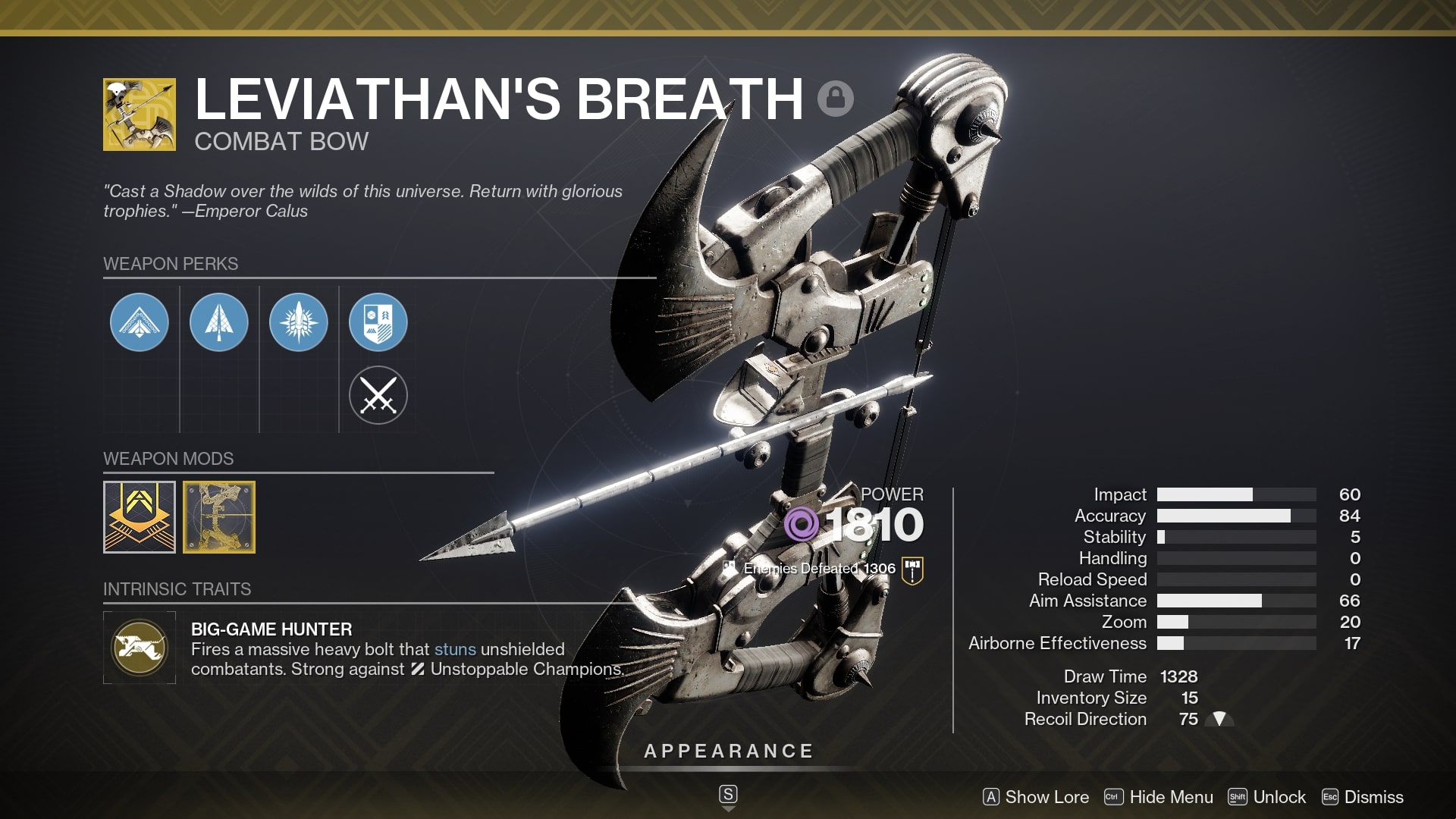 After numerous buffs, this sole Heavy Bow has become so much better. However, you'll have to work for it, as there's no point in using Leviathan's Breath without the Catalyst. But once you get through this challenge, you'll have one of the most pleasing DPS among Precision weapons and one of the best weapons for PvE Destiny 2.
The Lament, Sword
How To Get It: Lost Lament Quest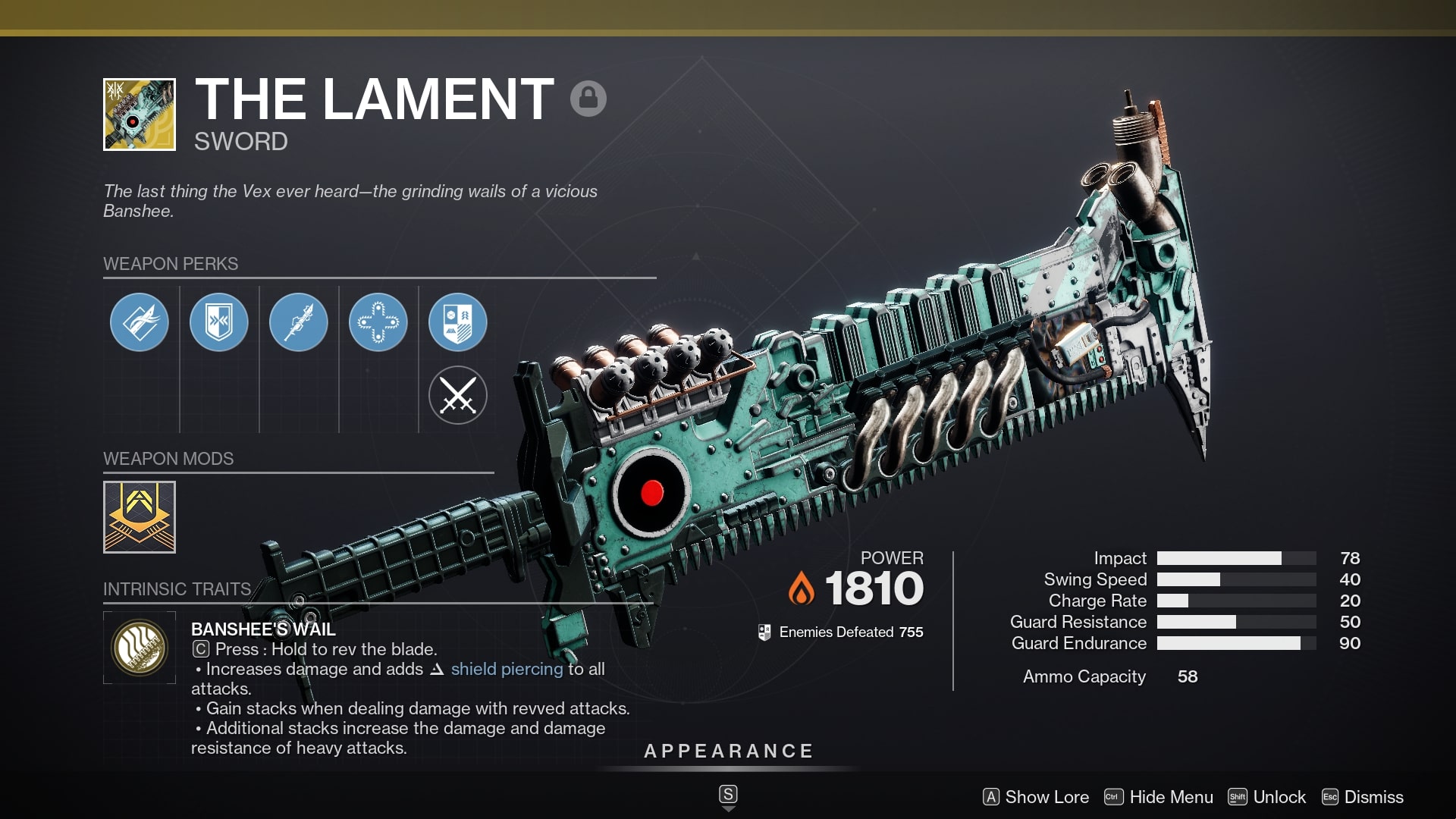 Professionals would say it's a situational weapon, but its absence on the list is unacceptable. The Lament, or the sword that destroys Crota in seconds, is unique not only in where it's used but also in how it's operated. It's all about its perks:
Banshee's Wail raises damage after holding a block and accomplishing revved attacks, which grants stacks to increase heavy attack damage. In other words, you need to block, then make two or three regular attacks and one heavy attack. So you'll need a bit of practice before using it
Revved Consumption heals you by dealing damage, which is handy
Cataclysmic, Linear Fusion Rifle
Must-Have Rolls: Fourth Time's the Charm, Bait and Switch
How To Get It: Vow of the Disciple Raid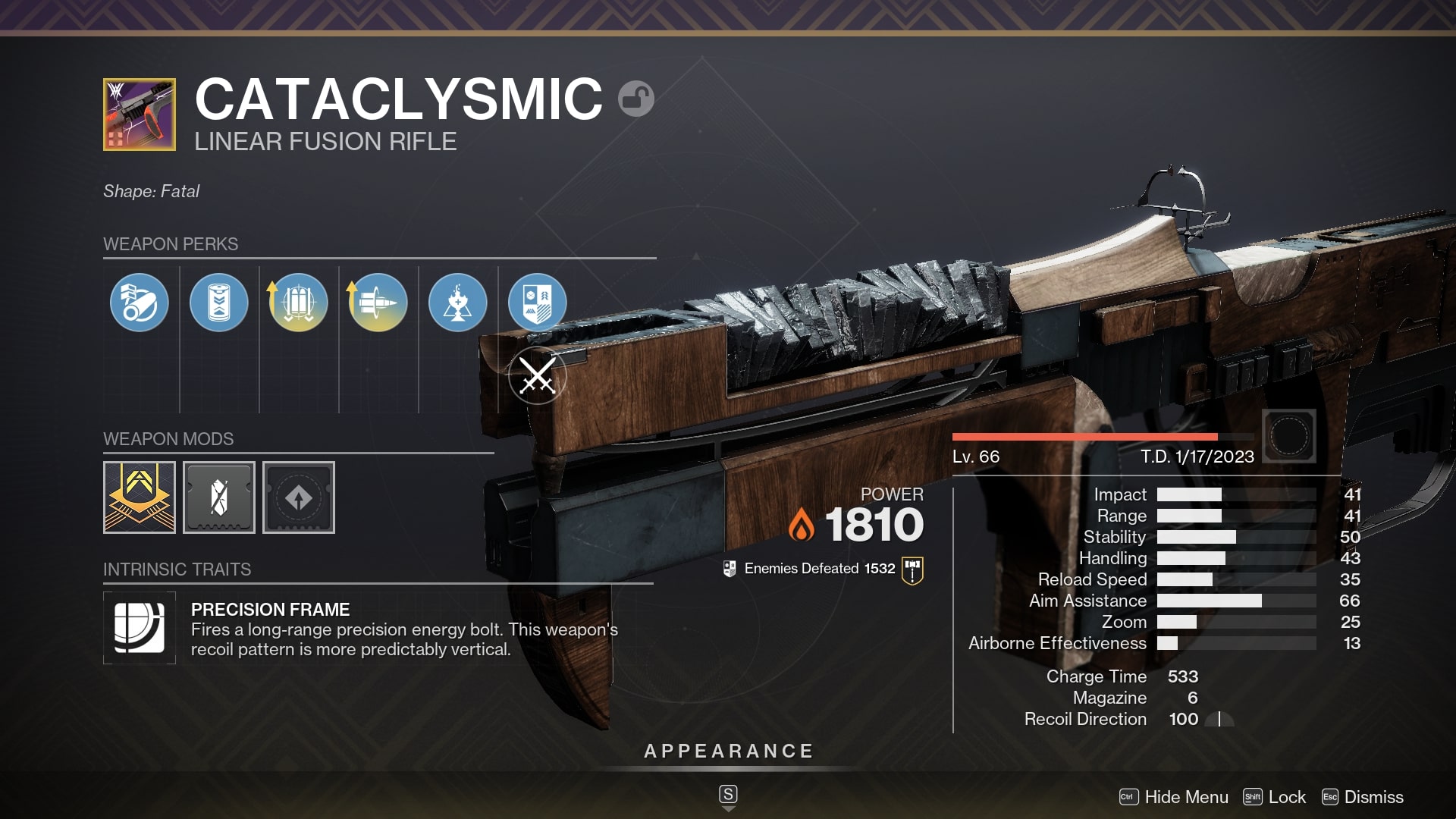 Even though Linear Fusion Rifles aren't particularly relevant at the moment, you should still get Cataclysm with a full pattern for specific DPS phases and your collection overall. If the Linear Fusion Rifle Meta becomes relevant again, this weapon will be the most acceptable with superior perks. FTtC with Bait and Switch perks efficiently returns ammo and enhances damage when quickly using your loadout equipment.
Commemoration, Machine Gun
Must-Have Rolls: Reconstruction, Killing Tally
How To Get It: Deep Stone Crypt Raid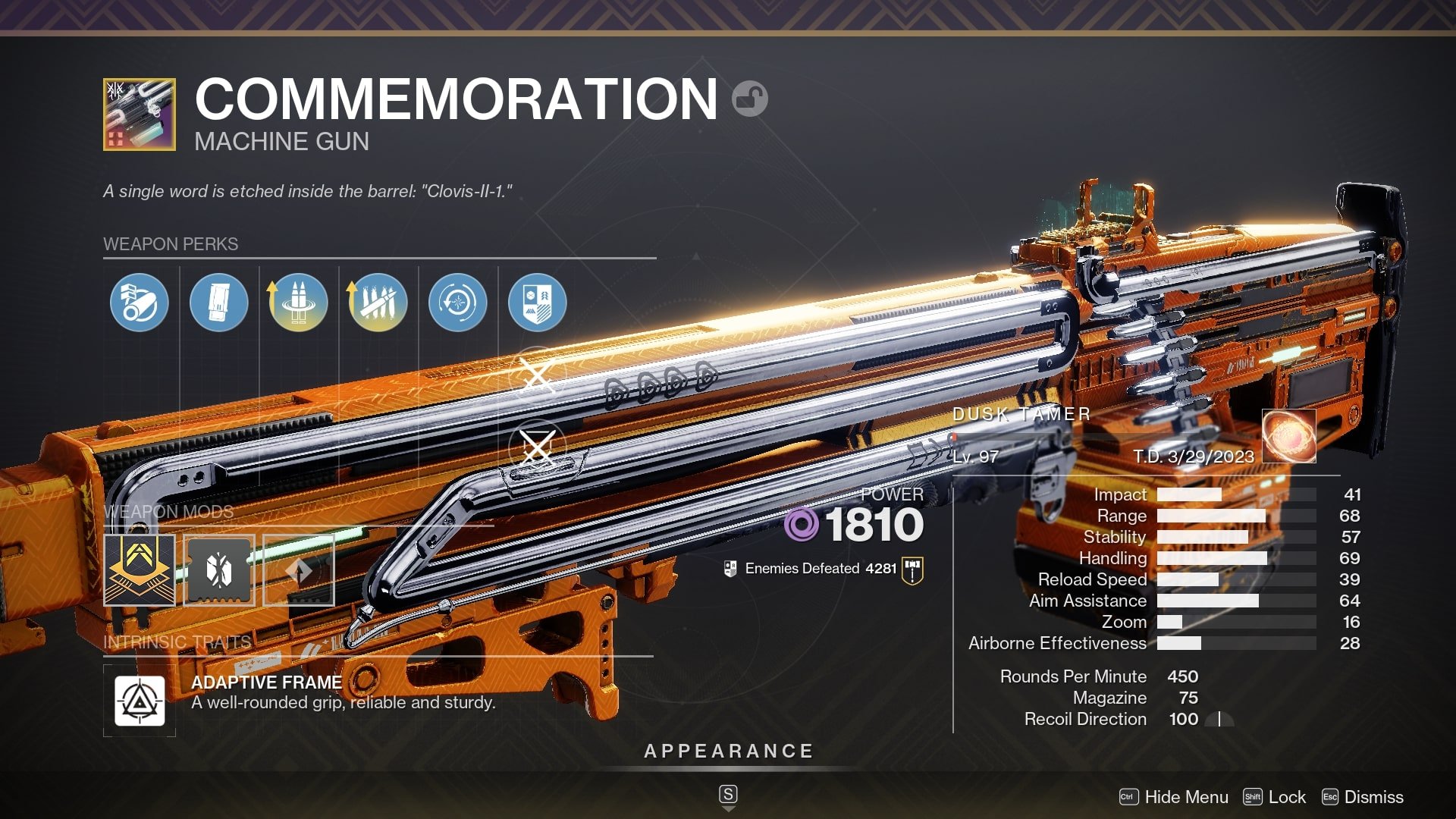 Machine Guns are highly effective weapons not only in terms of clearing ads but also in taking down tougher enemies such as Champions. It is, therefore, common to see them included in the Grandmaster Loadouts. Among all the Machine Guns available, Commemoration stands out as one of the most pleasing, if not the most pleasing. Its superiority can be attributed to three key factors:
Reconstruction passively refills the Magazine if you don't fire the weapon. The refill may even overflow the Magazine
Killing Tally boosts Commemoration damage after every Final Blow from it, up to three stacks. The buff doesn't reset until you reload or holster the gun, which perfectly complements the previous perk
Each hit provides Grenade, Melee, and Class Ability Energy, thanks to Bray Inheritance
The main thing is you have the ability to craft a Commemoration without a problem. Just wait until Deep Stone Crypt in Raid Rotation and farm the final boss to get one of the best PvE Craftable Weapons Destiny 2.
Song of Ir Yut, Machine Gun
Must-Have Rolls: Reconstruction/Demolitionist/Rewind Rounds/Feeding Frenzy, Target Lock/Sword Logic/Bait and Switch
How To Get It: Crota's End Raid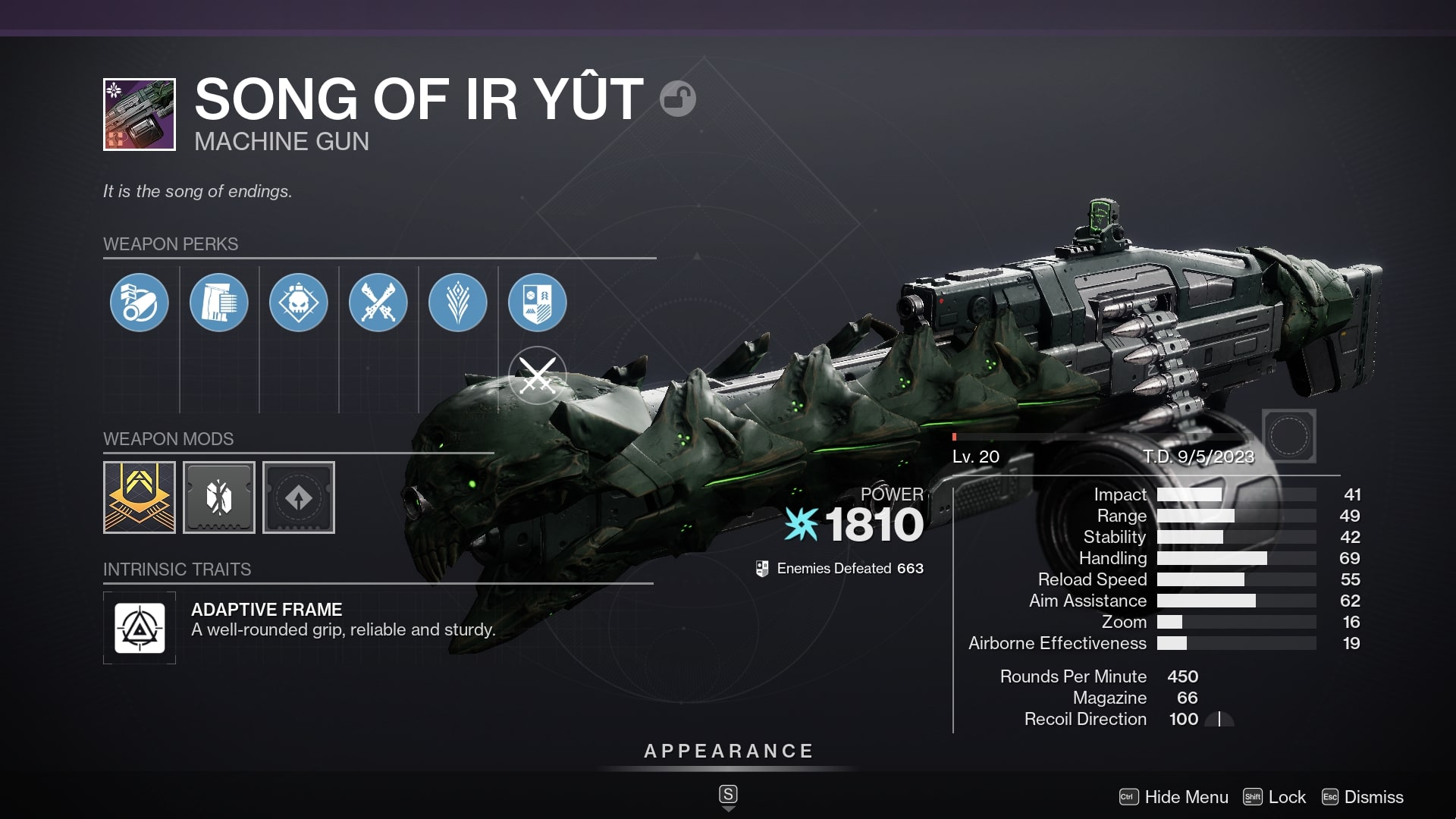 If you are looking to include more interesting perk combinations on your Machine Gun, Song of Ir Yut is a more suitable choice. You can equip perks similar to Commemoration, specifically Reconstruction and Sword Logic (which effortlessly surpasses Killing Tally in strength). However, in the 3rd column, we recommend you try Demolitionist, especially in Grenade Builds. It will restore 10% of your Grenade Energy after each Final Blow and reload the Song of Ir Yut after every use of this ability. Also, remember the Origin Trait called Cursed Thrall (after defeating a target with a melee attack, Final Blows from Song of Ir Yut cause targets to explode).
Nevertheless, it's worth discussing other best PvE weapons perks in D2, as they'll be helpful in certain scenarios. As an example, Target Lock with Bait and Switch are great against Mini-Bosses and Bosses. Furthermore, Rewind Rounds and Feeding Frenzy are decent alternatives to other perks in the 3rd column. By the way, Song of Ir Yut also has Voltshot, but we strongly discourage its use due to slow reloading. And yes, like the previous heavy weapon, you have the opportunity to craft it.
Apex Predator/Cold Comfort, Rocket Launchers
Must-Have Rolls: Reconstruction, Bait and Switch/Bipod and Envious Assassin, Bait and Switch/Bipod
How To Get It: Last Wish Raid/Ghosts of the Deep Dungeon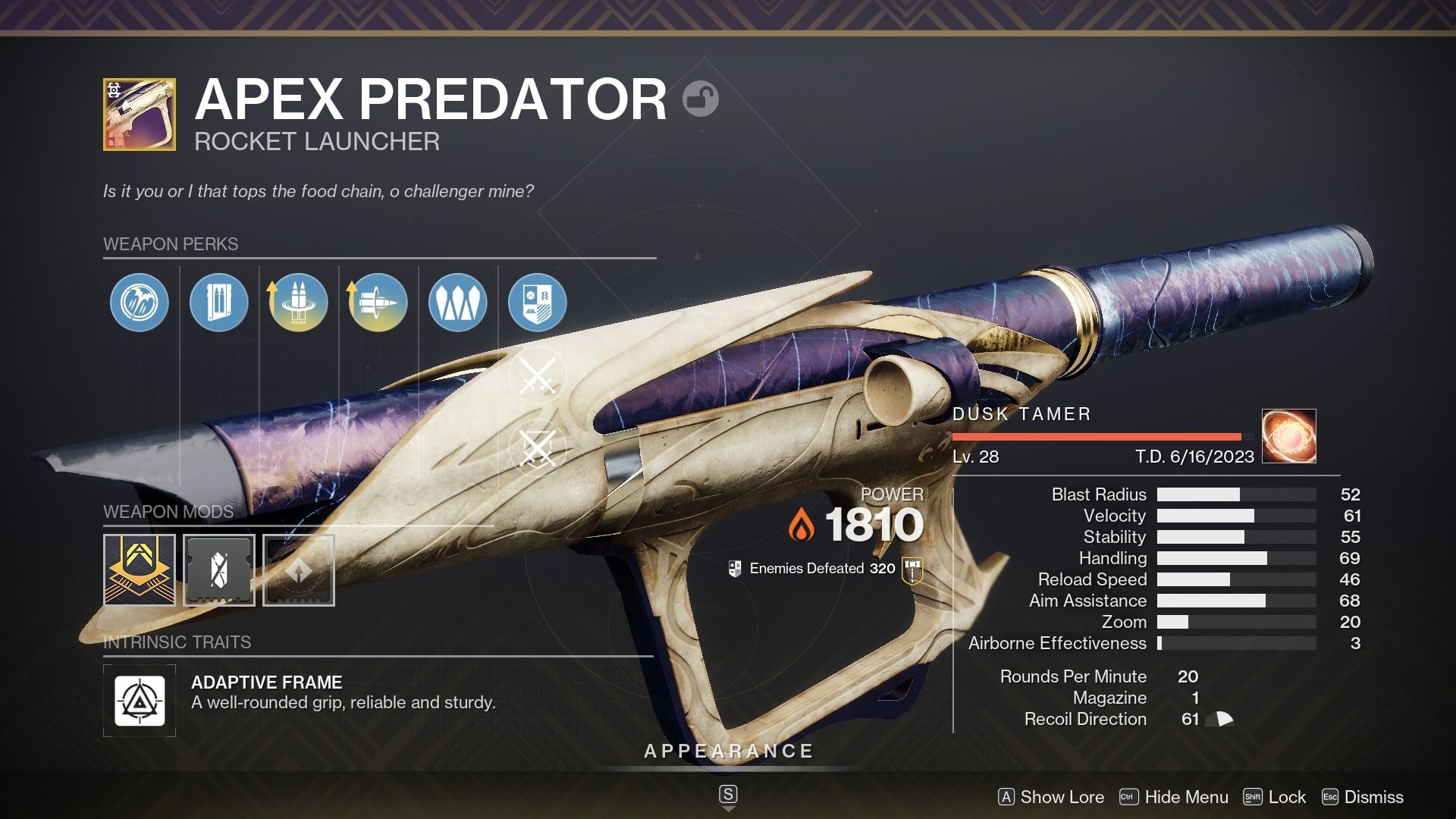 Since there's not much difference between these two Rocket Launchers, there's no point in discussing each separately. Nonetheless, there is definitely a reason to farm them. Let's first talk about their similarities, particularly the perks in the 4th column:
Bait and Switch offer a +35% bonus damage when inflicting damage from any of your ammunition
Bipod expands the Rocket Launcher's Magazine to two, increases reserves and RPM, but reduces Reload Speed, Blast Radius, and Damage by 25%
Both of these perks are great to deal massive damage, but each has its pros and cons. We highly recommend using the first perk if you use exotics like Witherhoard or Izanagi's Burden. Although it has an activation condition, you won't have problems with these ones. The second perk doesn't demand any requirements to have good DPS, but you'll have trouble finding ammo for the next Damage Phases, even when using Heavy Ammo Finder/Aeon Armor/Cenotaph Mask.
Now, let's discuss the main differences between these best PvE Rocket Launchers in Destiny 2. In the third column, Apex Predator has the already known Reconstruction, which refills a rocket every 4 seconds (3.5 with an enhanced perk). Since it can overfill the Magazine, you can manually reload the weapon, wait a bit, and the second rocket will be refilled by that time. Cold Comfort can hold up to 4 rockets in the Magazine thanks to Envious Assassin and Restoration Ritual Origin Trait. The former can overfill your Magazine with up to 3 rockets for Final Blows from other guns, and the latter gives you an Emergency Reload Buff on Ally Revival or Finisher, which additionally charges one more missile when the Magazine is emptied. All in all, these are the one of the Destiny 2 best PvE weapons.
The Other Half, Sword
Must-Have Rolls: Eager Edge, Frenzy/Vorpal Weapon
How To Get It: Dares of Eternity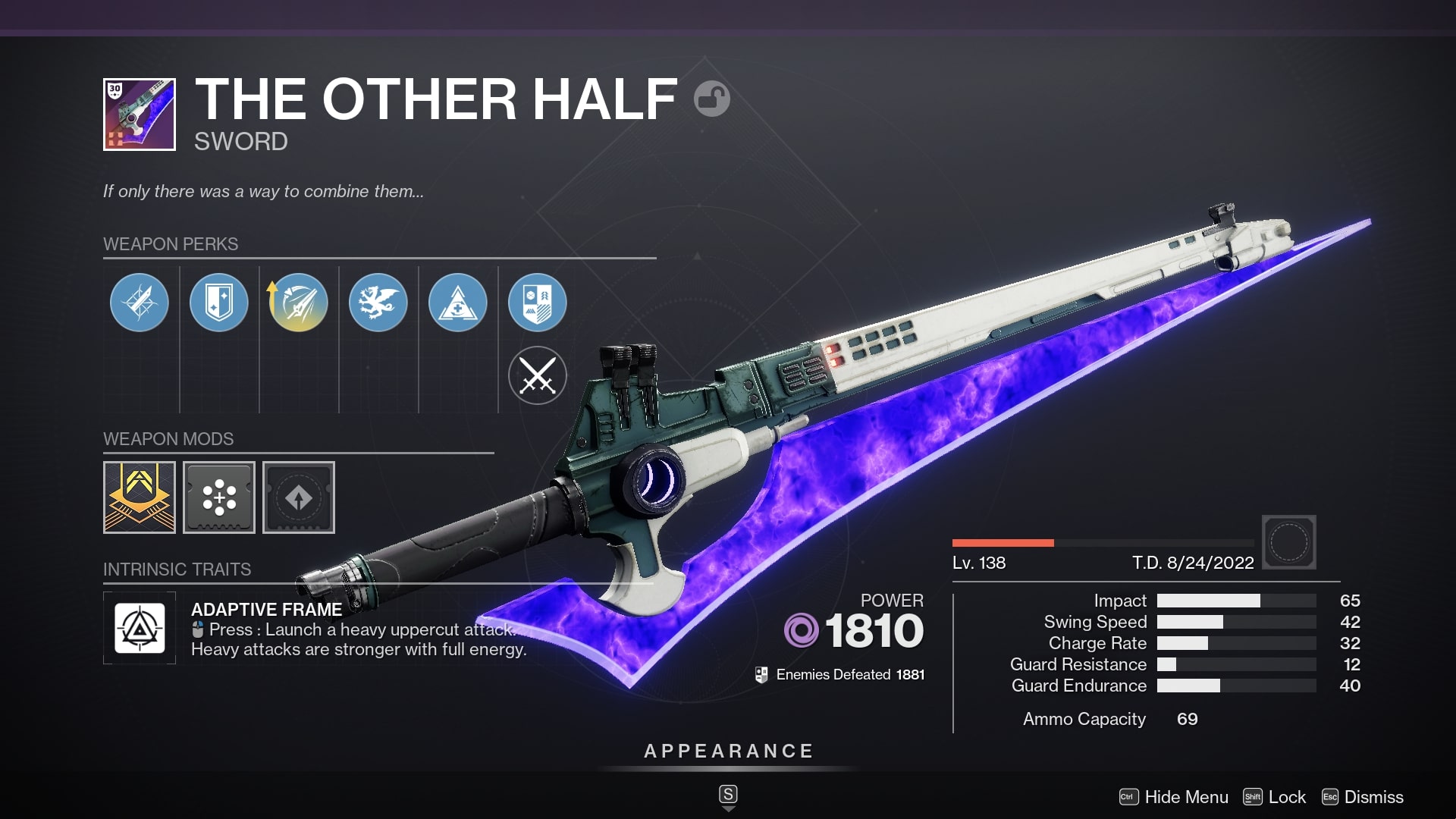 And how can we forget The Other Half with Eager Edge, which helps you cover tremendous distances without much effort? In case you didn't know, this perk increases the Sword Lunge distance after switching to this void weapon. This perk also has a 3-second cooldown, so you can't spam the enhanced attack. If you want to utilize The Other Half in DPS phases, then confidently pick Frenzy or Vorpal, as both of these perks will increase your damage output.
Final Words
And that's all the Season of the Witch best PvE weapons you should acquire and utilize. The list might seem too extensive because there are so many weapons, but it gives you an extensive selection of equipment for any activities that suit your play style. Sadly, we didn't include some gun types like trace rifles, but they are not as effective as you think.
Moreover, if this is not enough for you, we recommend taking a look at our articles on essential catalysts and optimal loadout for PvP. By doing so, you'll be able to either expand your list or, on the contrary, reinforce your choice since some gun models from here can be found there.
Do you need help with farming and simply don't have the time for it? You're in luck because D2 Services from Wowvendor help Guardians around the clock, fulfilling their requests in the shortest time. You'll be able to get full patterns from our list of Destiny 2 best PvE Weapons 2023 or even get professional assistance in completing activities if you encounter any issues.
Thanks for Reading! Owl is Flying Away.