Destiny 2 Crota's End Adept Weapons: Challenges, Rotation, Overview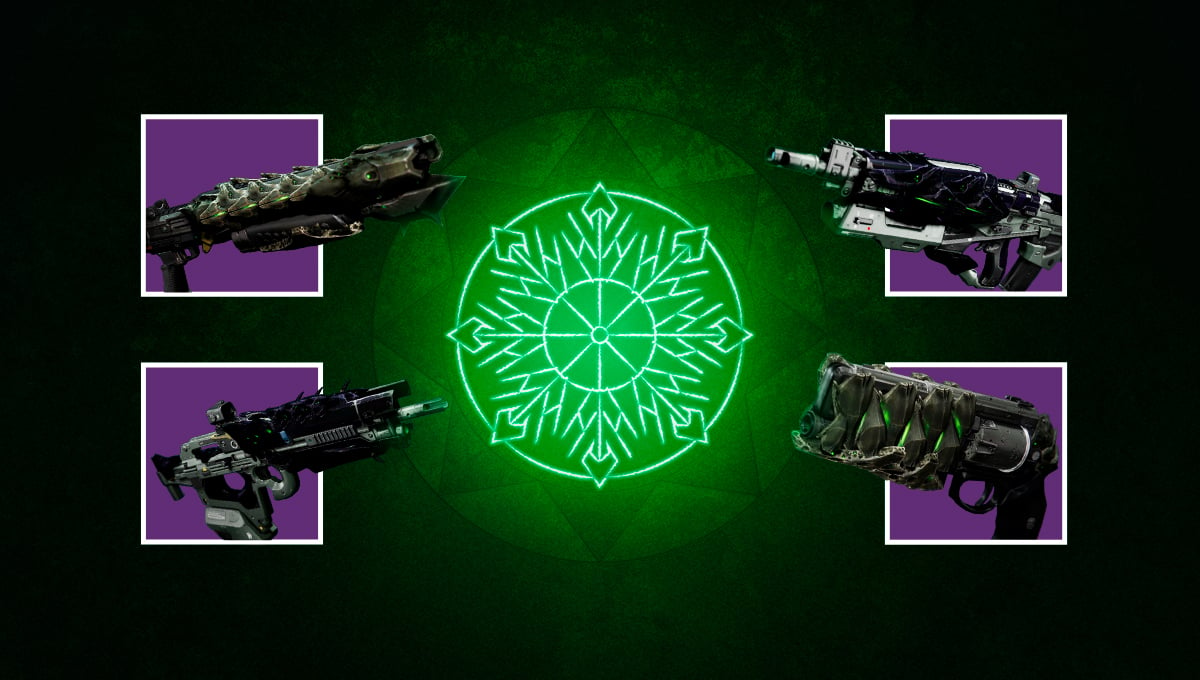 Once again, Crota has returned, and Guardians must put an end to his schemes. Of course, it's not for free, as each encounter rewards you with various intriguing prizes, and they are even better at higher difficulty. Today, let's discuss what awaits you on Master difficulty, as you'll want to understand whether it's worth farming.
What Are Crota's End Adept Weapons in Destiny 2?
Adept Weapons in Destiny 2 represent a unique variation of regular guns, which can only be obtained in the most challenging activities of the MMO shooter — Master Raids, GM Nightfalls, and Trials of Osiris. Guns specific to this Raid are distinguished by their golden, premium color, as well as their effectiveness in PvE and PvP content. These guns have a higher-quality Masterwork upgrade (gives several points to all stats after a complete upgrade) and unique Adept mods (much better than ordinary ones).
How to Get Crota's End Adept Weapons?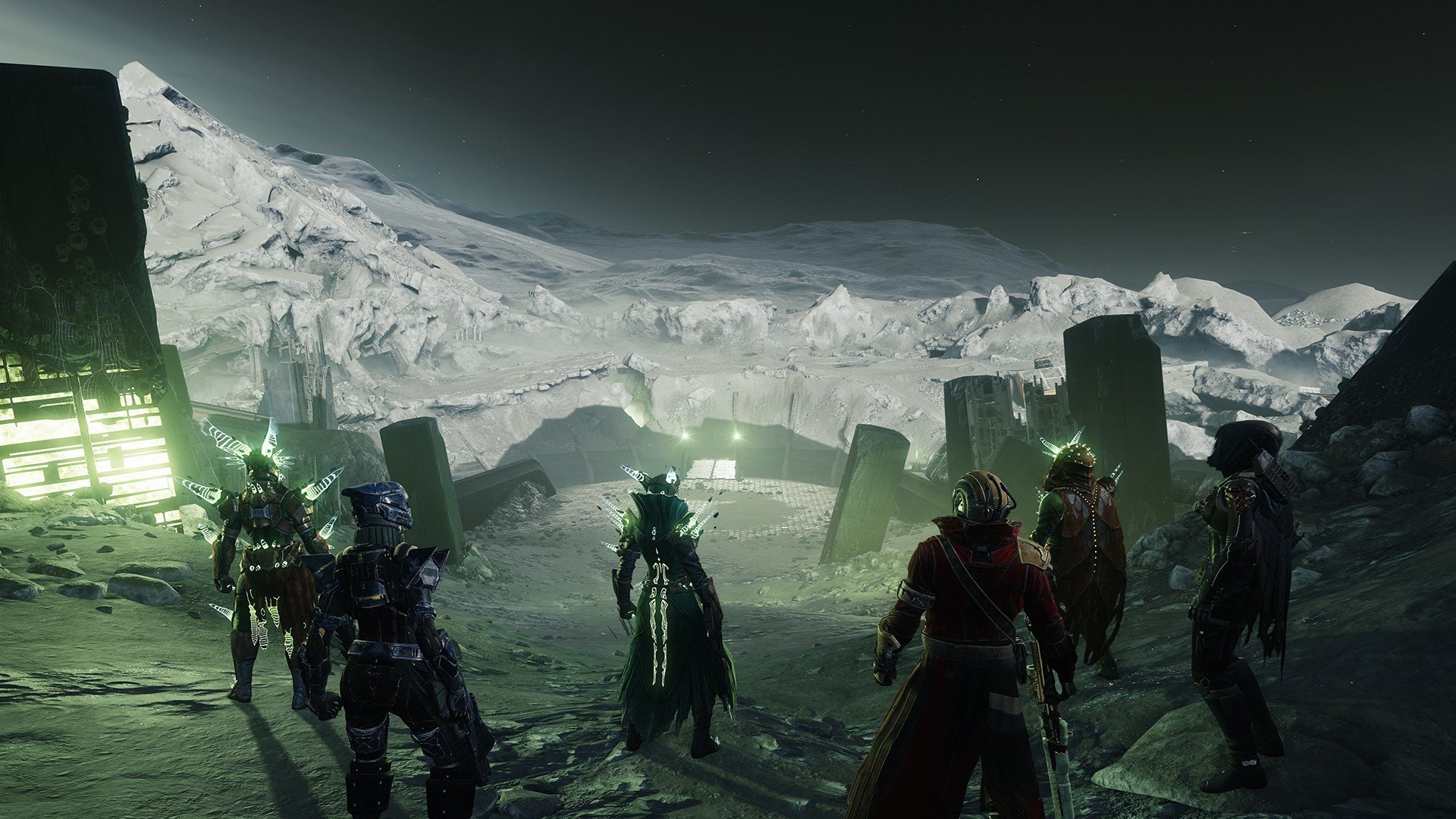 Crota's End Master has been released, and we now have accurate information on how to obtain Adept Weapons. As we expected, based on King's Fall, they'll drop by achieving particular Challenges on Master difficulty that change the encounter's approach from head to toe. Crota's End Adept Weapons drop completely randomly and have no rotation, so if you need an Auto Rifle but a Hand Cannon drops out, you'll have to wait for next week's challenge. We are happy that Bungie chose one method of how loot drops and did it in the old-fashioned way. Moreover, below you can find the Challenges names:
Conservation of Energy
Precarious Balance
Equal Vessels
All for One
If you want to learn how to complete them and get new Adept weapons in Destiny 2, look for the "Crota's End Challenges Explained" segment below.
Crota's End Challenge This Week
Here you will find information about Crota's End Challenges and when they will appear. Updates occur every Tuesday at 10 a.m. PDT (12 p.m. EST / 5 p.m. GMT).
| Challenge | Date |
| --- | --- |
| Conservation of Energy | September 21 |
| Precarious Balance | September 26 |
| Equal Vessels | October 3 |
| All for One | October 10 |
| Conservation of Energy | October 17 |
| Precarious Balance | October 24 |
| Equal Vessels | October 31 |
| All for One | November 7 |
| Conservation of Energy | November 14 |
| Precarious Balance | November 21 |
| Equal Vessels | November 28 |
| All for One | December 5 |
Crota's End Challenges Explained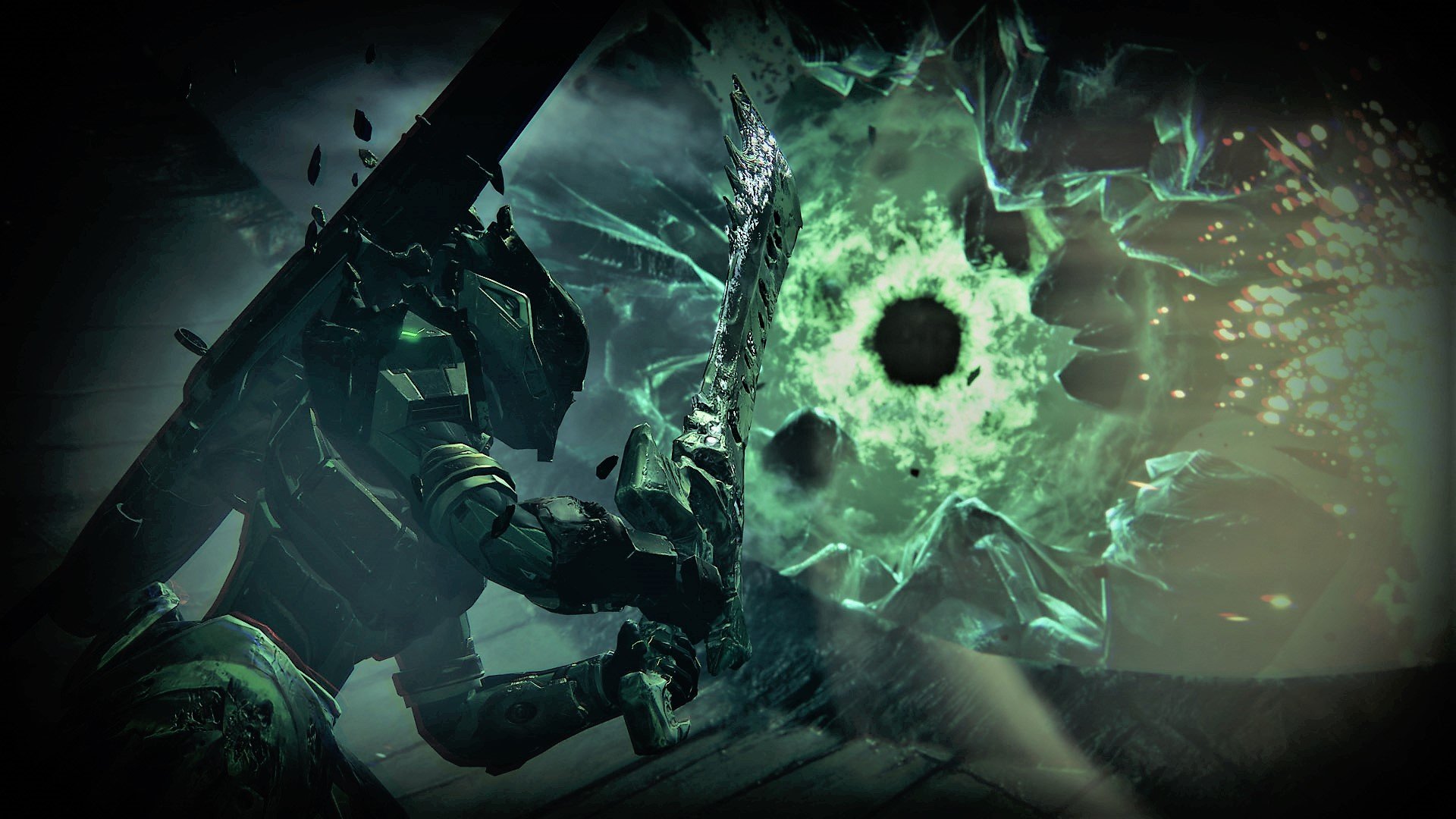 All that remains is to meet the Challenges ourselves. Some players might be pleased because the gameplay will differ from usual runs, while others may fall into deep depression, as the challenges here aren't easy. The first Challenge is the Conservation of Energy on the first encounter, and it'll switch to Precarious Balance in a week, only to return three weeks later.
Conservation of Energy Challenge
In order to pass the first stage with the challenge, you must place the Chalice of Light in the bowls (or baskets to some) to activate the Lantern. These bowls are located near some Lanterns (not every single one of them), but they appear randomly every run, so you must act quickly. To maximize your chances, we recommend equipping the Strand Grapple and Sword with the Eager Edge perk to help you boost through the darkness.
Precarious Balance Challenge
The bridge stage becomes even more annoying! The point is that the bridge should disappear while the player passes through it. The bridge disappears only if players standing on the plate leave it. Therefore, leave the plate only when the player with the sword has crossed half of the bridge. As soon as you figure it out, the Precarious Balance sorts itself out.
Equal Vessels Challenge
Again, the Chalice of Light, but now you need to decide in your Fireteam who will take it and in what order. Once the last player receives it, they must pass the buff to the first player and continue this cycle. Maintaining the same order throughout the challenge is essential, although you don't need to swap during the DPS or Expunge phases. Remember that a full cycle of buff transfer doesn't need to happen during the challenge, but the order of players must be maintained.
All for One Challenge
Everything in the last Crota's End challenge is very simple — beat Crota with three swords simultaneously, like the Musketeers, to destroy his shield.
Crota's End Adept Weapons List
Finally, we've reached the meaty part of our guide. Now, we'll figure out what you should aim to get from here and which perks are preferable to have on hand. Speaking of perks, only on guns from this Raid can you find a unique perk, as well as a new Origin Trait:
Sword Logic – Final Blows with this gun grant bonus damage. The strength and duration of the bonus increase when more powerful targets are defeated.
Cursed Thrall – After defeating a target with a melee attack, final blows with your gun (with perk) cause targets to explode briefly.
Fang of Ir Yût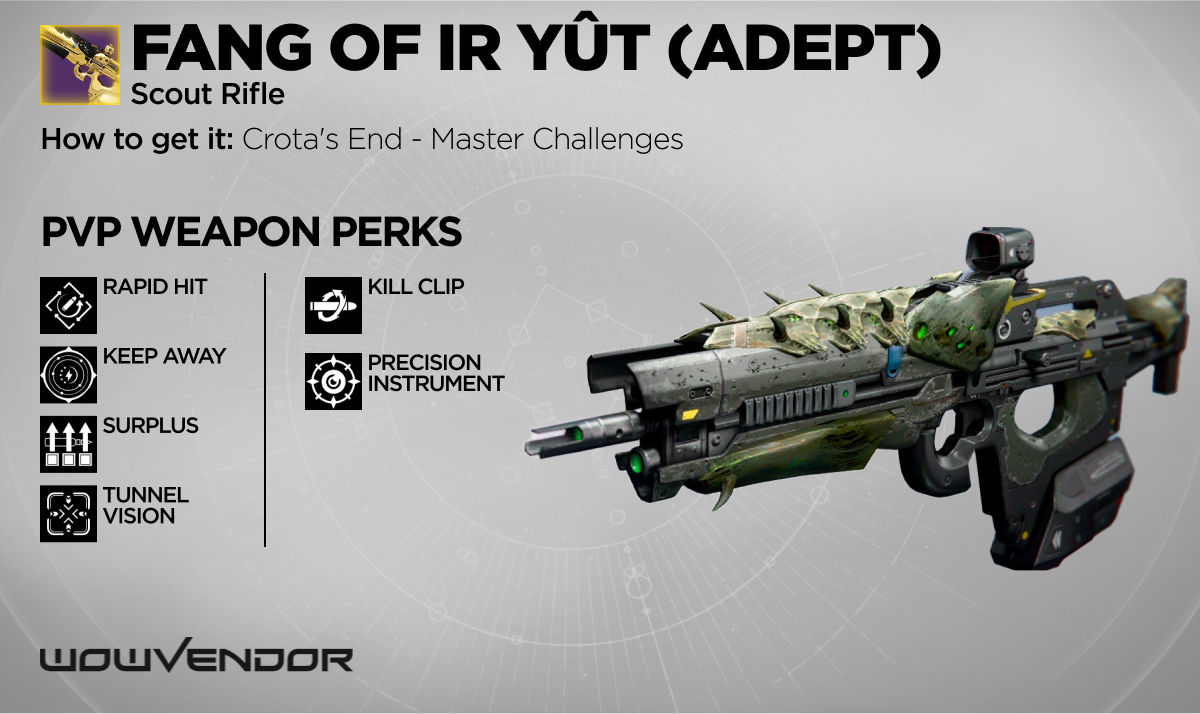 If you've long wanted a Rapid-Fire Scout Rifle like Randy's Throwing Knife, with Strand-type damage in your collection, we recommend looking at Fang of Ir Yût. It may interest you as one of the best Crota's End Adept weapons, especially for PvE activities.
In the third column, you can always count on Rapid Hit and Keep Away, which have always helped Scout Rifle owners. Rewind Rounds and Shoot to Loot are more intriguing perks, as the former refills your magazine based on the number of hits when your magazine is already empty, while the latter picks up ammo bricks and reloads all weapons when hitting them (+ picks up Orbs of Power the same way). The fourth column is up to you, as each perk is helpful in different situations, such as Hatchling, which is useful only in Strand builds.
Regarding PvP, there are also excellent perks that will, of course, assist in battles with Guardians. For example, in the fourth slot, Precision Instrument will help eliminate Guardians with less than 100 Resilience with just four headshots. And if you further enhance it, you'll be able to deal with anyone with four shots!
Swordbreaker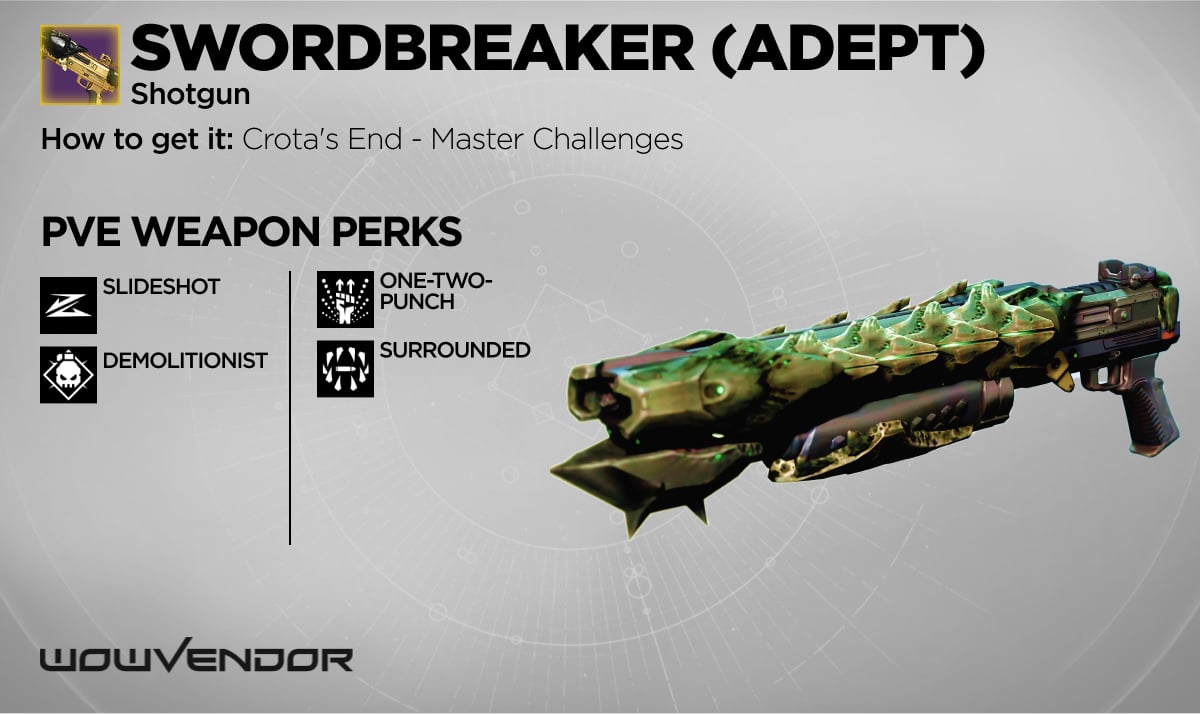 This shotgun doesn't offer much for you in PvE activities, especially compared to Heritage. But in PvP, Swordbreaker will surprise you as it has both excellent features and unique perk combinations. The most standout combination is Fragile Focus and Opening Shot, due to which you'll almost always have 100 Range on it.
Word of Crota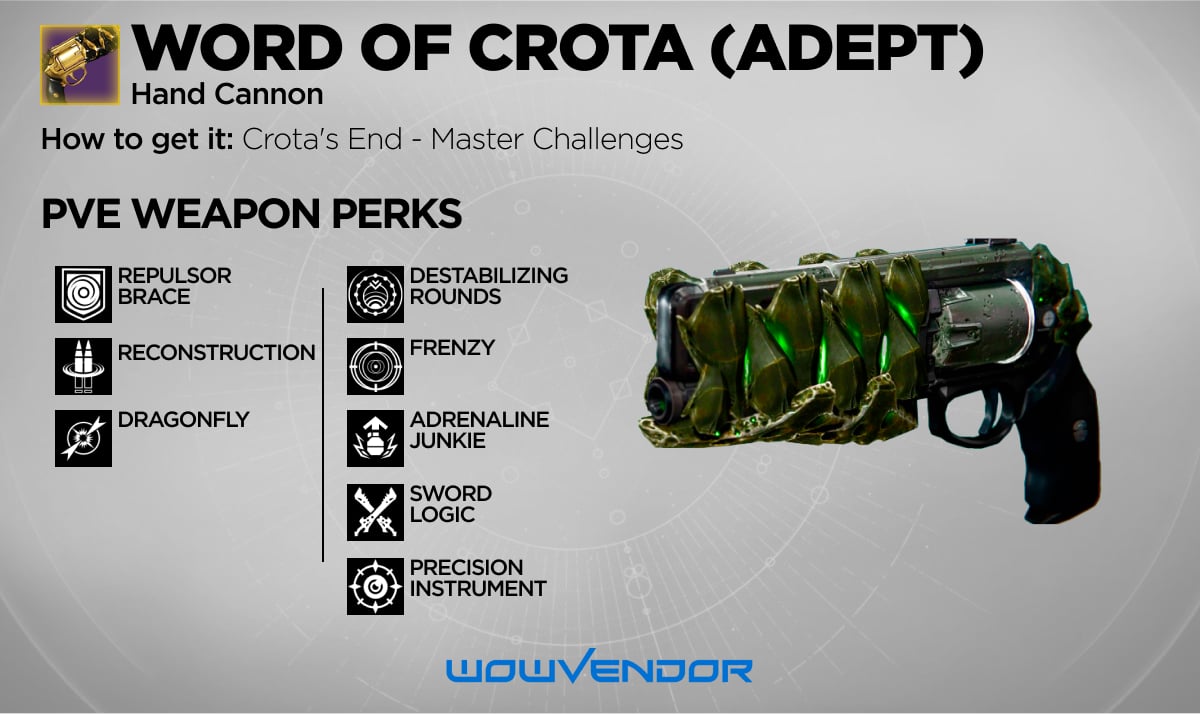 Hand Cannons (HCs) have received a massive buff in PvE, thanks to which all archetypes of HCs perform well in any activity. Word of Crota, which has some of the strongest perk combinations, is no exception. Sadly, there are downsides, as it is a Precision (180 RPM) Hand Cannon, considered the worst in PvP. However, if you need an excellent gun for PvE activities, you can confidently farm it with the above perks. If you often play on the Void Subclass, we recommend the combination of Repulsor Brace and Destabilizing Rounds to have constant Overshield. In our Crota's End Adept weapon list, Word of Crota is the must-have loot in the Raid.
Abyss Defiant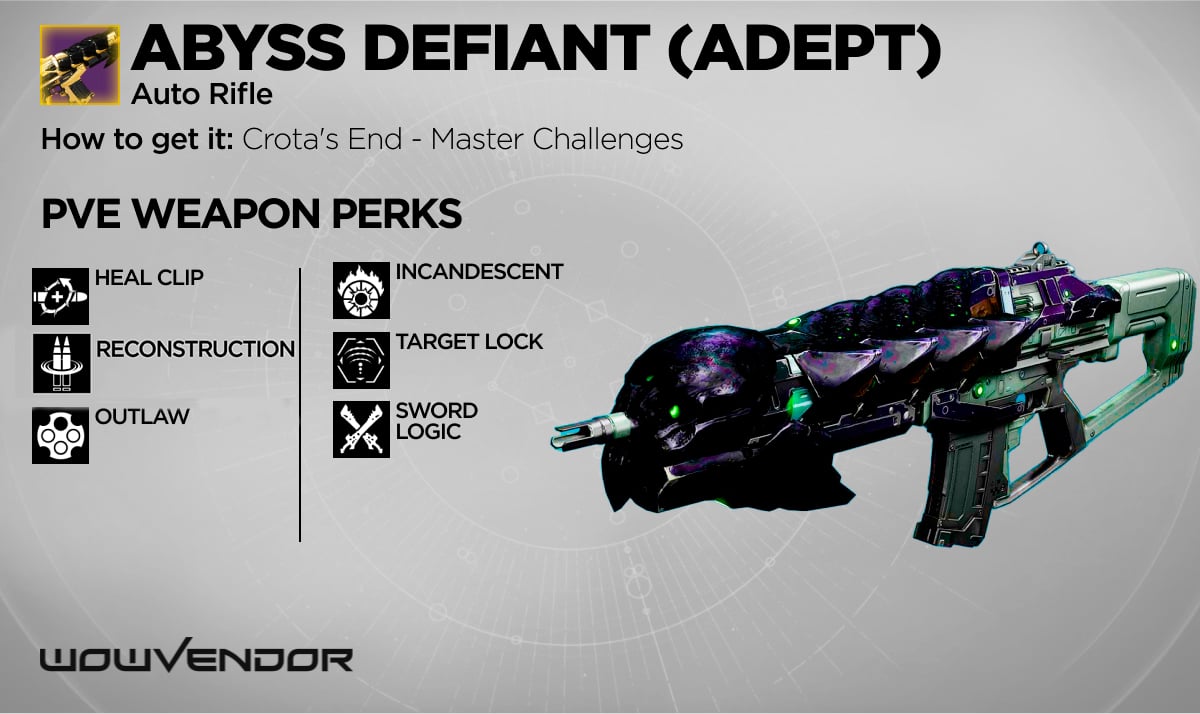 Unfortunately, despite having good perks, Abyss Defiant will pass you by due to its High Impact Frame, which is considered the worst among Auto Rifles. It's not Sweet Business or a 720 RPM Auto Rifle, so safely skip it from your wishlist. However, if you want to fully convince yourself, get your god roll and see how mediocre it is.
Oversoul Edict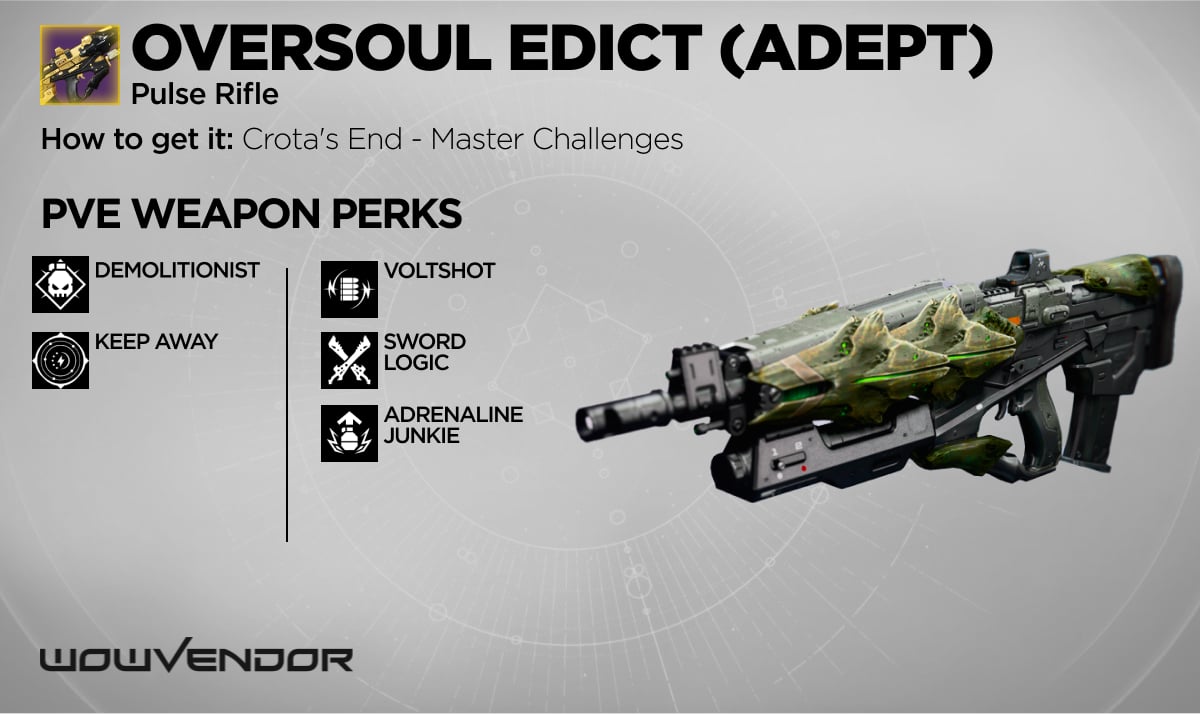 Oversoul Edict doesn't particularly stand out in terms of features compared to other Rapid-Fire Pulse Rifles, but that's not the case with its perk pool. Oversoul Edict can be helpful in absolutely any content, which is definitely pleasing. If you want to throw grenades in PvE frequently, then Demolitionist + Voltshot will be apparent favorites for your builds. For Crucible, the classic combination of Keep Away and Headseeker helps not only with Range but also with Accuracy.
Song of Ir Yût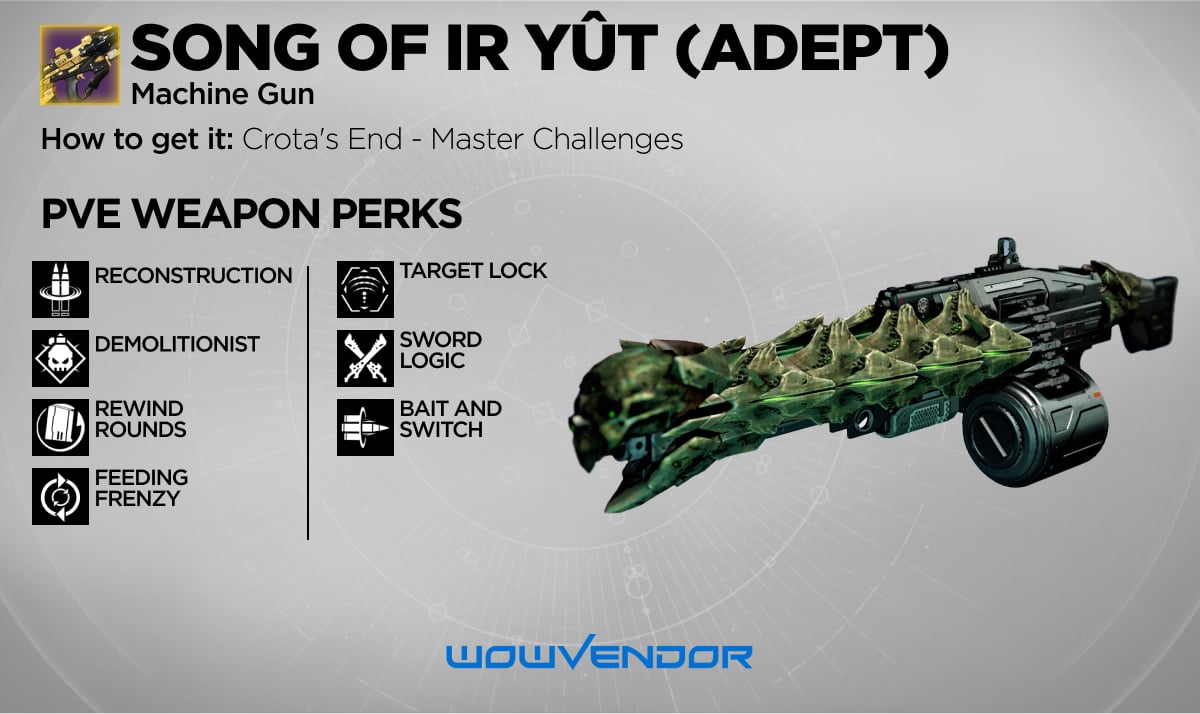 Given their similarity, you can call this Machine Gun the Arc version of Commemoration without a doubt. Determining the best Godroll for Song of Ir Yût is difficult, as there are many good perks to choose from. While Reconstruction has proven itself as an S-tier perk, Demolitionist may be a better fit for Grenade Builds. Target Lock and Bait and Switch are best to use when you need a weapon against larger enemies, whereas Sword Logic is best in ad-clear.
Are Adept Weapons in Crota's End Worth the Grind?
Sad to say, the difficulty of acquiring these guns is their main drawback. They merely serve as a badge of honor, signifying that you've conquered the game's toughest challenges. They don't provide a significant advantage over a player using the standard version of the same weapon, so that's why many people ignore Master Raids.
However, with the introduction of Root of Nightmares, there's now the ability to upgrade Adepts, allowing you to select the barrel, magazine, desired masterwork, and even make enhanced perks (only with the current roll). Bungie is 99% likely to incorporate this feature in the new Raid, so your Godroll Adept Weapons from Crota's End will have more value than craftable ones. Don't forget about their other advantages, as they are there and shouldn't be ignored.
Final Words
Well, we hope our Crota's End Adept guide will help you understand the loot of this Raid without any difficulties and decide what you really need. If you still have any questions, be sure to write them in the comments, where we'll answer you. In addition, we recommend contacting our professionals from New D2 Raid Services, who will fulfill any of your Raid requests.
Thanks for Reading! Owl is Flying Away.