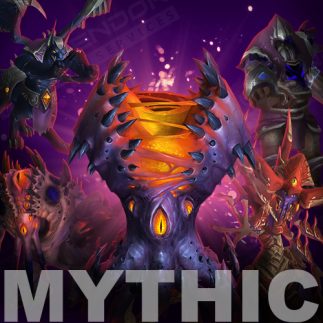 EU Nyalotha the Waking City Mythic Carry
This service will get you Ny'alotha, the Waking City raid bosses killed in the MYTHIC mode. You will get some ilvl 475-485+ gear, some Encrypted Ny'alothan Text (Required for the NEW 8.3 ESSENCE Volatile Void Droplet) and up to 12 Mythic achievements. You will also get an incredibly prestigious Cutting Edge: N'Zoth the Corruptor feat of strength (in case of a full 12/12 run). Raid takes 2-6 hours.
This service is done in Selfplayed mode, boss tactics knowledge is required.
Server transfer to Kazzak (EU) Horde is required
ETA: the raid is starting every Saturday at 20:00 CET
LOOTING OPTIONS:
Raiders will trade you some gear for your class. Amount of the Guaranteed Loot depends on the amount of bosses you choose.
12/12 – (7+ items guaranteed) + Ny'alotha Allseer;
12/12 – (7+ items guaranteed);
11/12 – (6+ items guaranteed);
9/12 – (5+ items guaranteed);
6/12 – (3+ items guaranteed);
3/12 – (2+ items guaranteed);
Boss sequence: 1) Wrathion, 2) Skitra, 3) Maut, 4) Xanesh, 5) Shad'har, 6) Hivemind, 7) Vexiona, 8) Ra-den, 9) Drest'agath, 10) Il'gynoth, 11) Carapace, 12) N'zoth.
LOOT DISTRIBUTION POLICY
You can always get more than the guaranteed amount of items if you're lucky, drop is random. Bonus roll items and items that do not upgrade count towards the guarantee. If you don't get the guaranteed number of items during the first raid, you will be invited next time to get a GUARANTEE. You must understand and accept that the raiders will not be able to trade you some items due to game mechanics restrictions.