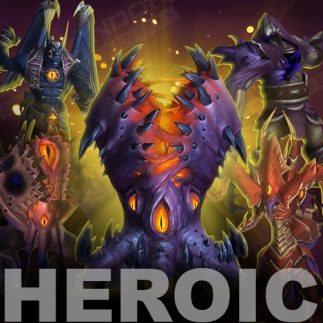 EU Nyalotha Heroic Raid Carry
You'll get Nyalotha completed in HEROIC mode. The Raid takes 3-4 hours.
You will get ilvl 460-470+ gear, 4 achieves: Gift of Flesh, Halls of Devotion, The Waking Dream, Vision of Destiny and some Encrypted Ny'alothan Text's required for the NEW 8.3 ESSENCE Volatile Void Droplet.
For killing the last boss N'Zoth you will also get a raider's must-have achieve – Ahead of the Curve: N'Zoth the Corruptor, and an amazing mount – Uncorrupted Voidwing.
Options:
Boost type: Selfplayed;
ETA: First week, Second week, or the Third week;
Amount of Bosses: 6/12, 9/12, 11/12 or 12/12 (full raid);
LOOTING OPTIONS:
1) STANDARD Personal Loot – ETA: 1st/2nd/3rd week at your choice.
The amount of loot you will get is TOTALY RANDOM and fully depends on your luck, which we wish you the most 🙂 (NO LOOT TRADING! But at least you will get achievements and and a chance to obtain gear via BONUS ROLLS)
2) ADVANCED Personal Loot – ETA: coming soon.
3) PREMIUM Personal Loot – ETA: coming soon.
DISCLAIMER!
There might be raid delays and wipes on the first weeks since the content is new. Preordering, you will get the top priority and have heroic raid completed on the first reset. If something goes wrong and last boss turns out to be to hard (or bugged for example) – we'll kill him for you on the next reset. Advanced & Premium runs with loot trading will become available in 3-4 weeks after the release of the raid.