Get Ready for Diablo IV Season 2 Twitch Drops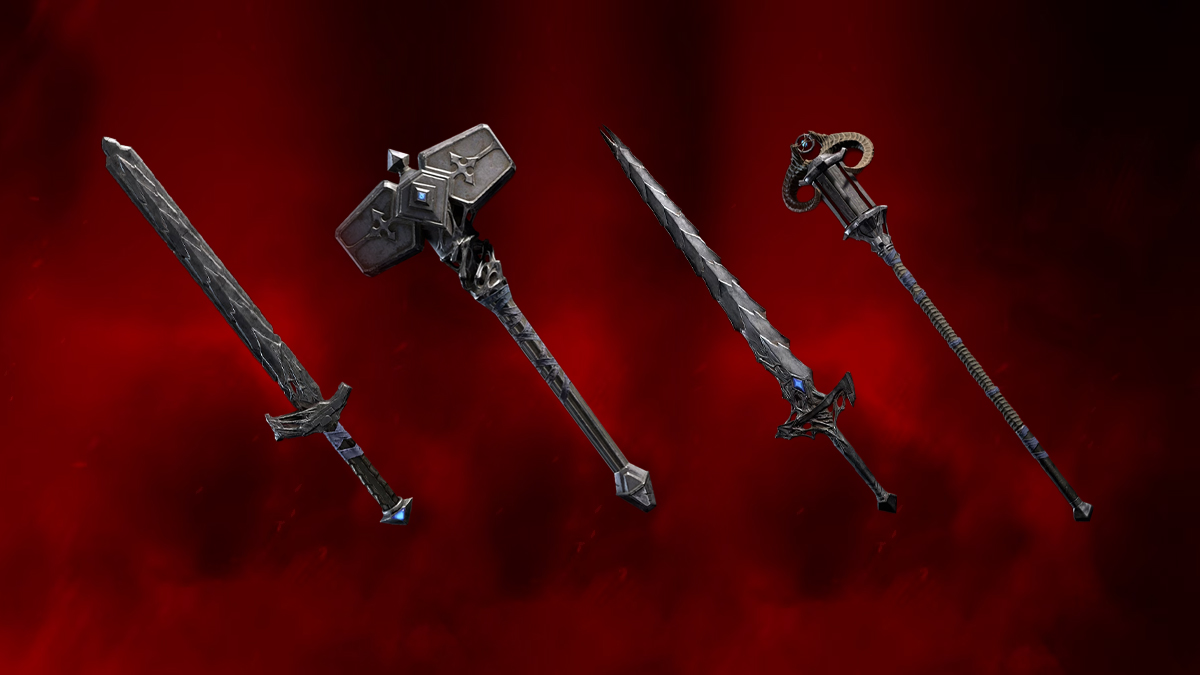 Blizzard is ushering in a new wave of Twitch Drops for Diablo IV Season 2. Kicking off on October 17 at 10:00 AM (PDT), the event will last until November 13 at 12:00 PM (PST).
Season of Blood promises to plunge players into a nightmarish realm of vampiric horrors. However, not without preparation. Over the next four weeks, you will be able to earn thrilling cosmetic rewards to face demons in style. All you need to do is watch at least four hours of any channel in the Diablo IV category with drops enabled.
With that in mind, let's now explore the exciting offerings for each upcoming week!
Week 1 Twitch Drops for Necromancer, Rogue, and Sorcerer: Oricalchum Blade Item Cosmetic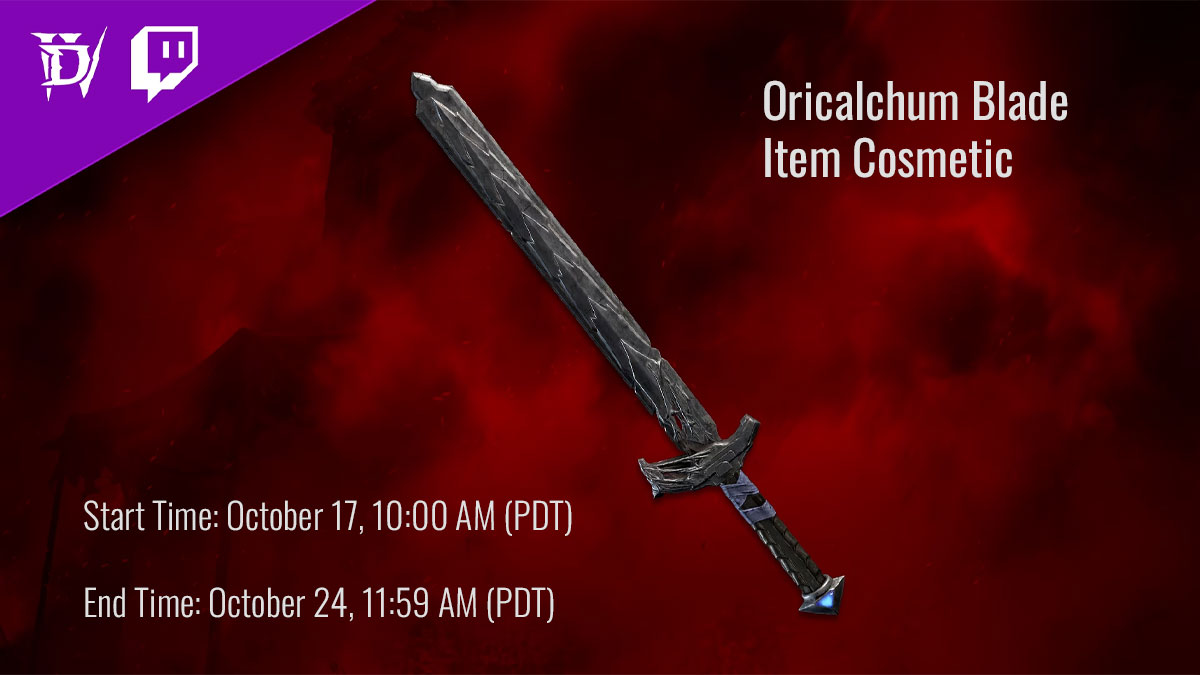 Week 2 Twitch Drops for Barbarian and Druid: Oricalchum Mallet Item Cosmetic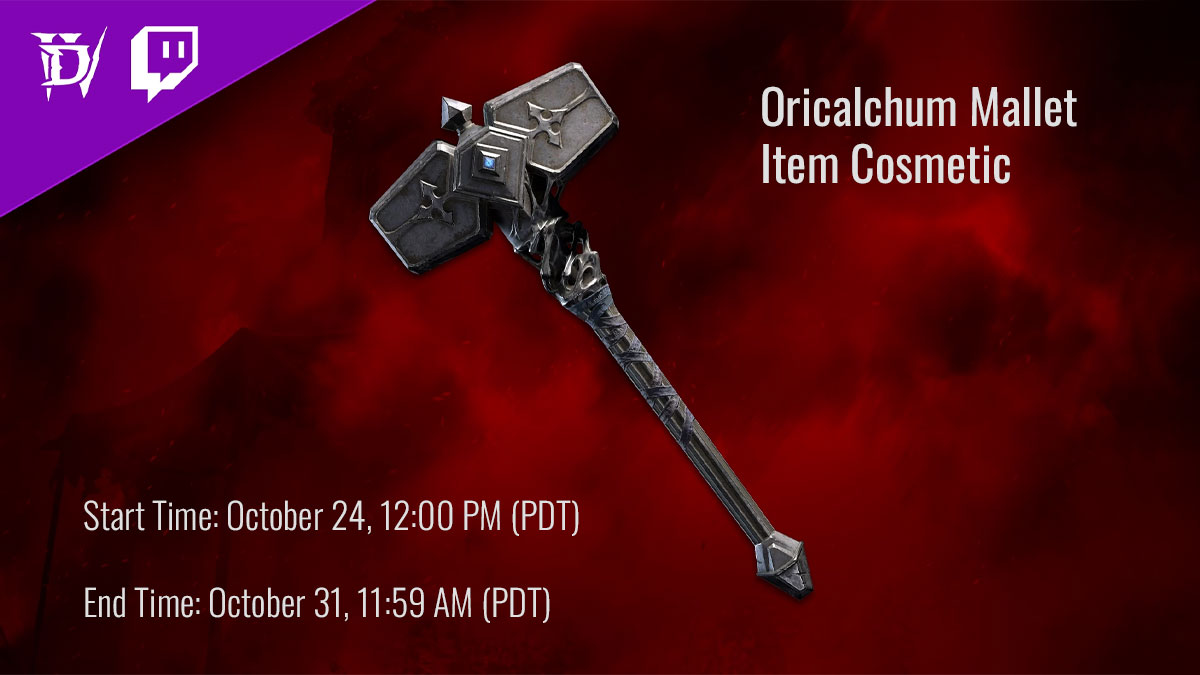 Week 3 Twitch Drops for Barbarian and Necromancer: Oricalchum Greatsword Item Cosmetic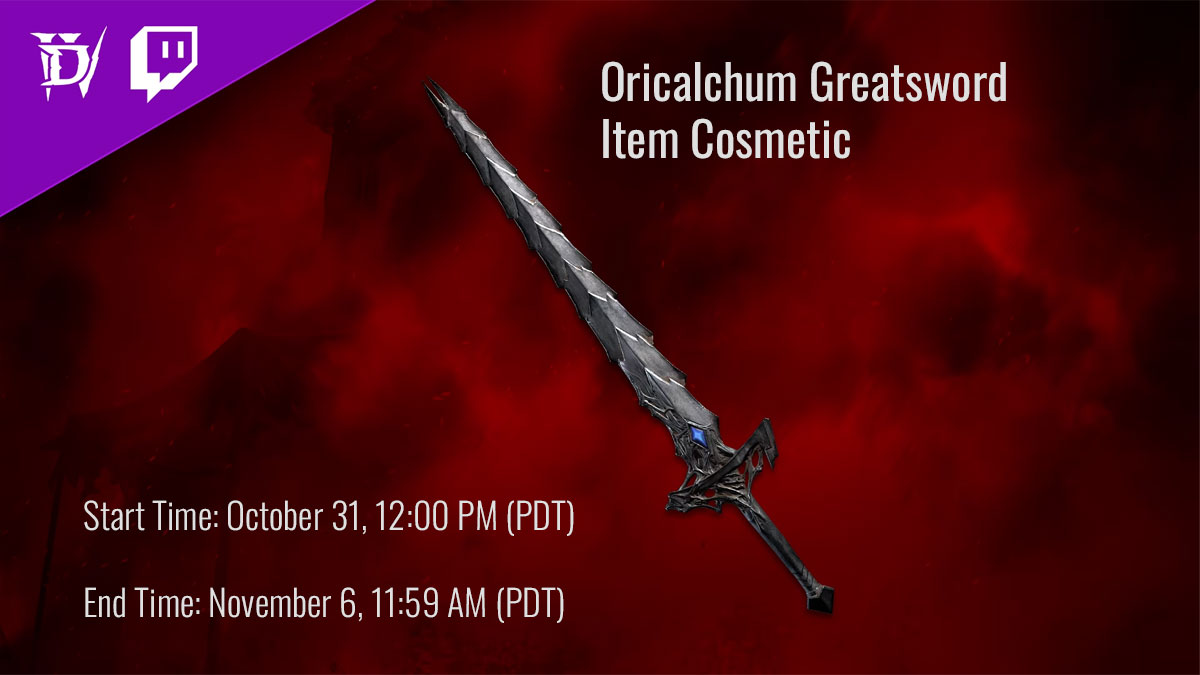 Week 4 Twitch Drops for Druid: Oricalchum Quarterstaff Item Cosmetic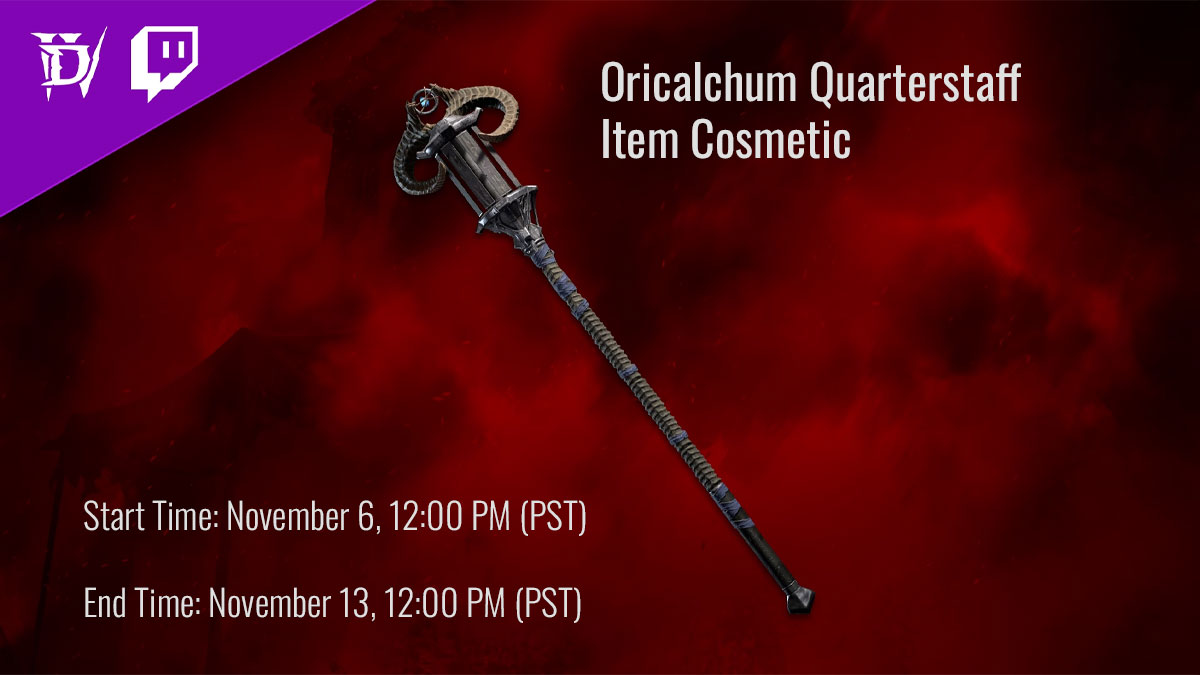 Important Notes
Some notes to ensure you'll get what you want during the occasion:
Browser-based ad blockers can interfere with the process. Make sure to allowlist Battle.net and Twitch
To ensure your presence is recorded during a stream, disable browser extensions or plugins that may interfere with the process. Once you get your reward, you can turn them back on
Keep in mind that there may not be notifications for what you've got. But don't worry. You'll find them in the game
If you've recently unlinked your accounts, you must wait seven days to relink a new one
You'll need to unlink and relink your accounts if you have reset your password
FAQ
How to link my Twitch and Battle.net accounts?
Sign in to your Battle.net here. Find this field, and click + CONNECT:

Then follow the instructions to link your accounts.
On which device and I earn and claim drops?
You are able to acquire these items on PC, Mac web browser, or on the Android and iOS Twitch app. However, they can't be claimed on game consoles, smart TVs, or other TV apps.
Is watching the same channel the entire time necessary to earn the reward?
You don't need to stay in the same channel to earn your loot. You can attend one stream and switch to another without losing your progress. Viewing more than one channel at the same time won't help you progress faster.
Is the drop claimed automatically?
No. You have to get it from the channel you're watching or from Twitch's Drops inventory.
How to enable Twitch Drops as a streamer?
If you're a streamer and want to enable the event, you need to link your Twitch and Battle.net accounts. Go to your Creator Dashboard, select Stream, and find and give permission to this:

Don't miss out on the opportunity to earn these awesome freebies. Get ready to embark on an epic journey through Hell in Diablo IV and reap the rewards along the way!