How to Get Revision Zero in Destiny 2 with Catalysts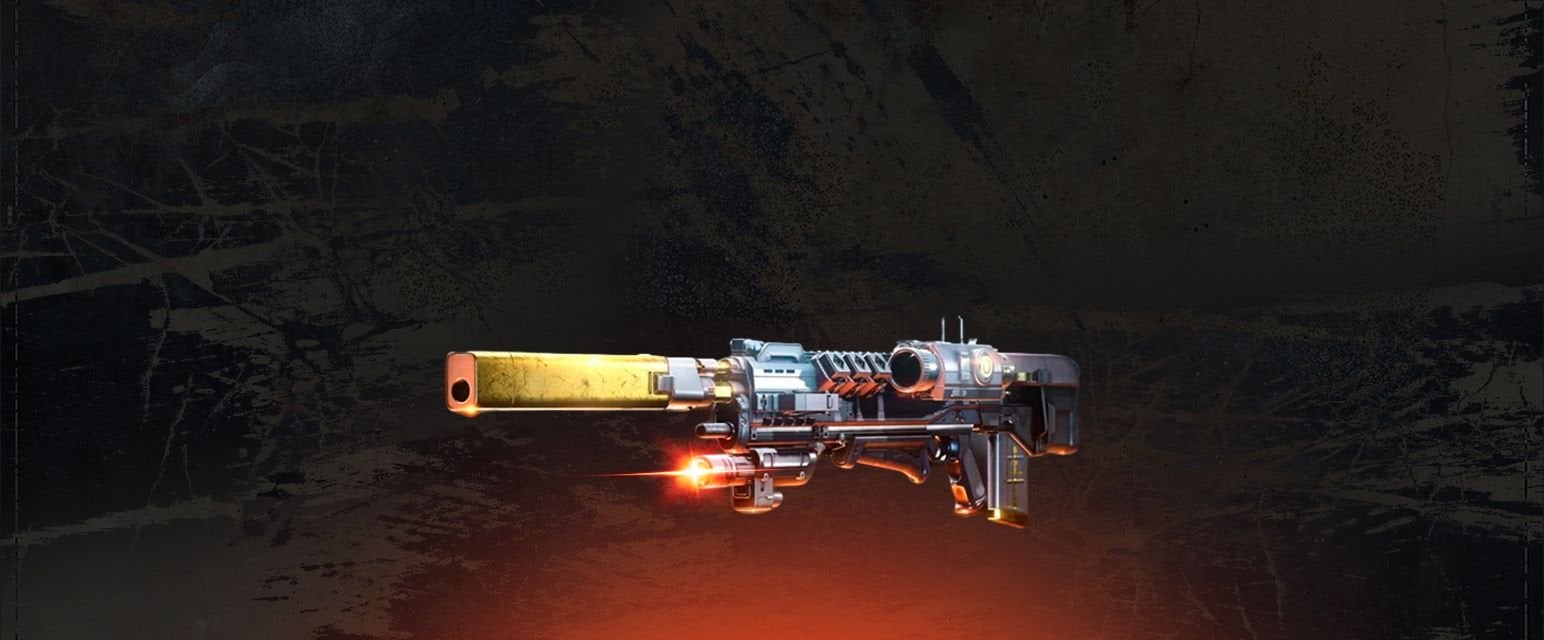 Every week of the season, Bungie adds new activities and other things to keep players busy and entertained with content. Just in the third week of Season of the Witch, the studio brought back an old D2 Revision Zero. As always, Bungie made it unclear how to get it, and plenty of players struggled to discover it for a long time. We also had to look for it, and now WowVendor is ready to help you get this Exotic gun.
In this guide, we will explain in detail where to get it, reveal its unique features and talk about Revision Zero Catalysts. Guardians found it quite interesting and promising due to its extensive customization and the ability to change from one type of weapon to another. There is a lot to discuss, so prepare well before reading the article. Jump on your ship, because we are going to get a new Exotic!
How to Get a Revision Zero
First of all, you have to start "Operation: Seraph's Shield" and wait until it's in Exotic Mission Rotator, which is after the Vox Obscura mission. When the mission's week is here, open the director and Legends destination, from which you can play it.
In this mission, you must go to the Clovis' Orbital Station, where the Witness army will be waiting for you. Throughout the "Operation: Seraph's Shield," you'll solve various puzzles and experience two boss fights, not to mention the beautiful view from the orbital station. No wonder some players call Revision Zero Exotic Mission the most memorable Exotic mission in Destiny 2.
Revision Zero Destiny 2: Overview
After defeating the final boss, you will receive tons of different loot. However, more important is the fact that you will finally be able to craft the new Revision Zero Exotic Pulse Rifle. Revision Zero features special shield-piercing ammunition, as well as the ability to swap to the alternate scope, loading high-damage rounds.
Roughly speaking, Bungie made the primary Sniper Rifle. It can be a little bit disappointing at first, as you can only choose Magazine, but as you progress through the quest, you will also be able to select Barrels and Perks. Base stats will improve over time, making this weapon much more enjoyable to play with. With all responsibility, Revision Zero in Destiny is worth your time, despite the fact that going through the same mission can sometimes be tiring.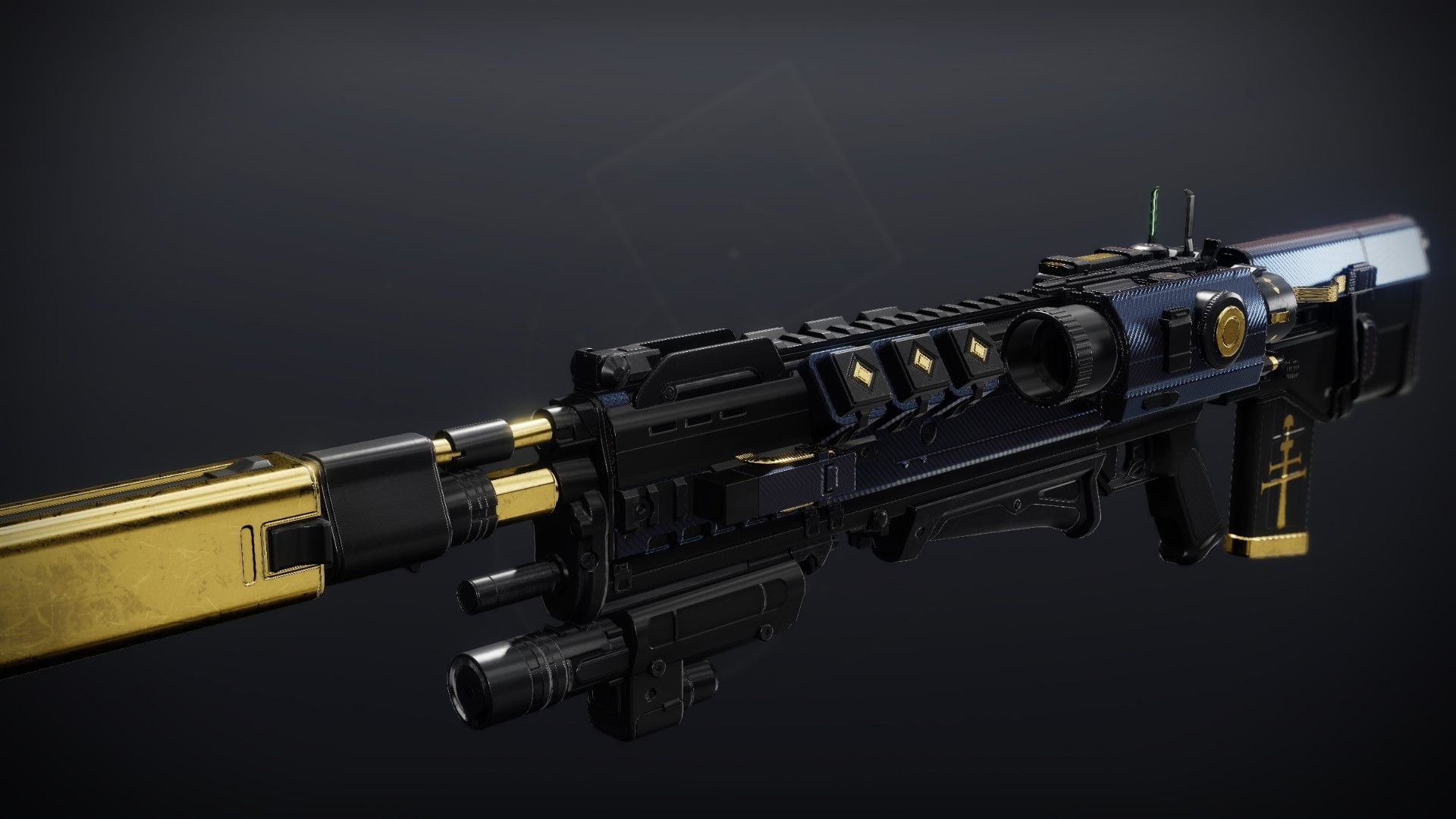 Let's begin speaking about Revision Zero god roll because you will find an extensive selection for every taste here. Want to play with this pulse rifle in PvP? Please, there are some great perks like Moving Target, Eye of the Storm, and Elemental Capacitor for you. Do you prefer PvE? Then there is Perpetual Motion and Vorpal, which is perfect for this gun. But feel free to experiment with them because even PvE perks can come in handy in Crucible.
Revision Zero Catalyst: Overview and Obtain Method
Now, we are moving on to the most important part related to this weapon. After all, for the first time in the history of Destiny 2, the Revision Zero Catalyst is not just one, not even two, but four of them here!
You will need to complete the Exotic Mission on the Legend difficulty to get one of them. Moreover, each playthrough on normal difficulty unlocks one perk for each column. If you have already received these weapons, then you can go to Exotic Mission Rotator to obtain guns from other seasons to your collection.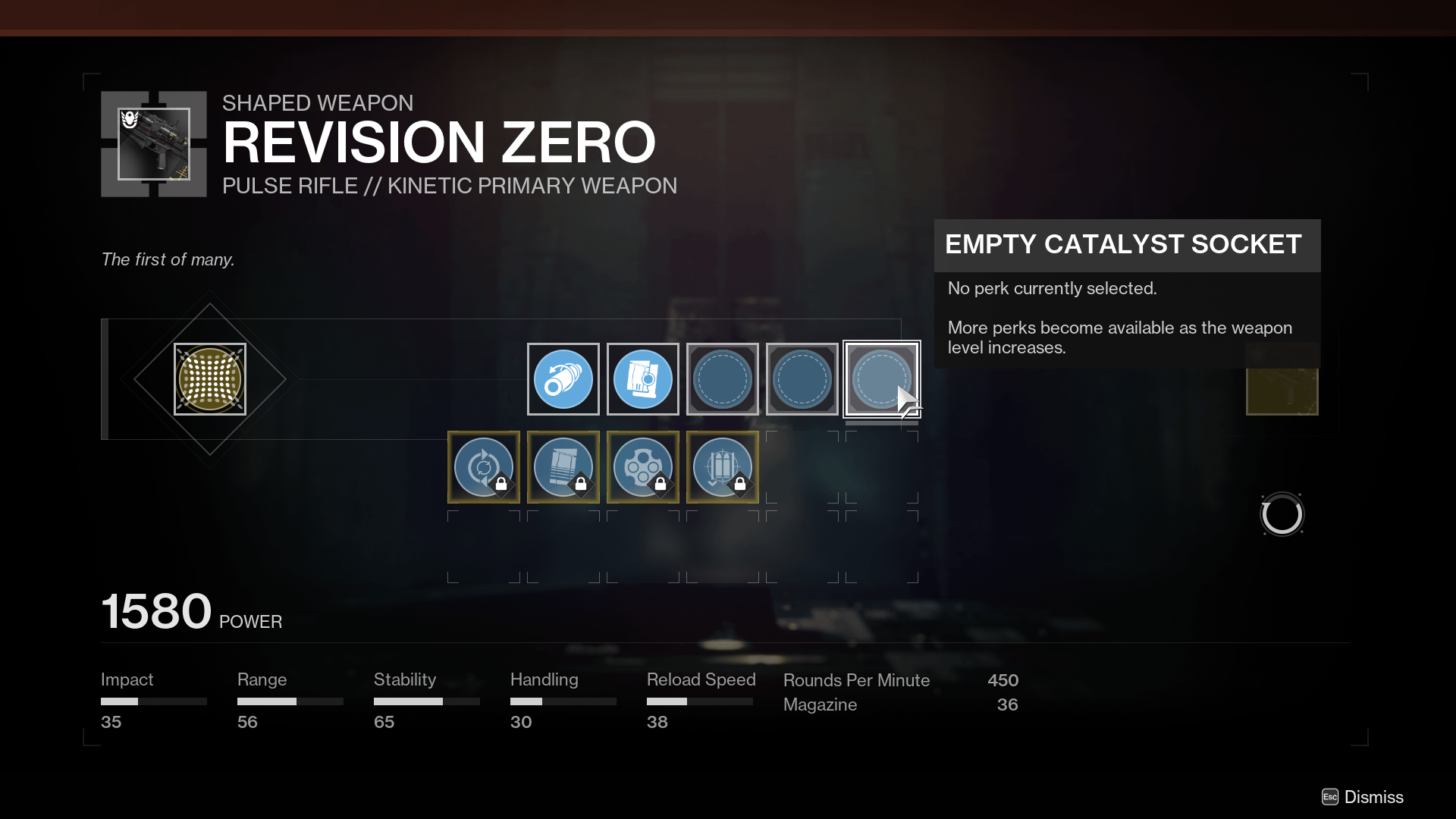 Feeding Frenzy
The first Catalyst is a Feeding Frenzy that increases the weapon's reload speed with each take down for a short time. This perk is not particularly useful in Crucible. Regardless, it is excellent for defeating an army of weak enemies in PvE. Also, with the first four Revision Zero quest steps, you will have access to the Barrel. Here, you will finally be able to install the Arrowhead Brake to improve the recoil.
Under Pressure
The second Catalyst will please PvP fans as it is Under Pressure, which is perfect for Revision Zero PvP God Roll. This perk improves stability and accuracy as the Magazine gets lower. It will allow you to hit Guardians much harder in both normal fire mode and sniper rifle mode. It's a definite favorite for Trials of Osiris, Quickplay, or other Crucible modes. A nice bonus will be the ability to select different perks, which we discussed earlier.
Outlaw
If the reload on the Pulse Rifle seems too long for you, then the third Catalyst, which is an Outlaw perk, can help you. It works very simply — when you perform precision takedowns, you can significantly reduce the reload time. The third perk obtainable in the Revision Zero quest can help you enormously, not only in PvE but also in PvP.
Fourth Time's the Charm
Finally, Bungie left the most interesting Catalyst for this PvE gun because it's the Fourth Time's The Charm perk. With the help of the last perk, it will return you two rounds to the Magazine for every two precision hits. It's worth noting that this new Pulse Rifle boasts a four-burst fire, which is quite impressive and formidable. However, the perk is fully revealed in the Sniper Rifle mode because the maximum number of rounds in this mode is four. Revision Zero Exotic weapon will show its power one hundred percent thanks to this Catalyst.
Final Words
Truthfully, this is all you need to know about the gun itself and how to get Revision Zero in Season of the Witch. This Pulse Rifle is a unique weapon that is worth your effort and attention. We hope this guide was helpful. Please, tell your friends about this article because we made it applicable to any player in the Destiny 2 community. Otherwise, don't forget that WowVendor gives you the ability to buy Exotic weapons if you don't have enough time to farm them out.
Thanks for reading! Owl is flying away.